____________________________________________________________________
This is not an exhaustive list, of course: rather a few ideas of where to put visiting family and friends up! Prices are not included as these change too much; check out the hotel sites or booking.com for the best deals. The main message is that there is a range of lovely small and boutique hotels around the centre which it is well worth exploring.
Park de Put 1
2312 BM Leiden
Tel: 071 5690090
Email: info@hoteldeoudemorsch.nl
Website: www.rembrandthotel.nl
This is a hotel in a truly exceptional location, in the former barracks next to one of the two Leiden city gates still standing, the Morspoort. It overlooks this, the Singel canal which encircles the city and a small park with historic windmill Molen de Put, the 'Galgemolen', on the edge of our little city. Its 18 rooms are all different and very nicely laid out; access to many but not all of them is via stairs, so check accessibility when you book.
Kloksteeg 4
2311 SL Leiden
Tel: 071 5690090
Email: service@hotelexlibris.com
Website: www.hotelexlibris.com
Ex Libris is just off the Rapenburg canal, reputedly one of the most beautiful waterways in the country, on a street lined with wonderful restaurants and leading to the magnificent Pieterskerk, St. Peter's Church. It's a tiny hotel with just five double rooms (no extra cots allowed), clearly aiming at the upper end of the market. Again access for those who aren't so mobile may be tricky, but otherwise a real gem.
Oude Singel 212 and Oude Herengracht 22
2312 RJ Leiden and 2312LN Leiden
Tel: 071-2600700 for both
Email: info@huysvanleyden.nl, info@debaronesvanleyden.nl,
Website: www.huysvanleyden.nl, www.debaronesvanleyden.nl
The Huys van Leyden and its companion hotel the Barones van Leyden are two more small, delightful and luxurious hotels in Leiden, these another minute or two's walk further from the centre but still well within the encircling Singel canal. The Huys is in a frankly astonishing seventeenth-century building and has seven rooms and no lift , while the Barones has five rooms, one of which can be reached with the lift. There is also a loft room and a small (50 sq.m.) flat available in neighbouring houses through the Huys van Leyden They have excellent facilities, some shared, and given their canal location they also offer boat rental.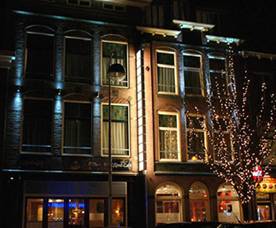 Nieuwe Beestenmarkt 10
2312 CH Leiden
Tel: 071 5144233
Email: info@rembrandthotel.nl
Website: www.rembrandthotel.nl
This hotel has 20 rooms and is equipped with a lift and proper disabled access. In addition to rooms in the main hotel there are three 'suites' a few minutes' walk away, with slightly more space / better amenities.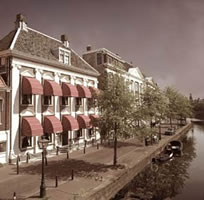 Hotel de Doelen
Rapenburg 2
2311 EV Leiden
Tel: 071-5120527
Email: hotel@dedoelen.com
Website: www.hoteldedoelen.com
This is a family run hotel in a beautiful grand old house (1638, according to their website) on the Rapenburg canal, near the station end of Breestraat. The rooms vary from enormous to tiny, and are characterful and in some cases rather unconventionally furnished. Some of the smaller rooms upstairs feel rather untidy and unloved, so not all its rooms are for people who require modern minimalism, but corporate and impersonal it is NOT. Many of the rooms are some way up steep stairs, so do be aware of this when booking rooms for people with mobility issues or small children. While there are some rooms available on the ground floor, since there are steps up to the front door the hotel itself is not really accessible for wheelchairs or pushchairs.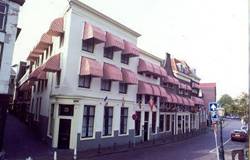 Hotel Nieuw Minerva
Boommarkt 23
2311 EA Leiden
Tel: 071- 5126358
Email: hotel@nieuwminerva.nl
Website: www.nieuwminerva.nl
This is a nice hotel located very centrally, right in the middle of the Aalmarkt area. There is a very wide range of rooms - including themed rooms, some of which are quite bizarre (anyone for a four-poster in the Rembrandt room?) but a fun idea. Some of the rooms are up a lot of stairs, no lift. The rooms to be shared by four people work out at good value and are a good option for visiting friends who don't mind bunking up!
Best Western City Hotel Leiden
Best Western Leiden
Lange Mare 43
2312 GP Leiden
Tel: 071-513050
Email: info@bestwesterncityhotelleiden.nl
Website: www.bestwesterncityhotelleiden.nl
This is another very conveniently located option, in three vast old houses a few minutes' walk from the town centre. It's quite large, with extensive conference-y type facilities, but retains a lot of small hotel personal charm.
Ibis Leiden Centre Hotel
Stationsplein 240-242
2312 AR Leiden
Tel: 071-5160000
Email: h8087@accor.com
Website: www.accorhotels.com/gb/hotel-8087-ibis-leiden-centre/index.shtml
Old-world and historic this hotel ain't, but you will get functional and affordable with a convenient location right by the bus and train station. The town centre is about ten minutes' walk away.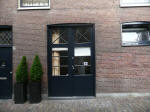 Beschuitsteeg 10 - 12a
2312 JV Leiden
Tel: 071 5123292
Mob: 06 44862220
Email: info@bedenbeschuit.nl
Website: www.bedenbeschuit.nl
This is a really lovely B&B right in the centre of town. It has just two flats, on the ground and first floor, so book early to avoid disappointment … Both are extremely comfortable and the ground floor flat in particular is beautifully furnished. All you need for a simple (but good) breakfast is provided for you.
Do also take a look at www.bedandbreakfast.nl for the listings in Leiden.