____________________________________________________________________
Most shops (apart from supermarkets) are shut on Mondays and Sundays, or are open only in the afternoon on these days. Thursday evening is late opening, and most (if not all) shops are open until 9pm. The last Sunday of every month is Koopzondag, on which most of the shops are open. If you want to find the opening times of any chain store, look on www.opentot.nl .
This is a list of a few of the shops most useful for buying stuff for pregnancy, babies and children, as well as some of my other favourites. If you have any favourites you would like me to include, please do email me on harriet@homeinleiden.nl

Haarlemmerstraat 130-136
2312 GE Leiden
Tel: 071-5123971
Website: www.hema.nl
| | |
| --- | --- |
| Mon | 11.00 - 18.00 |
| Tues, Wed, Fri | 09.00 - 21.00 |
| Sat | 09.00 - 17.30 |
| Sun | 12.00 - 17.00 |
Where would we be without Hema? Brilliant for basic baby stuff, including nappy pins and buckets, as well as clothes, baby blankets and sleeping bags etc. Great clothes for older children, as well as inexpensive basics for art and craft, toys, party stuff: basically everything you need, all own-brand, and with a leaning towards extremely bright colours. One very small lift makes it rather hard work to get upstairs with a pushchair at busy times.


Aalmarkt 22
2311 ED Leiden
Tel: 0900-2358363
Website: www.vd.nl
| | |
| --- | --- |
| Mon | 11.00 - 18.00 |
| Tues, Wed, Fri | 09.30 - 18.00 |
| Thurs | 09.30 - 21.00 |
| Sat | 09.00 - 18.00 |
| Sun | 12.00 - 17.00 |
Major department store: children's clothes department is ok if rather unexciting, although they do have baby Mexx. Quite a good range of art stuff and paper etc, although not cheap. They do have a baby department with kit and some pushchairs etc, but it isn't great. Toywise, they have a good selection of puzzles but are otherwise rather disappointing. The many escalators are very popular with children though, and the lifts are efficient. Incidentally, the best place to buy hats! They also have a very spacious café on the top floor, with lots of room for pushchairs and lots of high chairs.
Haarlemmerstraat 5-7
2312 DJ Leiden (elke zondag open)
Tel. 071 - 5122498
Website: www.prenatal.nl
| | |
| --- | --- |
| Mon | 12.00 - 18.00 |
| Tues, Wed, Fri | 09.30 - 18.00 |
| Thurs | 09.30 - 21.00 |
| Sat | 09.30 - 17.00 |
| Sun | 12.00 - 17.00 |
Excellent range of push chairs, high chairs, cots etc for such a central location. If you want a wider range you need to go to Baby dump (tee hee) in Roelofarendsveen or Duimeland in Delft. They also have a wide range of sheets, blankets, bottles and dummies etc. The own-brand clothes are always rather a small size, so consider buying a size up. They also have maternity clothes, some of which are nice!

Breestraat 130
Haarlemmerstraat 52a, Leiden
Kopemolen 3, Leiden
Winkelhof 28, Leiderdorp
Website: www.zeeman.com
This is an extremely cheap chain of shops that have a great deal of superfluous plastic crud but do also have some excellent things. Their square bibs are the most practical ever, and they are great for things like children's socks and pants, and some household essentials like flannels or tea towels. Not an especially enjoyable shopping experience, but worth it on occasion.
Don't miss our next Kids' Clothes Swop evening at the VKC - look at Kids' Clothes Swop section for the date! Check out our For Sale section too for bargains.
There are also sometimes good things to be had on the Ash Buy Sell (American School in The Hague) Yahoo! group (go to www.yahoo.com and create an account, and you can then apply to join the group), although these tend to be in The Hague of course. It's worth also joining Leiden Expats group to get digests of messages posted: there are also various pub nights etc organized.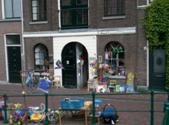 Oude Rijn 36
2312 HG Leiden
Tel: 071 5145787
| | |
| --- | --- |
| Mon | 13.00 - 18.00 |
| Tues, Wed, Fri | 10.00 - 18.00 |
| Thurs | 10.00 - 21.00 |
| Sat | 11.00 - 17.00 |
This wonderful shop has been the source for pretty much every toy my children own. Alongside great new and interesting toys, they also have lots of second-hand toys, ranging from boxes of cars for 25cents each to wooden cookers, dolls prams, puzzles, Lego, Playmobil - it changes from day to day, so it's worth having a browse as often as you can. You can also sell stuff here (you get 50%). They no longer do clothes or large things like cots but they do sell pushchairs, tricycles etc. You can see the larger things out on the street. The shop is tiny and absolutely crammed, and wheelchairs and double pushchairs don't even fit though the door, but the owners are so nice and the stuff so good it's worth it. On a Saturday afternoon it is pretty much impassable, however!

Pieterskerk-Choorsteeg 30
2311 TR Leiden
Tel: 071 5136655
Website: www.appelenei.nl
| | |
| --- | --- |
| Tues to Fri | 10.00 - 17.30 |
| Thurs eve | 19.00 - 21.00 |
| Sat | 10.00 - 17.00 |
This is a second hand clothes shop specializing in brand names and high quality clothes (also for women). You have to be lucky in terms of size, and since the clothes are often smart brand names they are not extremely cheap, but you can pick up wonderful things. They also have some boots and shoes. There is a play corner, although it is a little cramped and disorganized. You can also sell clothes here, although do be aware they must be from a good brand, in perfect condition, and for the coming season. You get half of the sale price (and if you are like me, will probably spend your earnings on more clothes in the shop immediately!) Difficult step in so slightly tricky for pushchairs and nigh-on impossible for wheelchairs.

Groenesteeg 66
2312 SR Leiden
Tel. 071-5288741
This is mainly adult clothes but they do have some children's clothes, sold at very low prices. These are clothes that have been donated by people, so it works essentially like a charity shop: you can find great stuff, albeit among a lot of jumble. Children's clothes are usually 50 cents
Open Thurs only: 8.45 -10.45, 13.30 -15.30, and 18.30 - 20.30
There is a place to leave your own old clothes that is open 24/7.
Alas, the weggeefwinkel has been closed down! I have a pending registration for a Leiden branch of Freecycle: without the weggeefwinkel there is a real need for this! If you'd like to help, contact me on harriet@homeinleiden.nl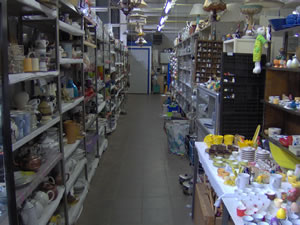 There are also Kringloopwinkels - these are large stores where they sell people's cast off furniture, clothes, household items and toys at very low prices. You can drop unwanted stuff off there or, if you have large or heavy items, you can ring them and they will come and collect it. There are several:
Willem Barentszstraat 12
2315 TX Leiden
| | |
| --- | --- |
| Mon - Fri | 09.30 - 17.00 |
| Sat | 10.00 - 16.00 |
Simon Smitweg 9
Leiderdorp
| | |
| --- | --- |
| Mon - Thurs | 07.30 - 12.30 and 13.15 - 16.30 |
| Fri | 07.30 - 12.30 |
Pick up 071-524 00 60
Volmolengracht 13
2312 PG Leiden
| | |
| --- | --- |
| Tues - Sat | 11.00 - 17.00 |
| Thurs eve | 19.00 - 21.00 |
Pick up: 071 5226082
Prenatal (see Essentials ) have a range of maternity wear, and are also excellent for such unglamourous things as breastpads (including washable ones) and support belts.
Doezastraat 20
Website: www.kingsandangels.nl
Run by a lady called Angela and her team of helpful, friendly assistants, this shop (new in summer 2011) stocks a whole range from maternity wear (including, believe it or not, flattering lingerie) to baby clothes, furniture and gifts. Definitely worth the detour."
Children's clothes are sized in centimetres: the height of your child. This is actually a very practical way of measuring clothes, as one is usually aware how tall one's child is. Of course, how thin/chubby your child is will affect what size they wear, and different shops size differently (e.g. Prenatal is small, H&M is big).
Haarlemmerstraat 181-185
Website: www.nameit.com
"This is a Scandinavian chain selling nice, funky clothes, although the shop is very small so the range is not huge. They always have a special offer on at any time (e.g. two pairs of pyjamas for € 7) which are extremely good value. They aim to have a responsible production policy, and use factories regulated by Bestseller (see www.bestseller.com for details). They have a good absorbing (albeit small) play corner that my children never want to leave."

Haarlemmerstraat 172-174
2312 GG Leiden
Website: www.hm.com
| | |
| --- | --- |
| Mon | 12.00 - 18.00 |
| Tues, Wed, Fri | 09.30 - 18.00 |
| Thurs | 09.30 - 21.00 |
| Sat | 09.30 - 17.30 |
| Sun | 12.00 - 17.00 |
H&M has the widest range in Leiden of clothes for children of all ages, including accessories, hats, pyjamas etc. The clothes are decent quality and cheap, with both basic stuff and more 'of the moment' stuff, and although quite a lot of the clothes have characters on them (e.g. Hello Kitty or Spiderman), there is also a much more 'classic' range of clothes called 'LOGG'. They no longer have a play area, alas, so it does tend to be full of disgruntled children. I am also unaware of any policy regulating the work force manufacturing the clothes.
The month/age sizing indicated in the clothes is huge: most children will be flapping around in clothes if you follow this sizing: go by the centimetres and assume it is generous!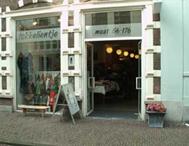 Hogewoerd 10a
2311HM Leiden
Website: www.tokkelientje.nl
Tues - Fri
10.00 - 17.30
Sat
10.00 - 17.00
Occasionally Thurs evening and Koopzondag
A range of really beautiful clothes for children of all ages by various brands such as Petit Bateau, Imps and Elfs etc. The clothes are expensive but lovely, and they have good sales. They also have an excellent play corner, although it's not suitable for very small children. They also have some shoes and accessories.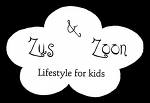 Hogewoerd 13
2311 HE Leiden
Tel: 071-5130951
Website: www.zusenzoon.com
Tues - Fri
10.00 - 17.30
Sat
10.00 - 17.00
Occasionally Thurs evening and Koopzondag
A range of bright and fun clothes from various independent brands such as Feetje. Also some toys, including the best range of Thomas the Tank Engine in Leiden, rather surprisingly! The shop is miniscule, but they have a fabulous train table so children are happy for ages.
Hogewoerd 64
2311 HP Leiden
Tel: 06 20353445
Website: www.fladderenbeer.nl
An entirely original range of clothes made in situ for children aged 0-7, with all sorts of combinations of fabrics etc. They also have a range of jewellery etc.
They run great courses in making your own children's clothes: see www.fladderenbeer.nl and click on 'cursus'. For more information and a review, see the section in Greener Leiden Living on sewing.
Winkelhof 89
2353 TZ Leiderdorp
Small friendly shop in Leiderdorp shopping centre.
Prenatal, HEMA, V&D, Zeeman and C&A (see above) also have a wide range of children's clothes.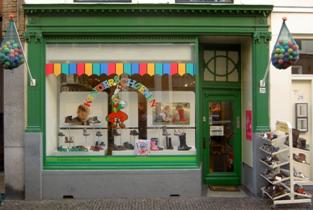 Hogewoerd 2
2311 HM Leiden
Tel: 071 5124237
Website: www.oerlemanskinderschoenen.nl
| | |
| --- | --- |
| Thurs | 18.00 - 21.00 |
| Fri | 14.00 - 17.00 |
| Sat | 11.00 - 17.00 |
Open: Tues-Fri 09.30-17.30, Sat 09.00-17.00
Although several other shops do sell children's shoes (e.g. Haren Schoenen , Haarlemmerstraat 135, Ziengs Schoenen, Haarlemmerstraat 215/219) , this is the only really excellent dedicated children's shoe shop. The staff are patient, kind and honest (if your child's shoes are still fine, they say so!) and they have a wide range of shoes for all ages. My daughter has very difficult narrow flat feet and so it's vital she has exactly the right shoes, and she has very definite taste: we do still always manage to find something with which both she and her physio are happy. They are terrifyingly expensive, but they do always have some shoes on sale, which helps. Do be aware that shoes in this country do not have width fittings, but some makes are wider/higher than others and so this helps when choosing the right shoes.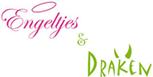 Nieuwstraat 15
2312 KA Leiden
Tel: 071 5127808
Website: www.engeltjesendraken.nl
This is a wonderful individual treasure trove of a shop full of wonderful un-Disneyfied things for children - from wall stickers to rugs, knight outfits, lunchboxes, pop up castle tents etc. They specialize in furnishings, and for instance have the most lovely bedside lights and bedding, but also have pirate and princess things for parties and various dressing up things. Lots of bright colours, but also more pastels than are usually available here. Great for presents too, and a child-friendly shop run by two very nice women.
Bentveld (Nieuwe Rijn 24) have Tripp Trapp high chairs and their cushions in every colour imaginable. These chairs are absolutely fantastic for small houses as they take up no room, look nice, and enable your child to be right at the table with you. They aren't cheap but they grow with your child so last for ever. See www.tripptrapp.com and www.bentveldinterieur.nl .
De Klare Lijn (Hooigracht 24 + 26 and Nieuwstraat 1 + 1a) also has really sweet and funky designer children's (low level) chairs.
HEMA and V&D have some bedding, and of course there is IKEA in Delft.
Xenos (Haarlemmerstraat) is great for cheap baskets and chests of drawers with cloth-lined baskets.
There are several bookshops in Leiden, but two are worthy of special mention: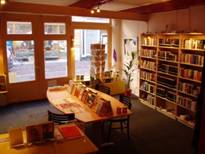 Hogewoerd 107
2311 HJ Leiden
Tel: 071 5138497
Website: www.themayflowerbookshop.nl
| | |
| --- | --- |
| Wed, Thurs, Fri | 11.00 - 18.00 |
| | |
| Sat | 10.00 - 17.00 |
| | |
This is a lovely independent bookshop, run by a lovely woman called Ans. She sells English language books for all ages, including some second-hand books. She can also order anything you want and make suggestions of books you might enjoy. Although the shop doesn't officially have a play corner, and looks rather daunting with children, she is extremely nice to visiting children and will whip out a box of toys to amuse little ones.


Silvester Jeugdboekhandel
Rapenburg 17
2311 GE Leiden
Tel: 071 5128658
Website: www.silvester-leiden.nl
| | |
| --- | --- |
| Tues- Fri | 09.30 - 18.00 |
| Sat | 09.30 - 17.00 |
This is a specifically children's bookshop, which sells mostly Dutch books but also a range of books in several other languages. The shop is extremely well stocked, and they also have activities such as storytelling. They also have a 35 seat theatre behind the shop that has shows in the summer holidays occasionally. See the website or What's On This Week for forthcoming events.
For more second-hand books, try Bengels, Terre des Hommes on Burgsteeg and Kringloopwinkels.
Bengels (see above) has a really excellent selection of toys, and a particularly good range of dressing up clothes. They have wooden toys and cheaper plastic versions, lots of doll's house stuff, baby toys and a wide range of pocket-money type possibilities. The combination of second-hand and new toys makes it particularly easy to teach children spending their precious money about the merits of buying second hand and getting more for your money!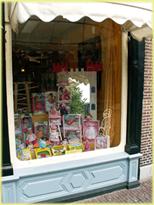 Nieuwe Rijn 58
2312 JH Leiden
Tel: 071 5130103
Website: www.kabouterdromen.nl
| | |
| --- | --- |
| Tues - Sat | 10.00 - 17.00 |
| Thurs eve | 19.00 - 21.00 |
This shop has a great range of tasteful wooden toys. They only sell high-quality toys, so they can be rather expensive, but they have a good range of, for instance, Brio trains, which are not available in ordinary toy shops. Lovely wooden cookers, metal cooking sets, organic cotton stuff for babies etc. Also a range of 'discovery' sets for older children and science kits etc. Great for presents, especially for parents that don't like pink plastic. A play corner and a rocking horse outside make it popular with children.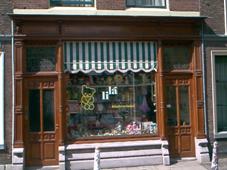 Nieuwsteeg 16
2311 SB Leiden
Tel: 071-5121673
Website: www.kinderwinkellila.nl
| | |
| --- | --- |
| Tues - Fri | 10.00 - 17.30 |
| Thurs eve | 19.00 - 21.00 |
| Sat | 10.00 - 17.00 |
Tucked away behind the Pieterskerk, these two pretty shops opposite each other display a hugely covetable array of wooden and nostalgic children's toys, large and small, as well as gifts, puzzles, etc. They have the best range of wooden toy food. However, the shop is extremely cramped and the atmosphere for small children rather unwelcoming as they get told off for touching anything, so it's best to visit without children in tow. Not really wheelchair accessible either due to cramped space.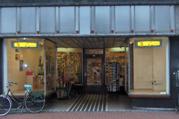 Breestraat 175
2311CP Leiden
Tel: 071-5125466
Website: www.kadowinkelnietsvergeten.nl
Unusual toy and gift shop with a nice range of mainly wooden toys.

Haarlemmerstraat 182
Tel: 071 5122061
Website: www.bartsmit.nl
This chain is everything you would expect from a large toyshop: a great deal of multicoloured plastic, mainly. They have a very good range of Playmobil, and a decent range of Duplo,Lego etc, as well as a surprisingly large section dedicated to whatever the latest film or TV character craze is. They also recently started stocking dressing up clothes. They have some craft stuff including lots of playdoh sets and lots of pink plastic 'girly'stuff. Also a failsafe destination for a very bored wet afternoon as they don't seem to mind children wandering around pressing buttons.

Haarlemmerstraat 158-160
Tel: 071 5121456
Fairly similar to Bart Smit in that it is a huge chain of toyshops full of plastic, but I find it less well stocked than Bart Smit and altogether less enjoyable, as it's hard to find things and not conducive to browsing.