____________________________________________________________________


B plus C: Bibliotheek plus Centrum voor kunst en cultuur (Library and Centre for Art and Culture). It is your one-stop-shop for all sorts of reading and cultural options, classes and information, with four locations all over the Leiden area for the library and several more for classes.
Central location
Address: Nieuwstraat 4, 2312 KB Leiden
Tel: 071 5161627
Email: centrum@BplusC.nl and their website with all key information including opening times and activities is www.bplusc.nl.
Other locations
Leiderdorp

Address: van Diepeningenlaan 110, 2352 KA Leiderdorp
Tel. 071 5890849
Email: leiderdorp@BplusC.nl

Stevenshof

Address: Twix Terwindtstraat 6, 2331 GW Leiden
Tel.071 5318100
Email: stevenshof@BplusC.nl

Merenwijk

Address: Rosmolen 4, 2317 SJ Leiden
Tel: 071 5211666
Email: merenwijk@BplusC.nl

Het Gebouw

Address: Arubapad 4, 2315 VA Leiden
Tel. 071 5221695
Email: hetgebouw@BplusC.nl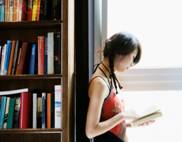 The library and centre for art and culture is really great: there is a huge amount on offer at the central and in fact all their locations. It is a real oasis of calm, and offers a great place for a break from the children (especially if you have childcare at home and need somewhere to escape to for a bit of peace!) or even with the children, given the distractions available. Work by local artists is also on display, and there are frequently events, readings and the like: visit the website www.BplusC.nl. There is also a wonderful café, Coffee Star.
Naturally, there is a very wide range of books in Dutch, but also a good selection of novels in many other languages (including an entire room of English-language novels). In the newspaper room there are daily newspapers, including Le Monde, The Times and Herald Tribune. These newspapers (or a book of course) can be taken with you (and a cup of coffee) to read in the utterly lovely little courtyard garden, the squishy chairs in the reading room, the café, or at any of the many desks in the quiet corners of this old building. Of course, if you have children with you, you can always set them up to read/go on the computer etc. in the children's corner and sit down with a newspaper yourself.
There is also a facility called PressDisplay / Pressreader, through which you can have online access to a vast and worldwide array of printed and e-media and including back issues over the last 90 days. Ask for more information at the library.
They have a growing online selection of music and e-books, along with many, many audiobooks and DVDs for rent (well worth a browse). There is provision for those with seeing and/or reading problems through (partial) blindness or dyslexia there is also help available; for this, as for the 'Library at Home' initiative for people with limited mobility, contact the library for more information.
Beyond the media selection available, BplusC coordinates a huge range of classes for children and adults over the Leiden area. Check out
www.bplusc.nl
and the Classes and Sports section for more information.
The library also offers a lovely quiet space for working or studying. There is of course wifi, along with computers available for the public.
The Taalhuis section is a language especially created for people learning Dutch, spoken and/or written, and grew out of a facility for adults with literacy issues. In this nicely laid out corner, there are a wide range of books in Dutch suitable for beginners, many of which come with a CD to help you make the connection between the written and spoken word: an extremely important and tricky part of learning Dutch.
The library works with various organisations to support language and literacy coaching and can help you with many aspects of the process. This includes finding 'taalmaatjes', local volunteers who act language chums, for example. There is an open session every week (check
www.bplusc.nl
f for which day) where you can just walk in and ask for information, whether you're a member of the library or not. For more information about the Taalhuis
area, see Learning Dutch.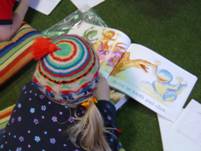 Particularly in the winter, the library is an absolute lifesaver for daily life with small children. There is a lovely area for children with lots of easily accessible books (including some in other languages), a sofa with a few large soft toys, small tables to read at, a computer with interactive book programmes, and a sort of Jenga set (rather bizarrely). My children certainly adore going to the library, and are particularly keen on the computer programmes - at busy times the library also becomes a great meeting point for parents, although turn-taking becomes very necessary for the desirable computer spot! Children pay no joining fee so you can borrow completely free a good range of books, reference books, CDs, DVDs etc - great for discovering who Jip and Janneke are, learning the words of those children's songs or finding out dinosaur vocabulary in Dutch!
Do remember that you can always get yourself a newspaper (as well as Dutch newspapers and magazines they have The Times, Le Monde and Herald Tribune) or a book and take it to the children's area, just on the off-chance that they might keep themselves busy for long enough for you to read it.
You need to register at the Library in person, with a passport/driving licence and a recent proof of address (bank statement, utilities bill etc). The subscription rates are moderate and open the door for loads of reading, entertainment, events, you name it – what's not to like?
Once you have registered, you receive a card and can borrow (for 3 weeks, can then be renewed, or 6 weeks over the summer). Books and sheet music are free and there are (moderate) fees for other media e.g. Audiobooks, DVDs etc.. There is help available with costs for those on very low incomes; for more information about this and anything else see www.BplusC.nl.