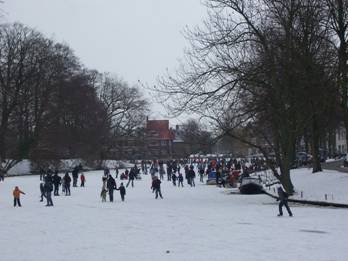 Oooo we have been loving the snow and ice! Not the brown salty slush that makes it impossible to ride a normal bike (hurrah for the 3-wheeled bakfiets), true, but how glorious to be skating on the canals! Snow and ice evoke different memories for everyone: it's fascinating to see how people react. Most Dutch people I know of 30+ get all nostalgic, and are really good - like my husband, who grew up skating all winter, and zooms around on his Lange Noren (long distance skates). Marja says in Sweden every winter they skated on the football field after school, a Syrian friend remembers 2m of snow in Syria every winter - and a Polish friend says it was precisely to get away from this kind of weather that she left Poland! For those from warmer climes it may all seem a bit terrifying: but it's really fun, and as long as you wrap up warm you don't get cold. I skated as a child and find it all very exciting - although alas I'm not a very elegant spectacle. 20 years without skating takes its toll.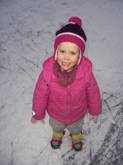 I've just bought some figure skates (kunstschaatsen) on Maarktplaats (I recommend it: just put <3km into the 'distance from your postcode' option and there are loads of second-hand skates for sale in Leiden). For small children, apparently it's vital that they learn on double skates, dubbele schaatsen (adjustable strap-on metal skates that go over boots). These cost about € 15 and are available from various sport shops including Wout Bergers on the Haarlemmerstraat. They can learn to get their balance, and more importantly they are safe and (mostly upright) while you get to skate a bit! Putting them on single skates too early can make them lose their nerve. For adults, taking a chair onto the ice is definitely a good option for learning stability. Plantsoen is a good place to start, although we've been having fun nearer to home on Herengracht too. Just make sure there are other people on the ice before you go, and be careful of thin ice around the edges, under bridges and around boats.
TIP: take extra plastic bags to sit on while you put your skates on to avoid a wet bottom!
There will be a HomeinLeiden meeting at the end of January for everyone who is interested in getting involved with the website: writing or researching, helping out at events, or even just having exciting ideas! Come along to my house and have a glass of wine and a brainstorm. It's impossible to find a date that suits everyone, but the options are Monday 25 th , Tuesday 26 th or Thursday 28 th January. Let me know which is best for you on harriet@homeinleiden.nl
Postponed due to too much fun to be had on the ice, we will start our Tuesday afternoon dance group on the 19 th at Pancrat Buurthuis, Middelstegracht 85, 3.30-5 (we'll be there from 3). Everyone welcome, but probably best for children under the age of 8: parents can join in or not as they choose! We will be starting with some Scottish dancing led by Noeleen.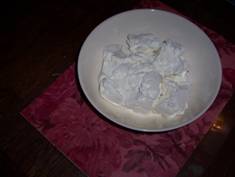 This is really easy, really cheap, and really yummy. I might be slightly obsessed, ok, but it's fun to do with children: it makes a sort of creamy curd cheese, which can be used for either sweet or savory things. Wonderful on TUC biscuits as a snack, or in a salad with tomatoes, or with smoked salmon, or with honey and nuts as a pudding, or to make cheesecake with.
2 litres whole milk (I used goat's - very yummy)
1 hydrofiele luier/muslin/ square of cheesecloth (finally realized why it's called this.)
Juice of 1 lemon.
Pour milk into a large heavy saucepan and bring to the boil, stirring.
As soon as it boils, remove from the heat and slowly add the lemon juice.
Stir in one direction. After a few seconds it will start to look grainy: this is the curds separating.
Leave, covered, in the pan for 2 hours.
Line a large colander set over a bowl with a muslin/cheesecloth. Pour the mixture into here: the watery stuff (whey) will start dripping through, leaving the grainy white bits (your cheese) in the colander. If you are feeling adventurous, keep the whey and tomorrow you can make ricotta (I'm just about to try this: see Make Ricotta Cheese ). Otherwise you can just let it drip into the sink.
After about ½ hour or so, most of the whey will have dripped through. Tie the ends of the muslin up to make a bag, and hang it (I hung mine on the kitchen tap over the sink).
Leave for approx 3 hours - and your cheese is ready!
www.likeasponge.nl
on your favourites and keep up with Marianne Orchard's hilarious and very useful blog about soaking up Dutch! Not only will it make you laugh, but it's also filled with helpful information for understanding this country and its language, and is motivating for those struggling with it all.