As I write this the weather remains cold and sporadically snowy and spring is seeming a long, long way away - but the school half-term (16-24 Feb) isn't called the krokusvakantie for nothing: there are plants out there in the garden valiantly trying to sprout, the days are getting longer, and some time soon spring will start to come. But as I struggle through yet another sleet shower it doesn't really seem like that to me! So this homepage has a ragbag of things which I hope will tempt you to get out and about in these weeks which can seem so cold and discouraging.

As we gradually add to the section on Oegstgeest to hear about the wonderful children's hairdresser (www.kapsalonkinderkoppies.nl on the Kempenaerstraat) we thought it was time to organise something sociable (and maybe even useful) to any Oegstgeestenaars reading this! So on Wednesday 20 th March we're holding open house from 9.30am for anyone who wants to come and meet some other locals / internationals in the area.
I will be hosting it (I'm Alice Elliott, mail me on alice@homeinleiden.nl for my address, I live near the Lange Voort in Oegstgeest), along with Marie Vijendran (of the Mindful Birthing course mentioned below) and Suzanne Perl, our Expat Rep on the Oegstgeest council. And we will have as guest star Alison Sutton (see below) who is a fount of information about bringing up children in a country new to you! We will be bringing along anything interesting we can find about all sorts of local amenities, events etc., and apart from meeting and talking to you, we'll be happy to (try to) answer any questions you may have about how things work in the area, or point you towards someone else who can help if we can't. Everyone is welcome, with or without babies or children - there will be toys for all ages available. And, of course, coffee, tea and lots of cake . We look forward to meeting you!
As usual, all the local museums have plenty of extra things going on in the krokusvakantie ; www.leidsemusea.nl is a good starting point for the seven big museums in town. Oudheden (Antiquities) on the Rapenburg has an exhibition on 'Hollywood Egypt' about Egypt's portrayal in the movies, which is great for children, and at Naturalis 'SuperZintuigen' (SuperSenses) was a huge hit with all my children (aged four to ten).
In Oegstgeest the 'Stichting Evenementen' organisation holds all sorts of one-off classes and events (in Dutch) for primary-age children (4-12) during all the school holidays, and here you can see what there is on offer; you register here. Apart from their holiday activities, they run a wide range of children's courses, from dance through cooking, yoga and technology to acting. In Leiden the local buurthuizen (community centres) fill a similar role. Although I've not been able to find a central information resource on line, your child should bring a folder home from school telling you what's on offer. Both in Oegstgeest and Leiden these activities tend to be very good value for money, in addition to getting (you and) your child out of the house on dull February afternoons! There's often coffee for parents there as well, and it's always worth checking out what else your local buurthuis has on offer - BplusC (www.bplusc.nl) offers various music courses in several locations around Leiden as well as at its town centre location.
Alison Sutton of Childrearing Matters (www.childrearingmatters.com) is giving a mini-course over four consecutive Tuesday evenings starting on March 5 th . The course will help you meet your own and your child(ren)'s needs calmly and effectively, and is aimed specifically at international parents. In addition to her own practice as an orthopedagoog and child psychologist, Alison has been working recently with Compananny, a day nursery in Oegstgeest, and the course will be held at their premises on the Rhijngeesterstraatweg. Thanks to their sponsorship, the course of four evenings is available for only € 159 per participant. Read more on her flyer here and email Alison childrearing.matters@gmail.com to register soon - places are limited!
Marie Vijendran has been working with her colleague Stephanie on Mindful Birth courses in the Leiden area for some time now, and recently they have started a new format for their course. There is a single day Mindful Birth workshop on March 17 th in the Hague, which would be ideal for anyone who has already done the course and would like a refresher, or perhaps for people whose baby is due before the next course starts in April. Just mail Marie vijendranmarie@gmail.com for more information.
On the same theme, the Koetshuis (coachhouse) in in the Leidse Hout (address is Groene Maredijk 100) has recently been transformed into a new centre for yoga and mindfulness training (in Dutch). Get your raincoat on and go and have a look - or visit www.yogainleiden.nl.
The Derja group in Oegstgeest is open to new members again! Cub Scouts are called Kabouters (girls) and Welpen (boys) in the Netherlands, and the Derja pack mixes the two in one group aged seven to eleven. They meet every Saturday morning from 10-12am at the clubhouse by Sporthal de Cuyl on the Voscuyl in Oegstgeest and do all sorts of g group games and activities and loads of outdoor stuff. There's also a week's camp in summer and a couple of other weekends in the year spent away or at the clubhouse. See www.scoutingderja.nl for more information (in Dutch).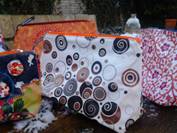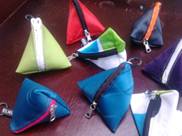 In need of a nice bag or presents for friends? Harriet's lovely neighbour Clara has started a business called Bikkies (www.bikkies.nl). She makes bags of all sorts (and the sweetest baby shoes) out of upcycled tents and other reclaimed textiles - they are really sturdy, original, and stylish. The webshop is still being added to but if you are interested in anything on there just email her on info@bikkies.nl.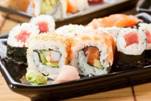 Having a party and want to provide delicious food without the hassle? Try buying a tray of sushi from the little sushi bar Sushi en zo on the Vismarkt 4 (near V&D by the bike parking). Their sushi is really excellent, the best in Leiden, and obviously great for a meal takeaway as well. They are open 4-7 Tues- Fri and 4-8 on Saturdays. Their website is not great www.sushienzo.nl but their sushi is!


I'm a sucker for things like this - it's only an hour or so out of my day, and it gives me a glimpse of what all those university researchers spend their time on, which is always interesting! Dr Wenting Yu at the Phonetics Lab of Leiden University is looking for volunteers for a 'ratings survey' experiment, which involves about an hour on the computer listening and rating the accent, intonation etc. of Chinese translation of English. You need to be a native or near-native English speaker. If you would like to help, please look at: https://uleidenss.eu.qualtrics.com/SE/?SID=SV_3kFOTEJsDyYOJQp and/or contact him on w.yu@umail.leidenuniv.nl.
Although I'd read about it in the paper (as in many towns, Leiden has an increasing number of people relying on handouts from the food bank) I only recently discovered where the Voedselbank in Leiden was. It's on the Admiral Barentszstraat in Leiden, at the eastern end of town near the Milieustraat (recycling centre), and they are apparently particularly interested in non-food donations - toiletries, household cleaning materials, even nappies and sanitary towels. It seems that they get close-to-sell-by-date donations of food from shops and businesses, but are permanently short of non-food items. So box up that shampoo you never use and a spare bottle or two of bathroom cleaner and take it along to the Food Bank - they will welcome you with open arms. Read more (in Dutch) on www.voedselbankleiden.nl.
It has probably not escaped the notice of even the most republican of you that Beatrix, Queen of the Netherlands, has abdicated in favour of her son Willem-Alexander. Apparently there won't be a full coronation but an 'inauguration' ceremony, which will take place on Queen's Day (30 th April), the last of its kind. From 2014 we will have 'King's Day' and it will be on April 27 th , which is Willem-Alexander's actual birthday. The 30 th isn't Beatrix's birthday, by the way, but her mother Juliana's - Bea's birthday is in January, so she sensibly decided to keep her mother's as Queen's Day. No doubt there will be extra-special festivities going on when this Last Ever Queen's Day comes round, and we shall keep you informed as best we can! In the meantime, click here for an affectionate joke at the expense of Beatrix's trusty hasn't-changed-in-forty-years hairdo . The caption translates roughly as 'Off at last!'.