It is a grouse of many expats here that whatever the complaint that their child takes to the doctor, it normally takes at least two appointments actually to get treatment - if any! This may not be an entirely inaccurate description, and since neither you nor I can change it, let's examine what happens and see how we should cope.
First time the doctor will take stock of the child. What are the symptoms? Is he distressed? has a fever? how high? for how long? how old is he? what's his medical history? etc. On the basis of this, she will probably tell you to take him home, give him plenty of fluids and keep an eye on his temperature and whichever bit of him is giving trouble. If in three days the situation is worse (or no better), you should come back in three days.
Second time round, three days later - no, hang on, for many of the children there wasn't a second time round. The problem went away by itself and the child recovered. If not, the doctor will examine the child again and question you further. At this stage the doctor is likely to prescribe or recommend palliative care of some kind (a soothing cream, a pain killer or paracetamol, perhaps) but no more, and to say - you guessed - 'Come back in three days'.
Again, many illnesses won't require any more than this. But what if symptoms persist? Well, you go back after three days, and the doctor takes another look and decides that this isn't going to go away by itself, so it's time to bring in the big guns. You will move on to the next stage: antibiotics, or referral to a specialist.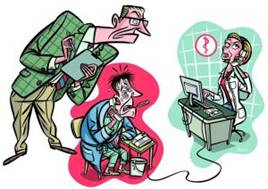 What's your response to the above? Despair at the lack of action from the doctor, and fury that the process took so long? Or appreciation of the considered approach and the restrained attitude to treatment and medication? Well, love it or hate it, this is by and large the approach here, and you will need somehow to cope with it.
At worst, you might feel that you cannot communicate with your huisarts , that she fobs you off with 'wait and see' replies when your child has a genuine and worsening problem, or even that she is being intentionally obstructive. This is distressing to all concerned, and not having experienced it I can only give general advice such as: try making a separate appointment (when no-one's ill) to explain your general concern; try taking a native speaker to help communicate if language is an issue, make sure that it is a genuine problem and not your misinterpretation of the system, or try switching huisarts if there's really no alternative.
If you stay here for longer than a year or two, though, you will I hope build up enough of a relationship with your huisarts and her practice that they will be a helpful and reassuring presence. The aim is a GP who genuinely understands the health situation of your children, so that she will be nothing but helpful in cases when you do need to go as far as a specialist. Again, talk to your doctor and give her the information she needs to do her job. Medical professionals are neither stupid nor uncaring, and they will not blindly apply the wait-and-see approach if the child's medical history dictates otherwise. Your huisarts will (or should!) also not resent you being pushy when you feel you need to be; remember the bit about parental responsibility? Your opinion is both valid and helpful, so express it!
See the Emergency section for how to deal with urgent situations.