Speeltuin Vogelenwijk (outdoor with indoor area open outside school hours)

Address: Nachtegaallaan 25,
2333 XT Leiden
Website: www.vogelwijk.nl
Open: 09.00-17.30 Mon-Sat, inc. school holidays.
Cost: Free
Review: Lovely 'nature-y' playground with two distinct areas: one for the little ones and a very exciting one with a big pond (with a boat) and lots of wild areas for older ones. Indoor area has bouncy mat and ball pool, and can be hired for parties. Harriet
Activities: Leiden parent and baby/toddler playgroup (Bilingual) 09.30-11.30 every Wednesday morning (see Baby/Toddler Groups )

Speeltuin Stevenshof (outdoor)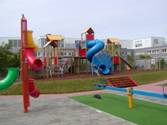 Address: Carry van Bruggenpad 2,
2331 GZ Leiden
Website: www.speeltuinstevenshof.nl
Open: Mon-Fri 13.00-17.00
Cost: Small fee for non-members
Review: Large, well-equipped, well-kept playground.
Activities: Mini disco one Friday per month 18.30-17.30 for children aged 4-7, entry fee €0.50 members, €1 non-members (next disco Friday 11 Sept).

Speeltuin Prinses Beatrix (outdoor)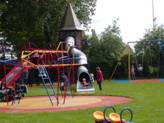 Address: Schubertlaan 62,
2324 CX Leiden
Open: Mon-Fri 10.00-17.00
Speeltuin ZuidWest (outdoor)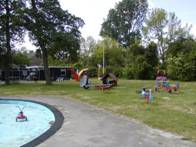 Address: 's Gravensandestraat 131,
2321 ES Leiden
Open: Mon-Fri 10.00-17.00. Open at weekends when the weather is particularly nice.
De Speelschans (outdoor)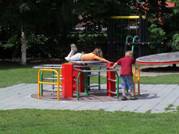 Address: Van Vollenhovenkade 22,
2313 GG Leiden
Website: www.despeelschans.nl
Open: 24hr, 11-17 caretaker present.
Cost: Free
Review: Large playground with a lot of equipment, amusing for older children too. Fenced but can be tricky to keep tabs on your children. Good grassy area with stuff for younger children. In hot weather there is a water pump and children can paddle and get very grubby and happy: bring spare clothes! Lots of snacks and ice creams etc available. Large park next to it for running around. Gets very muddy in the winter too. Importantly, this playground is also suitable for disabled children , as there is a roundabout that fits a wheelchair, swings a child (and adult) can lie in, and a slide large enough for an adult with a child on their lap. There are nice loos, including a disabled one. Gets very busy after 3pm when local schools are out. Indoor area can be hired for parties. Harriet

Speeltuin Zuiderkwartier (Outdoor)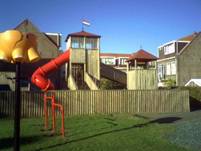 Address:Anjelierstraat 1,
2313 XA Leiden
Website: www.speeltuinzuiderkwartier.nl

Open Mon-Fri 10.00 - 12.00 and 13.00 - 17.00, Sat 13.00 - 16.00
Cost: Small entrance fee for non-members.
Review: Open air playground suitable for children 1-12 (even older) It is wonderful for both younger and older kids: the older ones can climb and play in a huge playing castle. There are even goats and rabbits. There is a supervisor, and you can buy coffee, ice creams etc. First aid, toilet and baby room (for changing diapers). There is a small building that can be rented for parties. Saskia

Speeltuin De Vijfhoven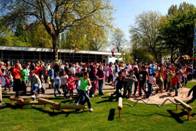 Address: Hoflaan 169,
2321 SP Leiden
Open: Mon-Fri 11.30-17.00

Speeltuin 't Zonnestraaltje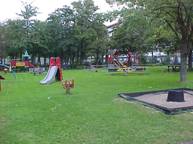 Address: Aaltje Noorderwierlaan 55,
2324 KP Leiden
Website: www.freewebs.com/zonnestraaltje
Open: Mon-Thurs 12.00-17.00 (if weather is nice, also open Fri 12.00-17.00 and/or Sat & Sun 11.00-17.00)
Cost: 0,50 non members, or €13 per year membership.
Activities: Children's entertainer Goof there every Monday 15.00-17.00. Craft club on Wednesday afternoons.

Speeltuin Westerkwartier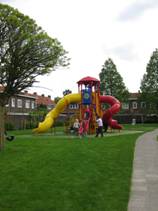 Address: Ten Katestraat 10a,
2321 AW Leiden
Open: Mon-Fri 08.00-17.30 (caretaker 13.00-17.00) Sometimes open until 19.30 in the summer.
Speeltuin Ons Eiland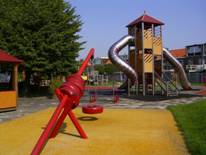 Address: Kortenaerstraat 61,
2351 TL Leiden
Open: Every day 10.00-17.30

Speeltuin Oosterkwartier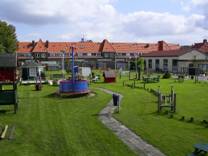 Address: Ambonstraat 28a,
2315 GH Leiden
Open: Mon-Fri 09.00-16.00
Speeltuin Noorderkwartier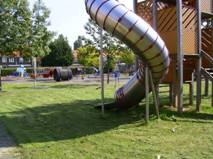 Address: Anna v Saksenstraat 8,
2316 PW Leiden
Open: Mon-Fri 13.00-17.00

Speeltuin Merendroom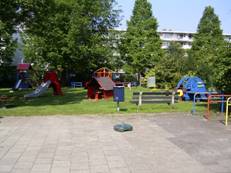 Address: Condorhorst 120,
2317 AW Leiden
Website: www.merendroom.nl
Open: Mon, Tue, Thurs & Fri 15.00-17.00, Wed, Sat & Sun 13.00-17.00
Cost: 0,50 non member, €10 family year membership
Speeltuin de Doorbraak (outdoor)

Address: Lakenplein 1,
2312 AA Leiden
Website: www.svdedoorbraak.nl
Open: Mon-Fri 10.00-17.30. Often opens late during school holidays.

Review: Nice local playground, 50c entry or € 12 a year membership, particularly friendly place to meet other parents, everyone talks to each other around the sandpit! Contained area so easy to keep tabs on your children. Nice sandpit and good climbing stuff, pirate ship climbing frame and bushes to make dens in, well maintained equipment. More suitable for children under 8 or so than older ones. Tea/coffee/squash/ ice lollies available. One rather grotty loo. Harriet
Activities: International Day held here every year. Members can hire playground for 5 euro at the weekend for parties.

Speeltuin Rondom de Maredijk (outdoor)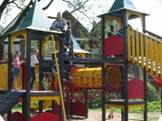 Address: Maredijk 100,
2316 VP Leiden
Website: www.svmaredijk.nl
Open: Mon-Fri 10.00-18.00 (May-Aug)
Mon-Fri 10.00-17.00 (Sept-Apr)
Cost: Small fee for non members
Review: Large well-equipped playground with indoor area. Swimming pool in the summer. Activities: 'Peuter Ochtend' (Toddler morning) every first Friday of the month 10.00-12.00.

Speeltuin Morskwartier (outdoor)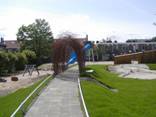 Address: Lage Morsweg 14a,
2332 XC Leiden
Open: Mon-Fri 10.00-17.00
Review: Imaginative playground with interesting equipment. Good wheelchair access and play equipment suitable for disabled children.

Kinderspeelparadijs Piraat Eiland (indoor)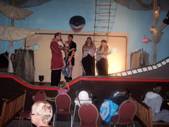 (suitable for children 1 - 11 under supervision)
Address: Groenoordhallen - Willem de Zwijgerlaan 2B
2316 GB Leiden
Tel: 071 - 523 22 35
Website: www.piraateiland.nl
Open: Tues 11.00-18.00, Wed 10.00-19.00, Thurs 11.00-18.00, Fri, Sat & Sun 10.00-18.00
Entry 1 year+ : € 6,00
Review: Pirate-themed playground with slightly bizarre rather giggle-inducing shows and 'spectacles', much enjoyed by children.

Bubbeljungle (indoor)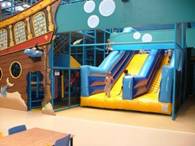 Address: Vlasbaan 7,
2352 AH Leiderdorp
Tel: 071589 97 77
Website: www.bubbeljungle.nl
Open: every day 9.30-18.30
Cost: children 1+ € 6,50, parents € 1,90

Review: Chaotic but paradise for children. Area for crawling babies, but can be awkward if you have a baby and another one of 3 or so who wants to play elsewhere but needs supervision: the linear layout means it is impossible to supervise two age groups at once. Fun for older children too: excellent for tiring out a group of older kids. Café with unimaginative junk food. Bus 13 stops outside the door. Helpfully open on Mondays when everything else is shut. Harriet