About us
Pregnancy and Birth
Childrens Health
Childcare
Schools
Learning Dutch
Previous Homepages
FAQ: Moving to Leiden
Oegstgeest
Museums
Playgrounds
Parks
Cafes and Restaurants
Getting around
Hotels and B&Bs
The library
____________________________________________________________________
Parking in the centre can be rather hard work, but not impossible. You need to apply for a resident's parking permit from the gemeente. It costs €40 per quarter (€80 for a second car). Download the 'aanvraag parkeers vergunning' form, fill it in and send it to Unit Parkeren, Markt en Water, Postbus 495, 2300 AL , Leiden.
Leiden, and the Netherlands in general, is very well provided for with public transport, and a great number of people (including us) live very happily without a car. To plan any journey, go to www.journeyplanner.9292.nl, which will give you all the most efficient way to go by train and/or bus (and/or tram or metro for other cities of course).
Of course, sometimes you need to get somewhere that you cannot reach without one: luckily there are solutions! For a whole day or longer, the best car hire option is Huurmij ( www.huurmij.nl ), close to the station: if you are a member then you can hire a car remarkably easily for a special reduced rate. It is not cheap, but it is a great deal cheaper than owning a car, and you never have to worry about petrol, they will bring you another car if you break down, and you don't have to pay for a long-term parking permit. If you need to park the car near your house if you live in an area of residents' parking, for whatever period, you can get from the Service Parkeren (Tweelinghuis, Tweelingstraat 4, off the Langegracht), on registration of the number plate and your details, a temporary parking permit, which works out very cheap as it is worked out as the equivalent daily rate of a per-quarter permit. The other option, which is really brilliant, is Green Wheels (www.greenwheels.nl). This is a system of small cars parked all over the city (see the website for a list of where) that you can rent by the hour: perfect for picking up visiting relatives, going to Ikea, or going on a spontaneous trip to the beach with the children. They have allotted locked parking spaces, and are recognizable as they are red with a green logo. You register online and receive your own special key and pin number.
For visitors, you can also get 'scratchcards' from the Service Parkeren, which are valid for 4 hours for any car and cost € 2,50 each. It's a very good idea to have some of these to hand for visitors as the parking wardens are very efficient and very fierce.
The buses in Leiden and the surrounding area are excellent: they are now almost all low-floor, so accessible for wheelchairs and pushchairs, and are mostly pretty reliable. You pay either with a strippenkaart (to be purchased at any newsagent, the cigarette counter of supermarkets, or any TNT office), or buy a ticket on the bus. For the former, the driver will stamp your strippenkaart for the relevant number of strips for your distance (local destinations are two strips), and it is valid for an hour for any return journey or change. If you buy a ticket on the bus, you can ask (after 9.30) for a € 1,20 'dalkaartje' which is a one-way ticket to any local destination, or a two-strip card for € 1,60 which is a return and/or valid for changes within the hour. The OV chipcard will soon be in use, so be aware that the system will change.
Go to www.connexxion.nl for details of specific bus routes etc.
Basically, taxis can only be got from ranks (and in Leiden these are only at Leiden Central Station and Leiden Lammenschans Station) or ordered in advance. They do seem to be a bit unreliable, so I am always nervous of ordering one if catching a flight etc is at stake! A couple of Leiden taxi firms I have used are Actie Taxi , tel: +31 (0)71-888 18 69, Taxi-Avance , tel: +31 (0)71-523 54 00, Taxicorrect , tel: +31 (0)71-711 30 90. Do be aware that they are expensive, and don't always know the way!
Basically, you are never going to feel properly at home here until you ride a bicycle around. If you buy a new bicycle it is best to store it inside if you can, or at least to make sure it has a very good system of locking, as the bicycle theft rate is very high. Good, reliable bicycle shops for new or second-hand bikes include:
H & B Helfensteyn & Bonnet , Herenstraat 86, 2313 AM Leiden, Tel: 0715122988


Huisman Rijwielen :
Willem de Zwijgerlaan 417 , 2315AW Leiden, Tel: 071-5680680
Levendaal 64/80 2311JM Leiden , Tel: 071-5131515
Hogewoerd 64/66, 2311HP Leiden, Tel: 071-5134000.
Website: www.huisman-leiden.nl


Fiets 2000 , Lange Mare 72 2312 GT Leiden, Tel. 071 513 00 24 (esp. for Bakfietsen)
Website: www.fiets2000.nl
You can usually get second-hand bike seats in Bengels on the Oude Rijn (see Shops ) , or try www.marktplaats.nl . For children's bicycle helmets, get them at HEMA as they are less than half the price of the ones in bicycle shops (or have a look at Bengels as they often have them). On Marktplaats you can always fill in your postcode and search only for things close by, as there are usually things for sale in Leiden itself. If you want a nice bike with child seats, a ' moederfiets ' (eg. the Gazelle 'Bloom' model) is particularly designed to balance well with a child seat on the front and the back, with a lower pedal to make it easier, and looks pretty! They also make a 'vaderfiets' with a seat at the back and a dinky little saddle behind the handlebars for the second child.
I have balance problems and am basically very bad at riding bicycles, so for years I just walked, and only rode a bicycle when I absolutely had to. However, the discovery of the three-wheeled bakfiets (box bike) has changed my life. I was always terrified by the idea of transporting two heavy children perched high up on a wobbly bicycle, so I now have what is essentially a tricycle with a big box at the front to fill with children/shopping/wardrobes (it's been known). Bakfietsen aren't cheap, but they are extremely useful and practical (ours does instead of a car), not least because they enable one to transport a baby that is too small for a bike seat, preventing the need for parents to ride a bike with a baby strapped to their chest, which has always terrified me. There are now hundreds of different sorts of bakfiets on the market, and I am frequently asked for advice on which one to buy, so here are some of the best options. They are also increasingly being sold second hand, so do look at Marktplaats - and check out our For Sale section!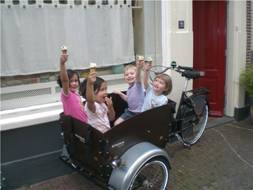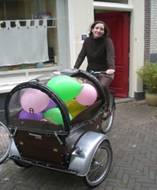 Design

3 wheels, square bak with removable benches for 4 children facing each other: one bench can be removed to make space for baby in maxicosi. In this model the wheels move independently of the bak, making it very light to steer. There is a similar model (see below) in which the whole bak moves, making bicycle very heavy to steer, although there is more space for the children. Excellent raincover opens for easy access for children, also easily removable. 5 gears.
Very sturdy wood and metal construction, available in different colours of metal.

Price

In region of € 2,000 new now I think.

Advantages
Very strong and can easily carry 4 children plus bags, keeping them dry and warm in the most horrible weather. Not heavy on the wrists. Built to last for ever and fine to leave outside. At weekends we go with the whole family: children in the front, my husband driving, me on the back. Its 3-wheel construction means that it's very stable: even if the road is a sheet of ice it's fine. It also means you can drive very slowly without wobbling and stopping and starting present no effort. The raincover is particularly well designed and it's very easy for children to get in and out even with it on.
Disadvantages
It's wide and heavy. The flat front makes it rather un-aerodynamic and therefore hard to pedal in high winds. At first it feels very odd to drive but you easily get used to it, although you do have to lean into bends and lean on slopes to keep it feeling stable.
Suits
Anyone who wants a very strong, built-to-last bike, frequently wants to carry several children and/or a lot of stuff, and who needs to leave the bike outside. Its stability and lightness of steering makes it suitable for someone with some physical problems.

This is the version without separate steering: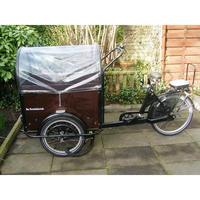 It is very heavy to steer, and the bak swings round a long way when you turn which takes some getting used to. However, as less space is taken up by the wheels, there is more space inside for the children. Otherwise it is very similar. Harriet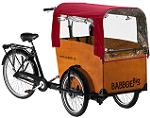 Design

3 wheels, wooden bak, fairly heavy
The raincover is rather loose, and so puddles form on the top when it rains. However, it has big transparent panels, so the children can see out in front of them and all around, and the driver can see them very well. It is fairly easy for the children to get in and out.
It carries 4 children or a maxi-cosi and one child.

Price

Approx € 1,300 with raincover

Advantages

The bike is very stable thanks to the 3 wheels. It is frequently on offer with € 500 off. It has 5 gears.

Disadvantages

Does lean on roads that aren't flat, due to the 3 wheels.

Suits

Anyone! Claire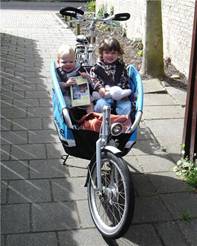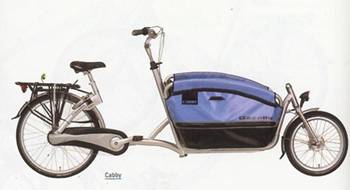 www.gazelle.nu/nl/producten/collectie/stadsfietsen-comfort/cabby.html
Design
2 wheels. Can carry up to 2 children plus baby in Maxi Cosi car seat (Maxi Cosi adaptors sold separately) Seat is removable. 3x 3-point seatbelts supplied, so for either 2 children or 1 seated in the middle of the seat. Bike is made of metal and 'bak' is made from vinyl. Seat is padded.
Without raincover, it is very easy to get kids in and out, once they are about 90cm tall, they can climb in and out themselves.
Raincover is quite bulky, a very broad design that gives the kids a lot of room inside, but is not as streamlined as the 2-wheel traditional bakfiets. The transparent bit of the plastic is prone to cracking. It's harder to get the kids in and out with it on.
Price

Now € 1549 new. We got ours for € 1100 because it was the display model. The price includes the bike. Raincover, Bakcover and Maxi Cosi adaptors are all extra.

Advantages

Light and manouverable.The 'bak' folds up and can be removed. This means that if you don't have the kids then you don't have to cycle with a big wide bit in front of you. If you have some shopping, it's possible to fold and lock (with one of those long chains that fit into the integral locking system) the 'bak' closed to keep your possesions safe. It's also handy to close the 'bak' up if you have to park it somewhere narrow - in the row of bikes outside the train station for example.

Disadvantages
If you go out without kids, you still have the 'bak' with you, whether it's folded up of not. You can't remove it and just have a 'normal' bike like you would a chariot.
Suits

Everyone! I find it very adaptable. At its most, it has carried the whole family of four, plus shopping, plus pushchair! It has also carried 4 big oak chairs we bought home With or without kids inside, it has room for a lot more shopping than a chariot does.
I think if you have a small kid, then this bike plus a Quinny Zapp pushchair (that folds up very small), would be the ideal solution! Hannah

Advantages

Super-light, rides well and easily with its 7 gears (on bridges where riders of wooden bakfietsen have to dismount, I merrily keep on going.)
Maxicosi holders are well designed and provide a comfortable mode of transport for babies.

Disadvantages

The stand is difficult to put down and fold up
The raincover has a rather fragile frame. It's fairly easy to attach and remove, but not exactly enjoyable. Ankie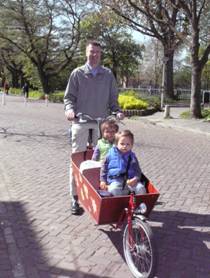 | | |
| --- | --- |
| Design | 2 wheels, wooden bak with a metal frame, very stable and safe, easy to ride. Much faster than a 3 wheeler. We use it for 2 children, but there is space for three, and we have a bike seat on the back for a fourth. Benches easily removable to make space for a Maxicosi. 7 gears available, which we love, but you can choose to have fewer and it is cheaper. Rain cover is easy to put on and to remove and keeps the children dry. 3 point seat belts. |
| Price | Approx €1450 with five gears |
| Advantages | Feels sturdy and safe. Saddle easy to adjust: my husband is much taller than me and this is very necessary! |
| Disadvantages | - |
| Suits | Us ! We are very happy with it ! Jacquy |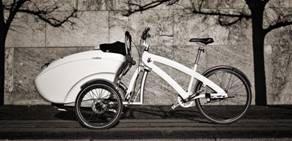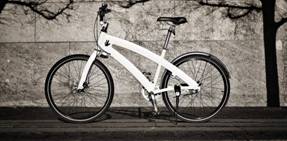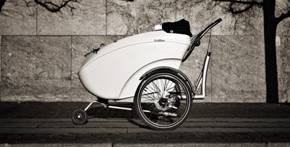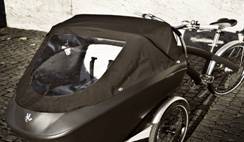 I have never seen one in real life, but am hugely impressed by the concept of the Triobike (see www.triobike.nl ) - a Danish design, whereby the bakfiets comes apart into a bicycle and a pushchair/cart. I'm not sure about the practical aspects, and at about €2,500 it's not exactly cheap , but it does look extremely chic. I'm sure someone will be sporting one about town soon.
Visitors book
Baby/Toddler Groups
Vogelwijk Playgroup
Oegstgeest Family Life
Q`s Cakes
Classes and Sports
Photo Gallery
Leiden Moms Yahoo Group
Vrouw Kind Centrum
Meeting Point
Shops
For sale
Wanted
Find a Babysitter
Dutch Etiquette, Festivals and Traditions
Kids' Clothes Swop
Greener Leiden Living
HIL Top Tips
Expat Centre Leiden
Bread and Baking
Useful Links