Museums in the Netherlands are usually particularly child-orientated and very tolerant of small visitors. I recommend buying a museum card (age 25+ 35 euro per year, age 4-24 17.50 per year) as this gets you into all museums free. Individually they can be very expensive, and it's great to be able to take the children for a short time frequently without feeling you have to get your money's worth. You can buy a museum card in any museum or order it online at www.museumkaart.nl. Most museums have pegs and lockers for valuables, so it's worth having 50cents on you if you need a locker for your stuff.
____________________________________________________________________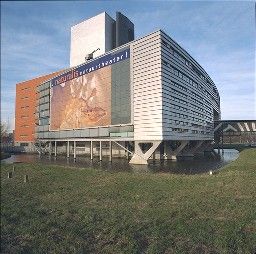 Darwinweg 2, 2333 CR Leiden (behind the station)
Tel: 071 568 7600
Website: www.naturalis.nl (English version available)
Open Tues-Sun 10.00-17.00, during the school holidays open until 18.00 and open on Mondays. Closed on 1 January, 30 April, 3 October and 25 Dec.
| | |
| --- | --- |
| Children under 4 | free |
| Children 4 - 12 | € 7,00 |
| Children 13 - 17 | € 9,00 |
| Adults | € 11,00 |
| 65+ | € 10,00 |
| Museumkaart | free |
This is a fantastic museum for children of all ages: there is lots for them to do and see. The very imaginatively displayed stuffed animals are almost as good as the real thing for the little ones, and they rather sweetly have a dog and a pony that the children can cuddle (the latter has a label on it saying 'you may stroke my skin but you may not mount me', which makes me chuckle every time I'm afraid). Downstairs there are lots of fossils and a good display of evolution. There are really excellent displays about Life, Earth etc. On level 4 there is also a brilliant room called 'Kijkje Aarde' (A look at earth) with animals that children can 'feed', while learning about what different animals eat. It enables tired parents to sit down for a minute while the children are kept happy. The children's loo is also helpfully situated off this room.

There is a café serving some warm food as you come into the museum, otherwise on level 1 there is a very basic café, but one in which you are allowed to eat/drink what you have brought with you.

The museum is very wheelchair and pushchair friendly, with lots of space for energetic children to run around, and nobody minds!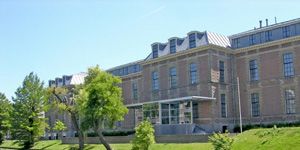 Steenstraat 1
Postbus 212
2300 AE LEIDEN
Tel: 071 51 68 800
Open Tues-Sun 10.00-17.00. Closed on 1 January, 30 April, 3 October and
25 Dec.
Website: www.rmv.nl (English version available)

This museum has had a huge renovation programme, and makes an effort to be child friendly. We find the displays rather dark and surprisingly unappealing, but there is lots to see. The layout is also quite confusing. There is a sort of 'car' that children can drive round the museum, which is a lovely idea but quite hard to steer and involves a lot of fighting and not much museum viewing with my children! There is also a play area, which is nice for half an hour or so, although it gets a bit claustrophobic. In the school holidays they have special activities, which can be fun.

Temporary exhibitions are often the best bet, as they are frequently very child-friendly. There is a small café selling rather nice fresh food at the entrance (it's quite a long walk from there to the museum with small people!) and another one inside. The museum is accessible with a pushchair/wheelchairs but this does mean various extra lifts etc, and there are a lot of heavy doors throughout the museum.
Children under 4
free
Children 4 - 12
€ 4,00
Adults (13+)
€ 7,50
Family ticket (2 adults 2 children,
doesn't include entry to temporary exhibitions, extra children 1,50)
€ 20,00
65+
€ 4,00
Museumkaart
free
Entry to temporary exhibitions
€ 1,00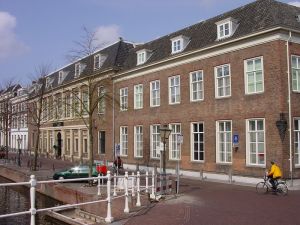 Rapenburg 28
2311 EW Leiden
Tel: 071 - 5163 163
Website: www.rmo.nl (English version available)
Open Tues-Sun 10.00-17.00, during the school holidays open on Mondays. Closed on 1 January, 30 April, 3 October and 25 Dec.

This is a fun museum for children, and accessibly displayed in a compact setting, although some of the cases are quite high. There is a temple that they can play in in the lovely entrance hall, and during the school holidays they have excellent activities there, which are even enjoyable for little children. Apart from the rather unhelpful turnstiles it is easily accessible with small children and pushchairs. The temporary exhibitions are excellent and often child friendly. I will say that the loo is rather unhelpfully situated right near the entrance, so if a child needs an urgent visit when on the top floor it can be awkward! There is a nice café in the entrance hall.
Do be aware that you can't take a large bag or rucksack into the museum, which can be a bit tricky with small children, so be prepared!
| | |
| --- | --- |
| Children under 4 | free |
| Children 4 - 12 | € 4,50 |
| Adults | € 8,50 |
| 65+ | € 7,50 |
| Family ticket (2 adults 2 children, extra children € 5,00) | € 25,00 |
| Museum kaart | free |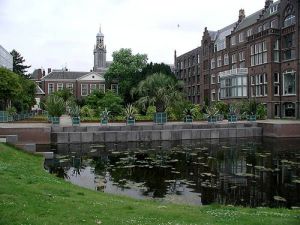 Rapenburg 73
2311 GJ Leiden
Tel: 071-5277249
Website: www.hortus.leidenuniv.nl
Open
Summer
(1 April - 31 October)
Daily 10.00 -18.00
Winter
(1 November - 31 March)
Tues-Sun 10.00-16.00
Closed
on 3 October, 24 dec and 1 January
The Hortus is one of my favourite places to go with children in Leiden. There is loads to see, even in winter (the greenhouses are fab and even have fishtanks, as is the very hot Victoria greenhouse (with the giant Victoria Regis lily), although this has stairs and is not accessible by pushchair or wheelchair. Once a year when the lily flowers there is an evening where you can bring your baby to be photographed sitting on a lilypad! We love the carnivorous plants greenhouse, with tons of pitcher plants, and looking for the banana palm and the chocolate tree etc.

Outside, there are wonderful places to play (although children do need to keep off fenced areas and not damage the plants, and no tree climbing is allowed, alas) such as a magical place with winding paths and little streams at the far end (we call it 'froggy place' as there are frogs and newts at the right time of year), the lovely grassy stretch under the trees in the middle, perfect for lying little babies on blankets and having a picnic, and the Japanese garden with its pebbles and stepping stones. As dogs are not allowed it is all wonderfully dog-turd free.

There is a very nice shop and café, and they also sell ice creams.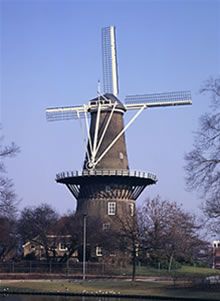 Stedelijk Molenmuseum 'De Valk'
2e Binnenvestgracht 1
2312 BZ Leiden
Tel: +31 (0)71 5165353
Website: www.molenmuseumdevalk.nl
Open Tues-Sat 10.00 -17.00, Sundays and holidays 13.00-17.00
| | |
| --- | --- |
| Children 0 - 5 | free |
| Children 6 - 15 | € 1,70 |
| Adults | € 3,00 |
| 65+ | € 1,70 |
If you have a head for heights and children with strong legs, this is quite a fun one-off outing, especially for the view of Leiden. It has seven floors, and a phenomenal amount of climbing to do! Be aware that if it's windy you may not be allowed outside. It is more suitable for adventurous older children, and you learn a lot about windmills.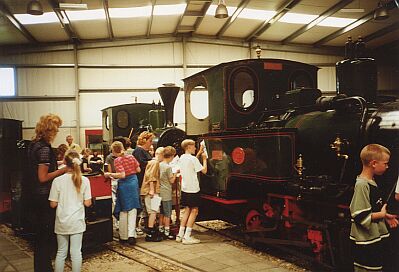 Stoomtrein Valkenburgse Meer
J.Pellenbargweg 1
2235 SP Valkenburg ZH
Website: www.smalspoormuseum.nl
This museum is great for small people who love trains (and of course big ones too). It's not open very much, so make sure you check the website before you go for the exact dates on which it is open. There is a museum as well as a steam or diesel train running on which you can take rides. The ticket prices includes both.
Diesel train + museum :
Saturdays between Easter and Ascension, Tuesdays and Thursdays in the summer school holidays and on Tuesday, Thursday and Saturday of the autumn school holiday ( Herfstvakantie ).
Museum open 12.30-16.00, train departs 13.30 and 15.00
| | |
| --- | --- |
| Children 4 - 12 | € 4,00 |
| Adults | € 7,50 |
| 65+ | € 4,00 |
| Family ticket (2 adults 2 children) | € 17,50 |
| For special events | ticket prices vary |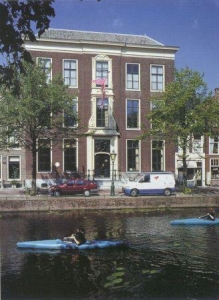 Rapenburg 19
2311 GE Leiden
Tel: 071-5125539
Website: www.sieboldhuis.org (English version available)
Located on the Rapenburg, the newly renovated Sieboldhuis is an exciting and suprising treasure trove for adults and children. It celebrates the historical link between Japan and the Netherlands and displays (as well as many fascinating temporary exchibitions) the art and artefacts that von Siebold brought back from Japan. They have interesting events for children and an excellent shop.
Open: Tues - Sun: 10.00 - 17.00 (Closed Mondays, Jan 1, October 3 and December 25)
| | |
| --- | --- |
| Children 4 - 12 | € 4,00 |
| Adults | € 7,50 |
| 65+, non-Leiden students | € 4,00 |
| Family ticket (2 adults 2 children) | € 17,50 |
| Museum card | Leiden Students Free |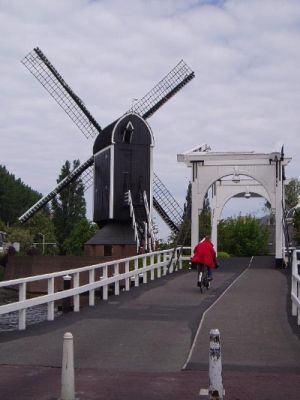 Park de Put 11 (Galgewater)
2312 BM Leiden
Tel: 071-5120279
Website: www.molendeput.nl
Open most Saturdays (check on the website as it is occasionally shut)

This is a much smaller windmill, and it is free to go up. The steps are precipitious but it's rather fun to go up, especially as there is a playground in the little park at the foot of the windmill where less adventurous family members can stay. Don't try and do it on your own with an older and a younger child, however, as it is logistically impossible! They grind flour that you can buy in the shop at the bottom, which is quite fun.