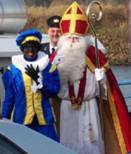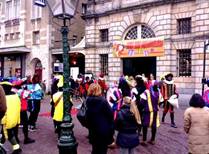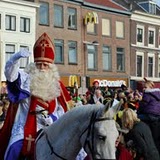 Although November is one of the most dismal months of the year in Holland, it's also the start of one of the most fun times of year. Just as the rain, wind and drear are getting unbearable, along comes Sinterklaas in his steamboat from Spain and Holland is suddenly a warmer, happier place.
Sinterklaas's arrival in Holland is similar to Koninginnedag. Just like the royal family who visit a different part of Holland on Koninginnedag each year, Sinterklaas arrives in a different place each year and his arrival, like the royal family's Konginginnedag visit, is broadcast live on TV. Like Koninginnedag, there are lots of amateury groups doing somersaults, dancing, majoretting and singing to welcome Sinterklaas like the royal family. Like Koninginnedag there has to be at least one brass band playing.
Then, in the evening, even though all children must be in bed, the first item on the news, even if something really terrible has happened in the world, is that Sinterklaas is in het land (Sinterklaas is in the country) . Even the newsreader seems to give a sigh of relief and smile a little smile of joy at the news that he's arrived. It's as if the whole country really does believe in Sinterklaas.
Once Sinterklaas has arrived everyone wants to get in on the act. The kids get Sinterklaas presents from school, the peuterspeelzaal and nursery, but also from any organised activities they do such as swimming or gym. Gangs of Pieten hang around on street corners just waiting for kids to throw pepernoten and sweets at.
In the weeks between Sinterklaas's arrival in Holland and his birthday on the sixth, children can put their shoe with a carrot in it for Amerigo, Sinterklaas's horse, together with a bowl of water for Amerigo, in front of the fire or radiator before they go to bed, and sing a Sinterklaas song. If they've been good, Sinterklaas or the Pieten, it's never quite clear to me which, will leave them some sweets, a chocolate letter or a small present. Sometimes Amerigo spills some water on the floor or leaves bits of carrot behind.
It seems to be quite arbitrary when children can put out their shoes during this period, but it tends to average out at once or twice a week. The children tend to find some pepernoten, sweets and maybe a small present in their shoes.
The downside of the Sinterklaas tradition that many people from other countries have difficulty with is Sinterklaas's helper, Zwarte Piet (Black Peter) who, Black and White Minstrel style, is a blacked-up white person. This is hardly discussed at all in the Dutch media and anyone who does dare to question it is accused of political correctness gone mad.
The English article about Sinterklaas on Wikipedia, for example, which sounds as if it was written by a Dutch person, does not refer to this aspect at all. However, it does give the explanation that many Dutch people use that Zwarte Piet is a chimney sweep and the black is soot. See our discussion on http://www.homeinleiden.nl/html/news2009-12-01.htm
The highpoint of Sinterklaas's winter break in Holland is the fifth of December, the day before his birthday, which is known as Pakjesavond ( pakjes are packages or presents, avond is evening). Although it's an important date in the Dutch calendar, this isn't a national holiday, which always seems a bit stingy to me. The shops therefore tend to be open but they close early and, if it's during the week, people leave work early to sit in huge festive traffic jams.
Many families do pakjesavond in the weekend before or after the fifth if it does fall on a weekday. The story of pakjesavond is that Sinterklaas calls round all the houses and gives presents to children who have been good. Those who have been bad used to be put in Zwarte Piet's sack and taken to Spain, but that doesn't seem to happen anymore.
It depends on the family as to whether Sinterklaas actually appears at the front door. In some families there is a knock on the door but when the children race to open it Sinterklaas has already left a sack of presents and there is no sign of him. This tends to happen just at the moment when one of the parents has gone off to do something really important.
In other families Sinterklaas is actually at the door. He comes in and the children get to sit on his lap and hear whether they've been good or bad. In some families, again, this happens just when one of the parents has gone off to do something. My father-in-law never got to see Sinterklaas when he came, although the family photos show the worst Sinterklaas ever who has a cardboard beard with a few frugal pieces of cotton wool stuck on it and is wearing clothes similar to my father-in-law's and a cape that my husband says was very similar to the red curtains they had.
Some families, especially once the kids are older, celebrate pakjesavond with surprises . The family members draw a name out of the hat and have to come up with a present for that person. The presents are anonymous and mustn't cost more than a certain amount, usually a small sum. The present comes together with a poem that contains a few barbed comments about the receiver of the present.
There doesn't seem to be any traditional meal that people eat, although gourmetten (cooking your own food in teeny pans on a grill at the table-the name makes it sound classier than it is) seems to be fairly popular. At the meat counter in the supermarket you'll see gourmet (you need to pronounce the 't' at the end) packs of teeny cubes of meat, teeny meatballs and teeny sausages to fit in the teeny pans. If you're really going to go to town you can go for a luxury gourmet selection that will have prawns, the teeny ones, in it too.
This depends on whether you have children or Dutch family members. If you have children who are of school or Peuterspeelzaal age you've got no chance of ignoring it. If you've got Dutch family you'll probably have to get together on pakjesavond and say how gezellig it is.
If you've got kids you'll they'll probably want to put their shoe out for Sinterklaas and will expect him to put in an appearance on pakjesavond. If you've got Dutch family members you might have to do surprises and buy a present for one other family member and write a poem for them. You might have to cook teeny things in teeny pans too.
Sinterklaas is the Dutch St Nicholas, whose name day is the sixth of December. He was originally a bishop in Turkey but is now said to come from Spain (it's all foreign, after all). The story goes that Sinterklaas comes to Holland sometime towards the end of November to start sorting out all the presents for the Dutch children:
'Do Spanish children get any presents from Sinterklaas?' my son asked me.
'Ask papa,' I answered. 'He's Dutch. That's his department.'
Sinterklaas in his current incarnation goes back to a book published in 1850 by a teacher from Amsterdam. It is here that the steamship is first mentioned and the arrival from Spain together with Zwarte Piet's sack as a punishment. It was also here that Sinterklaas first rode a dappled horse (a schimmel ) over the roofs and put presents down the chimney.
The name Amerigo for Sinterklaas's horse only dates from the 1990s.
Pepernoten - the tiny biscuits (they'd fit in a gourmet pan) the Pieten hurl at children

Strooigoet - sweets and biscuits Pieten hurl at children

Pakjesavond - the evening of the fifth when people exchange presents

Stoomboot - the steam boat that Sinterklaas arrives on

Schimmel - a dappled horse
http://en.wikipedia.org/wiki/Sinterklaas.

Harriet's Sinterklaas homepage , complete with pepernoten recipe.