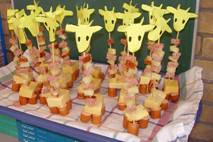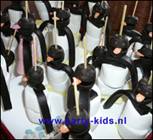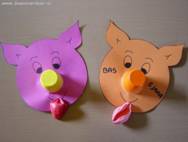 Just this morning my heart sunk as a mother paraded into school with a tray of penguins. Not real penguins, although it wouldn't surprise me if someone did appear with some, but small traktatie penguins. I was too far away to see if they were edible penguins. Whatever they were, they were penguins that had taken a lot of trouble to make.
Trakteren is the Dutch word for to treat. A traktatie is therefore a treat. Unfortunately, however, trakteren and traktatie carry a lot more baggage than an innocent little treat. It is customary here for children to bring in a traktatie for the other children in their class at school, their group at the peuterspeelzaal (playgroup) or their group at the nursery on their birthday. Some children even bring them for the other children in their group at swimming or gym or whatever other out-of-school activity they do.
If you have paid work, you need either to pretend it's not your birthday or bring in a traktatie for your colleagues. The good thing about working with adults is that you can bring in some cakes or biscuits and don't need to worry about making them look like penguins.
Because once you have kids you will find yourself in a new and frightening (ok I'm being negative about this and it's all very charming and everything) traktatie-world and you'll have no choice but to traktate (new English verb).
It's my son's birthday next week and I've already tried saying nonchalantly,
'Do you want to tractate for your birthday? Or don't you want to bother?'
Unfortunately, he does want to bother.
Traktating for children is a serious business here. There are traktatie websites, healthy-traktatie websites and even traktatie businesses that you can pay to make the traktaties for you.
The basic idea of the traktatie for children is that your child brings in a little something for all the other children in their class. This idea has become bloated into parents spending hours the night before the birthday making penguins, or whichever animal or TV character their child loves, out of card or fruit or sweets. It's based on the premise that kids love things that look like animals or TV characters, when my kids, at least, seem to focus more on tearing off all that stupid paper to get to the present inside. You'd almost think all the work was to impress other parents rather than to please the children.
Although I love traktating very much (making traktaties and loving making traktaties should be the first part of the inburgeringstest (integration test)), there are a few aspects to it that are ever so slightly annoying:
Cost. My son is in a class of 29 children, so whatever we decide to make or buy needs to be multiplied by 29, which equals a lot of money.

Effort. Making 29 fiddly things takes a lot of effort when you've got the birthday party to organise already and quite like doing other things like putting your feet up and drinking a glass of wine in the evening.

Waste. A lot of traktaties seem to involve lots of painstakingly folded paper or card that is then thrown away in a lot less painstaking fashion as soon as the present has been extracted.

Crap. The making-it-affordable factor means that most traktaties are either sweets, which, without being too über-mumish about, I'd rather my kids didn't eat too many of, or cheapy toys that fall apart within two seconds and end up in the bin, which isn't very good in terms of wasting resources.
So, each year I'm faced with the awful traktatie dilemma of what can we make (optimistic use of the word we here) that won't cost too much, won't be wasteful, won't be sweets and won't be crappy and fall apart straight away. Twice. Except peuterspeelzaal traktaties have the added challenge of not being able to have small bits that two-year-olds can swallow.
It tends very often to end up being fairy cakes (I know they're sweet but they're not as sweet as sweets). Which brings me to something else: it seems to be fine to spend whole nights cutting out Doras and making paper rucksacks into which you insert shop-bought biscuits, but to bake your own biscuits or cakes is seen as downright show-offery. I just don't get it.
The penguins turned out to be liquorice artfully stuck on wooden skewers, by the way.
As long as you don't let anyone you work with know when your birthday is you might be able to keep it quiet. If you have children you're probably going to have to traktate.
Ik vier mijn verjaardag niet - I don't celebrate my birthday
Ik geloof niet aan trakteren - I don't believe in traktating
Hoera! Ik mag weer traktaties maken - Hooray! I can make traktaties again
Some useful websites to inspire you, or inspire dread:
http://www.party-kids.nl/titels.asp?intCategorie=1&strSorteer=intMail
http://www.traktatiecorner.nl/
http://www.creatiefmetsonja.nl/traktatie_ideeen.htm
http://www.jufsanne.com/traktatie.htm