The biggest steps are reducing what you buy or receive , what you emit (and no, just eating fewer sprouts doesn't count), and what you discard. The three are of course interlinked, and are linked to other aspects: obviously if you buy a second-hand toy rather than a China-made plastic one from Bart Smit, and then when your child is bored with it either sell it at Bengels or give it to a friend's child. well, you're ticking every box. At any rate, it's important to be conscious that buying that € 1 worth of new plastic tat for your child has consequences that reach across the globe. so it's worth thinking second-hand, locally-produced, or at least responsibly produced (e.g. Fair Trade).
Almost every day you may receive commercial post not addressed to you. If you would like to stop receiving advertisement leaflets, you can ask for a NEE-JA sticker at the town hall and stick it into your mail box. If you ask for the NEE-NEE sticker, you will also stop receiving the free local newspapers, such as the Leids Nieuwsblad / Stadskrant.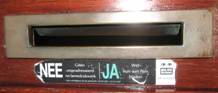 I personally find the Leids Nieuwsblad quite handy and nice to read to find out what is going on in Leiden. You can also use it to practise your Dutch if you are learning! However, if you don't want to read it, just put a NEE-NEE sticker at your door, and you will be reducing your post quite a lot.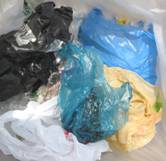 You will have noticed that in The Netherlands you have to pay for plastic bags in the supermarkets. Generally that is a good measure to remind you to bring your own reusable shopping bags. If you do your shopping by bike, it's a good idea to buy bags that can be attached to the back of your bike. If you go by car, then a couple of foldable plastic boxes (available in Blokker, for instance) are very handy. Most of the supermarkets have also cardboard boxes at the exit that you can use to pack your groceries.
The large woven shopping bags also available in supermarkets are excellent, as you can use them repeatedly and they are extremely strong, but you can also buy such bags that are themselves made of recycled materials - only I have yet to find out where in Leiden. Woven bags are also great, and a great handbag standby is the foldable-into-keyring-size fabric bag (you can get them in Blokker - or look at this website www.envirosax.com for really fab ones). We will shortly also have some HomeinLeiden undyed woven shopping bags: email Noeleen@homeinleiden.nl if you would like one of these!
However, in other shops you will be asked whether you want a bag: do try and answer 'No, thank you, I have my own!'.
In the market, ask for paper bags rather than plastic ones where you can, and have your own large bag ready for them to hand you larger items so they don't automatically use extra bags.
You will always end up with some plastic bags, and these can be useful of course - a good way to store them is to make a sort of fabric sausage with a drawstring at one end and a sort of elasticated opening at the other. That way you push the old bags in and pull them out the other end when you need one.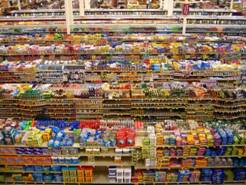 Food-wise : just buy things in the market as much as possible: this reduces enormously the amount of packaging you take home with you. Cheese and fish are wrapped in coated paper, and veg mostly paper bags (but do take your own shopping bag of course). Even the small plastic bags used for meat are much less awful than all the polystyrene and extra layers of the supermarkets.
In the supermarket , try to buy milk in cartons rather than the large plastic containers, and try to avoid the over-packaged versions of cheese and cold meats etc. When you buy jam etc, I admit to always buying ones in nice jars that I want to keep (esp Bonne Maman for making jam) rather than manky ones that I don't want to keep - there's only so many children's paint pots and candle holders one can have. However, I'm sure Marie, who is brilliant at this sort of thing, would give you more ideas!
For cleaning stuff , I am trying to get into making my own stuff, but given I'm hopeless at cleaning anyway, it's a bit of a struggle. Do have a look at (for example) http://www.pioneerthinking.com/cleaning/product-recipes/ though for some ideas.
Otherwise, obviously there's the Ecover range, but they are pretty expensive: I really like the very affordable KLOK range of eco - the washing up liquid is affordable and excellent (although in a plastic bottle: it does make a good rocket or bath toy squirter however), and the washing powder comes with minimal packaging and works fine. KLOK products are most available at Dekka markt (on Levendaal - and my favourite supermarket by far for price and eco stuff and general un-yuppie-ness).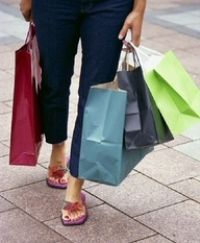 It's surprisingly easy to start just buying less.
Don't go shopping : especially not with the children! There's a wonderful chapter on this in How to be Free by Tom Hodgkinson, by the way. Whenever I go into town for a spot of retail therapy (awful concept, somehow, if you really think about it: rather like eating because you are depressed about being overweight), I always end up with some piece of crud I don't really need. I love buying clothes and toys for the children, but often I'm buying them for me (won't my daughter look pretty, won't that toy keep them quiet for ages so I can read a book), and frankly they just fill the house and cost money. If you either buy second hand, borrow, swop or make your toys and clothes, you can reduce the amount of stuff that has to be created for your children's consumption quite drastically. It is also great seeing small children understand that 50c pocket money gets them very little in Bart Smit, but can get them a really nice second-hand car/doll's dress/puzzle in Bengels . There's more on swopping and borrowing in the Re-use section, but making a conscious effort just to buy less is a very effective step.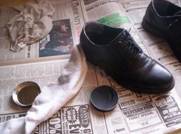 It may feel rather grown-up and dull, but polishing shoes, using boot trees, using hangers for coats, replacing buttons (Mol en de Groot has an enormous range), washing bras by hand, washing wool items by hand with gentle soap and drying flat on a towel on a drying rack etc all extend the life of clothes dramatically. Tumble-drying does eventually wear clothes away, so it's good to avoid it as much as possible. Incidentally, hand washing is something small children are excellent at and love: they get to swoosh around in soapy water - what's not to love? Bicycles, like bicycles, last much longer if you take them for regular services: Trappers off the Nieuwe Rijn ( http://www.trappers.cc/) are really nice and particularly good at Bakfietsen. Unvarnished wooden tables get very thirsty: they love to be fed with beienwas (beeswax), available at Blokker. Mattresses need turning, carpets need beating, and generally it's all a bit 1950's housewife. Unfortunately all those old-fashioned things our grandmas did do actually help to make things last much longer. Yes, busy life and no time. but if we looked after our stuff a bit better, maybe we wouldn't have to work such long hours to earn money to buy new stuff. Also, most of these activities are things children adore doing: if you have a garden, put your rugs upsidedown on the grass and get the children to run around on them; turn all your bicycles upsidedown in the street and give the children squirty bottles filled with water and a cloth, and they'll be happy for ages (albeit rather damp by the end of it). Cleaning shoes is endless fun for children (again, protective clothing required for everyone involved and make sure they don't helpfully try eating it).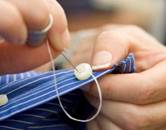 I do tend to rant a bit about mending clothes, but it isn't difficult at all, it's just that people have forgotten how. The website www.ehow.com has tutorials on everything from darning to car maintenance, and is particularly good for mending etc. I have a wonderful book called 'Make do and mend' with all the wartime leaflets issued to help people be thrifty. It's fascinating, and makes one realize just how appalling we are at chucking stuff out. Jumpers are worth darning, clothes are worth mending. If you really can't do it yourself, get your clothes mended/altered in one of the shops on Breestraat: they can take in/out clothes if you've put on/lost weight too. Shoes and boots are also easily mended professionally: the zips of boots are replaceable and cheaper than buying a new pair. The glorious cobbler Elzet is alas no longer with us, but there is a shoe and key place on the Haarlemmerstraat and a leather repair shop on Hogewoerd. Plastic toys are pretty much toast when they break, but wooden toys can be mended easily with decent glue (try Bison kit, available in art shops, Albertheijn and V&D).

I rant about this too, but it's way too much fun to ignore. You can turn practically any old piece of clothing into a cushion cover or a child's dress (I make children's dresses and cardigans out of reclaimed old, thin, too-hot-washed woollen jumpers - snuggly and warm). Doll's clothes and bedclothes etc are also great things to make. The lovely Fladder en Beer shop on Hogewoerd has evening classes in making clothes for children (see website www.fladderenbeer.nl). These lessons are for all abilities, in groups of maximum five people, and are very gezellig ! They are on Monday evening, Tuesday morning or Tuesday evening, and Annelies, the teacher, is a really lovely Dutch woman who makes sewing a really enjoyable experience, whatever your level. You get to improve your sewing skills, make beautiful clothes for your children, and also have a very nice time! Material is best bought at one of the stalls at the market, and bits and bobs either at the market or Mol en de Groot ( www.molendegroot.nl). There are very affordable basic sewing classes at the VKC for women (see www.VKCdespiegeling.nl). Knitting is also lovely for children as things are so small and quickly finished: Leiden is lucky to have two wool shops, Ribbels on Pieterskerkchoorsteeg ( www.ribbels.nl) and Een Steekje Los on Oude Rijn (www.nsteekjelos.nl). There are two evening Stitch 'n' Bitch groups in Leiden, one at the Burcht and one at de Bruine Boon (see http://groups.yahoo.com/group/breikunstenaars/ and http://www.stitchnbitch.nl/nl/groepen_leiden1.htm respectively, and a Knitting class on Friday mornings at the VKC with childcare (see www.vkcdespiegeling.nl). Have a look at www.knittingpatterncentral.com for thousands of free patterns.
For easy general ideas for babies, look at this site: www.make-your-own-baby-stuff.com.
This counts even more, of course, for food - especially baby food. Breastfeeding, of course, (saves wonderfully on packaging) but also all those purees and stuff: not that I really need to promote carrot mashing, rather than pots of gunk. Baby-led weaning, in a moderate form, is the way forward as far as I'm concerned: much less mushing and waste, and you end up with a much better eater. Have a look at www.baby-led.com . For grown ups, it's pretty obvious: just make your own food with nice fresh ingredients, instead of buying manky pre-packaged meals full of weird additives and fillers.
Ok, so maybe it sounds better to say reducing your carbon footprint, but anyway.

The damage done to the soil/ecosystem by organic products is much less, and so a great step is of course buying organic products.
Organic products are now very widespread: most supermarkets stock ' biologisch ' products (Dekka markt has a particularly good range). It can be confusing, with all the words like 'ecological' and 'natural' - basically if it has this then it's organic.
For eggs, make sure you buy at least 'vrije-uitloopeiren', and if possible organic. Having read Jamie's Oliver book Jamie at home, Cook your way to the good life, and read about the miserable the life of chickens is, I just stopped buying anything else than organic eggs. They are certainly not the cheapest, but it feels much better this way.
There are several specific organic shops in Leiden:
There is a whole organic section of the market on Wednesdays: it is down at the end past V&D. There is a wide range of fruit and veg, meat, cheeses and baking available.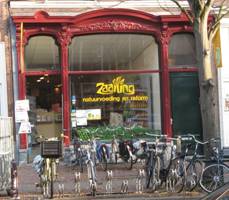 Hooigracht 41
2312 KN Leiden
Tel. 071-5146917
Website: www.zaailing.com
Maandag 13.00 uur - 18.00 uur
Dinsdag t/m Vrijdag 09.00 uur - 18.00 uur
Zaterdag 09.00 uur - 17.00 uur
You can find here everything you may need for your daily groceries, and if you are not vegetarian, you can also find here some organic meat and fish. They also sell non-food products, such as detergents and Weleda beauty products, as well as quite a wide variety of gluten free food.
You can also subscribe to the vegetables and fruit service from Odin ( www.odin.nl). You then receive a weekly bag of fresh organic fruit and vegetables, which you can pick up on Thursdays and Fridays.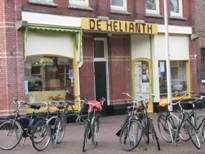 Herenstraat 5 A + C
2313AD Leiden
Website: De Helianth
De Helianth has a very similar assortment to the Zaailing, although it is a bit smaller. They do not sell meat here, but the assortment of meat replacements (tofu based) is sufficient.
Vrouwensteeg 5
2312DX Leiden
Tel. 071-5127138
Breestraat 127
2311 CM, Leiden
E-mail: info@puurbiologisch.nl
Website: www.puurbiologisch.nl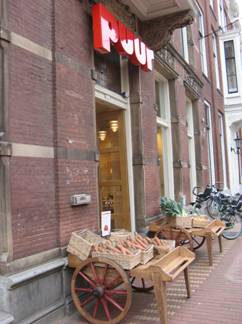 The first Puur shop opened in Leiden very recently. The overall feeling of the shop is modern organic: similar to a London organic store, rather than the sort of 60's hippy feel that some older health food stores have. When you first get in there you immediately see the assortment of nice looking vegetables in front of your nose, and the just-cooked food: you are quickly seduced into buying some of the freshly baked bread, some soup or a ready-made quiche. Besides, the staff are very enthusiastic if you ask them about anything, such as which potatoes are better for baking or boiling.
Besides the fresh products, the assortment is similar to De Zaailing, plus including some more 'luxury' products such as Noss water. And probably it is just a psychological effect, but the light, airy space makes it somehow more accessible and pretty.
Botermarkt 1
2311EM , Leiden

This shop is my absolute favorite for buying teas and herbal teas. I got totally addicted to the chamomile when I was breastfeeding my first child, having had it recommended to help with colic. Although I had my doubts, it really worked and I now drink it almost every day.
Approximately 60% of the tea and coffee assortment is organic. They are also very good at suggesting a kind of tea according to your taste or the moment of the day you drink it.
Ditch the car! Walk, cycle, use a bus, or share a car. There's lots more on this in the Getting Around section of this website, but just a specific bit on sharing a car:

With an annual membership of Greenwheels, you can make a reservation online and use a car 24 hours per day/7 days a week. The car is parked in a fixed place in your neighborhood. After making the reservation, you just go to the nearest available vehicle. You open the car with a personal chip and enter your PIN on the onboard computer. Then you are ready to go!

Greenwheels, tel. 0900-2100100 ( € 0,035 p.m.), www.greenwheels.nl

Greenweelscar locations near Leiden city centre
When you are finished you park the car back where you picked it up. The onboard computer automatically records the number of hours and mileage. You will receive a monthly overview of your trips and a few days later the amount is transferred from your bank account.
This is obviously linked to reducing what you buy in the first place, in terms of packaging, and to recycling (see Recycle section). Anything that someone might possibly want you can give to the Weggeefwinkel on van Koppenhinksteeg - one man's trash is another man's treasure, and all that. Keeping a craft box full of old cereal packets, small boxes, loo rolls, jam jars, washing up bottles, tin foil etc. also provides many a rainy afternoon's fun for children, with some glue and scissors and sellotape - although some of the resulting creations will probably end up in the bin eventually, at least you've had peace and fun, respectively, out of them.
One significant way of reducing your waste is from nappy use. On average, a baby will get through 5500 nappies until they are potty trained which means an enormous amount of paper and plastic waste (around 22kg of waste per month!). Disposable nappies are thought to take around 500 years to break down. Disposable nappies unfortunately get thrown into landfill. The "nappy mountain" problem is becoming a very alarming and real environmental problem. Washable nappies on the other hand require fewer raw materials and you only need a total of 20-24 nappies in the house. They do of course require water and energy because they need to be washed. But even when these costs are factored in, cloth nappies still work out cheaper than disposables and are better for the environment. Baby wipes also add to the landfill problem as they are not flushable. There are now many cloth wipe options available or you can make your own.
Beverley Wye is a cloth nappy consultant for Kaatje Katoen and holds free advice and demo sessions at her home in Leiden. She also regularly attends baby and pregnancy fairs throughout the country. If you are interested in finding out more about changing to cloth nappies please visit her Facebook page: www.facebook.com/beverleywye or e-mail her at bevwye@hotmail.com. She will be happy to help and advise you.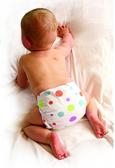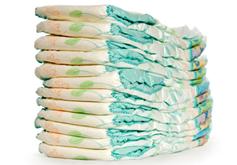 Some tips for using nappies in a more environmentally friendly way:
Disposable nappies:
Do not change the nappy unnecessarily; they are designed to absorb more than one pee without leaking or discomfort.
There are two brands on the market that claim to be better for the environment (Nature Babycare and Moltex); they are available in organic supermarkets like Ekoplaza and in chemists, such as Etos. The nappies are made of bioplastic (the raw material used is corn instead of crude oil).
However, do take into account that in Leiden you cannot throw disposable nappies into the GFT mini-container, and therefore they are not going to be recycled or composted, even if you buy the more 'eco' disposable nappies.
Reusable nappies:
Bamboo or organic cotton are the preferred materials for washable nappies. Wool wraps can be used over the top to make them waterproof as well as other different types of wraps. (There are also simple all in one washable nappy systems that don't require a separate outer wrap).
Wash the nappies at the lowest possible temperature: 40 degrees is usually enough: only use 60 degrees if your child has an infection or for any tough stains.
Tots Bots Potion washing powder designed for cloth nappy washing is enzyme free and nappies can be washed as low as 30 degrees with this detergent.
Nappies can be washed with the rest of your washing; always wash with a full load.
Preferably dry the nappies outside or inside on a drying rack with proper ventilation. There are excellent rack systems (available in Blokker) that fold out to create lots of hanging/drying space and ones designed to hang over radiators: especially effective for high mounted radiators. If you must use a dryer, choose a dryer with an A certification.
For stubborn poo stains, instead of washing on a higher temperature, get the natural sunlight to do the dirty work for you! Leave your nappies hanging on the line on a sunny day, and the sun naturally bleaches the stains out. This also works if you put the stained nappy on a drying rack near a window that gets enough sunlight. You can use biodegradable nappy liners or washable fleece liners to catch the poo inside the cloth nappies.

The washable nappy company, Kaatje Katoen, have been in business for almost 20 years and are a highly respected company who stock well known, high quality makes, including the excellent Scottish make, Tots Bots. (www.kaatjekatoen.nl) Kaatje Katoen have consultants all over the country and you can find lots of information about washable nappies (and a webshop to purchase washable nappies) on their website. The website is currently only available in Dutch but Beverley Wye is their native English speaking consultant based in Leiden. She also has their brochures available in English as well as Dutch.

Please contact her if you would like an English copy or a free consultation.
E-mail:bevwye@hotmail.com.
Beverley has a wide assortment of nappies, wraps and accessories in her demo box (as well as washable breast-pads, swimming nappies and sanitary products), so you can take the opportunity to visit and see / feel all the various types and try them on your baby, at her child-friendly place. You can't do this just from seeing the nappies on a website. Beverley has used cloth nappies with both of her two children so has many years of experience and lots of information and tips to share.