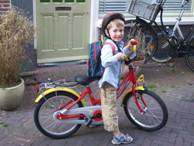 Oh the memories of summer holidays drawing to a close. and what different feelings now we are parents! For those still in baby-world, of course, it is meaningless, but for those of us who have just had 6 weeks of 24/7 children, it spells both joy (at the prospect of having a shower without two little faces poking round the curtain and giggling) and sorrow at no longer being able to justifiably spend the whole day getting muddy or take two hours to wander into town to buy an ice cream.
If your child is struggling with (re)starting school, he/she is often motivated by the purchase of a new rucksack and or lunch box/bottle - if you are overwhelmed by the Disneyfied choices out there, try Engeltjes en Draken (see under Shops and www.engeltjesendraken.nl ) for a range of really lovely different options - from ladybirds to pirates. If like me you struggle to get them to eat anything at school, you might consider school milk (most schools do it) - that way, at least you know they've had something nutritious, with the added bonus that it's one less thing to forget in the morning! Ask your child's teacher if you are interested. I'm always on the hunt for new yummy ideas (that might actually get eaten), so if you've got a great lunchbox tip then email me on harriet@homeinleiden.nl and we can make a multi-cultural lunch box ideas section. Even Quentin can't convince me that bacon sandwiches provide all the major food groups.
Too small for school? The Bumps and Babies Group is going strong: the new time, starting 14 September, will be 2pm on Mondays, upstairs in the V&D café. Contact Sarah on sahara2121@yahoo.com for more info.



We are proud to announce our first HomeinLeiden event, a Japanese Origami Afternoon in the Vrouw Kind Centrum (Langegracht 57). Everyone, young and old, can create their own origami masterpieces - Mari, who is running the event, will be supervising and assisting the creative process! Everyone is welcome to this free bilingual event , and Japanese tea and biscuits will be provided. Come along, meet other families, and get stuck in: the best creations will go on display in the Vrouw Kind Centrum, and there will be a prize for each age group.
Look out for articles about us in Family Matters magazine ( www.family-matters.nl ) and the 'Familie pagina' of the Leidsch Dagblad. If you are anywhere where you think some flyers would be helpful, do let me know!
Courgette Soup
With courgettes (zucchini) so cheap in the market and in season, this is delicious and embarrassingly easy . Surprisingly popular with children (esp with breadsticks), and great for babies if made slightly thick.
You need: Approx ½ a courgette per person, knob of butter, milk, some fresh basil. A casserole dish and a blender.
How to: Melt the butter in a casserole dish, chop the courgette into large chunks, and gently sauté it in the butter, stirring, for about 5 minutes. Put the lid on, turn down the heat and leave it to soften for about 10 more minutes with half the basil, until it is translucent but still green. Put it in a blender with the rest of the basil and enough milk to make it whizz properly (you can add more later if it's too thick, but you don't want it to be too thin) and salt and pepper (omit if for small children) and blend for at least a couple of minutes, until really smooth. If you serve it immediately, it is frothy and wonderful, but it keeps and freezes fine.