Half term is upon us - and even if the weather can't make up its mind, there's always plenty to do in Leiden! Check out What's On This Week (now chock-full of up-to-date events, courtesy of Jessica, who is now in charge of it) for lots of great ideas of what to do, including all the special herfstvakantie ideas in Leiden's wonderful museums. And here are a few of my ideas, come rain or shine.
Go for a walk in the woods! Try Leidse Hout, just this side of Oegstgeest. The HomeinLeiden mushroom walk had to be cancelled, alas, but we might manage one later in the month. Children love finding mushrooms (please do leave them where you find them, however: I don't want to be responsible for vomiting children or prosecution by national parks): take a little pad and pencils and draw them in situ, and then look them up when you get home. My favourite mushroom guide is the Collins Gem Guide (or try www.rogersmushrooms.com), but in fact I'm in the process of writing one specifically for children myself.
Here are a few of my favourites, probably growing somewhere near you right now.:
| | |
| --- | --- |
| Shaggy ink cap | Chicken of the woods |
| Sulphur Tuft | Oyster mushroom |
For the knitters out there, http://kathrynivy.com/patterns/free/myriad-mushrooms/ has some utterly gorgeous free patterns for knitted mushrooms!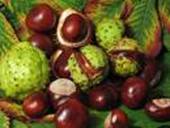 I definitely haven't grown out of the joy of shiny new conkers (horse chestnuts). Here are a few ideas on what to do with them when you arrive home with bulging pockets (although I do recommend Dille and Kamille's gorgeous little woven baskets for collecting them in!)

See http://www.woodlands-junior.kent.sch.uk/customs/conkers.html for a good description of the game ). Health and Safety has banned the playing of conkers in primary schools in the UK - not sure what the rules are here but presumably less insane! I must ask the Juf.

(hilariously gender-stereotyped but good description at http://www.childrensnursery.org.uk/enid-blyton/enid-blyton-holiday%20-%200196.htm
Alas it has been brought to my attention that Operation Christmas Child is not the lovely innocent charity that it appeared to be, and in fact is forcibly evangelist, distributing propaganda-style leaflets in the shoeboxes. This is very disappointing, and we are busy working out what charity would be the best to support, as there's been such enthusiasm for the idea. One very easy option would be Edukans, which is an education-based Christian charity that split off from OCC when it got too evangelical, and which does a similar delivery of shoeboxes called 'schoenmaatjes' as Christmas presents. Have a look at www.edukans.nl/english/ and see what you think. To do this we just need to collect boxes and I will arrange a delivery to Haarlem: it might be an option for those who have already started their boxes. The other option, which sounds really fantastic, but may take rather more organization is the Backpack initiative from Mary's Meals, which is all year round (and which we could therefore also do in addition, early next year), and which sends backpacks full of supplies to children in need to enable them to go to school. See www.marysmeals.org/backpacks.html for more information. Contact me on harriet@homeinleiden.nl to let me know what you think!

As well as evoking childhood memories for us, this is utterly wonderful and completely compelling for children, as they use their own imagination to envisage what is happening. Mine tend to start acting it out - alas I usually get stuck with being the duck. It has the rare quality of not getting annoying, even after several repetitions, as Prokoviev's music is so beautiful: in contrast all our other CDs. The classic Dutch version (Ko van Dijk) is also glorious simply for his wonderfully expressive voice: this is what Dutch should sound like! Modern versions are available to buy, but there are lots of versions in various languages downloadable on http://jaapvanlelieveld.xs4all.nl/sprook/peter%20en%20de%20wolf.htm.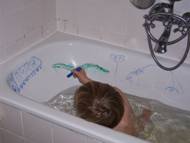 Sounds mad, but my children have morphed from tsunami-machines to calm little fishies with the introduction of these wonders at bathtime. I bought mine at the Early Learning Centre in the UK but you can get them at www.trend4joy.nl (SES badkrijtjes). Don't be tempted to use ordinary wax crayons or you'll be scrubbing your bath for ever after.
Make the most dangerous chocolate cake in the world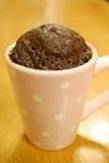 5 MINUTE CHOCOLATE MUG CAKE
4 tablespoons flour
4 tablespoons sugar
2 tablespoons cocoa
1 egg
3 tablespoons milk
3 tablespoons oil
3 tablespoons chocolate chips (optional)
A small splash of vanilla extract
1 large coffee mug

Add dry ingredients to mug, and mix well; add the egg and mix thoroughly.
Pour in the milk and oil and mix well.
Add the chocolate chips (if using) and vanilla extract, and mix again.
Put your mug in the microwave and cook for 3 minutes at 1000 watts.
The cake will rise over the top of the mug, but don't panic.
Allow to cool a little, and tip out onto a plate if desired.
EAT! (this can serve 2 if you want to feel slightly more virtuous).

Why is it dangerous?
Because now chocolate cake is only 5 minutes away, any time of day or night.
And lastly: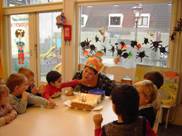 Contrary to the usual waiting lists, at the moment there are places in many of Leiden's peuterspeelzalen (pre-schools). If your 2-4 year-old doesn't already attend one, I warmly recommend this as a wonderful way for them to socialize, integrate, learn/practise the language, and all in a loving, fun, well-organized environment. The small groups, well-thought out activities and lovely teachers combine to make this an excellent preparation for school and a little well-earned time for yourself! For more information and a list of peuterspeelzalen see the 'preschools' section under Childcare or go to www.spleiden.nl.