It cannot have escaped your notice that the town around you appears to be going slightly mad at a normally holiday-free season; half the town centre is turning into a funfair, children are coming home from school with strange knutsel -ed reations involving keys, herrings and white bread, and
at the shops there are carrots, onions and potatoes on special offer at every turn. Yes, it's the anniversary of the Relief of Leiden, Leidens Ontzet , on 3 rd October 1574, when the Spaniards
failed in their second attempt to starve out the brave citizens; welcome to Drie October in Leiden
and all the associated festivities!
This year rrrreal literal-minded locals are outrrrraged (rrrrolling a notorious ' Leidse rrrrr ' there which is in fact an entirely non-rolled and almost British-sounding r, being the trademark of a seriously local Leiden accent) that the major celebrations are not actually on the third, but - horror! on the fourth , because the third is a Sunday. Most people, however, aren't remotely bothered, as it means an excuse for a full three days of partying instead of the normal two.
I'm not going to go on here at length about What To See And Do On 3 October, because I am possibly the worst-qualified person in the town to do so, despite my ten years here. I have never attended the reveille at dawn; I have avoided the funfair like a particularly virulent plague, and I haven't even ever seen the optocht , the parade which is the high point of the celebrations and is perhaps the one thing I will eventually end up watching one of these years. If you want to find out more about the simply enormous amount of stuff there is to watch, sing, listen to, eat and drink (especially drink . the
centre gets pretty alcoholic after about 5pm on Saturday) on Drie October, please visit some of these links: http://portal.leiden.nl/bezoeken/evenementen/leidens_ontzet/ (with a full schedule),
www.3october.nl , and http://en.wikipedia.org/wiki/Siege_of_Leiden for why this all happens.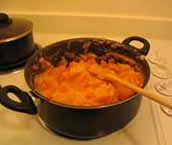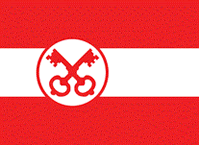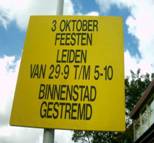 What I find is wonderful about 3 october is that it's our own private Bank Holiday here in Leiden, and probably the best chance you'll get to take your children to a popular attraction when it's less crowded than it might be, as all the local children are at school (or, in Leiden, at the funfair). The Netherlands has several little local holidays like this; did you know that schools in the Hague get Prinsjesdag (Budget day; third Tuesday in September) off? Sadly drie october falls on a Monday this year, which cuts the possibilities down a great deal, so what is there that's open on a Monday and
fun to do?
3 october is frankly the only day I like to visit lovely but crushingly popular organic farm Het
Geertje ( www.hetgeertje.nl ) in Zoeterwoude, where you can peacefully look at lots of animals (bottle-feeding young lambs/kids sometimes, too) and do/buy farm-y things to your heart's content.
It's a nice length bike ride from Leiden - about 10km - if weather permits.
Further afield you have more major sites like Madurodam ( www.madurodam.nl ) in the Hague ;
this is the iconic Netherlands-in-miniature park which my (Dutch) husband tells me is just as
much fun now as when he last visited it thirty-five years ago. Children get a little Madurodam passport with lots of things to spot and find out; mine loved it. It's a real tourist attraction, so an
off-season October Monday is the best time not to be pushing past coach-loads of other visitors.
Close by is Sea Life (also in Scheveningen), which packs a great deal of watery diversity in a slightly tired-looking building. I've found staff to be entertaining and informative to children, and mine
found the feeding times and the baby seahorses enthralling. It's not cheap, though, at €14.50 for adults and €9.50 for children (similar to Madurodam), although advance booking online
( http://www.sealife.co.uk/local/index.php ) reduces prices by €3 per ti € cket.
If, like ours, your school has tacked a studiedag on to the weekend and the children are also free on Tuesday, plenty more opens up. My first choice would be Nemo, the science museum in Amsterdam, which is fantastic even for very young children ( www.e-nemo.nl/en ). Closer to home is Museon
in the Hague , smaller and more manageable and also great fun ( www.museon.nl/en ). Both are
free to Museumkaart holders. If your children are a little older (and if you like trains at least a
little .) then the railway museum in Utrecht is a Grand Day Out all round
( www.spoorwegmuseum.nl ). The lovely pick-your-own orchard Olmenhorst in Lisse
( www.olmenhorst.nl ), sadly has very limited opening times, only Wednesday and Friday
afternoons or at the weekend until 31 st October, or that would be my number one.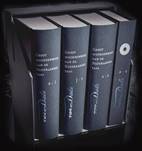 And finally: Had you been wondering whether I had forgotten how to spell oktober properly in Dutch? I'm sorry, I'm afraid that shows that you are not yet truly ingeburgerd in Leiden . Real Leienaars spell it october , not oktober , as in www.3october.nl , the 3 October Vereeniging ,
and so on!