A pleasant side-effect of Sinterklaas is the convenient watershed it forms in early December, before which the shops follow the unwritten rule Thou Shalt Not Yet Market Christmas. This is a refreshing change to a Briton who has seen Christmas start earlier and earlier over the years in her native country.
So the knutsel-ed ( knutsel being that wonderful Dutch word meaning craft-y activities involving cereal boxes, lolly sticks, cotton reels and lots of glue) Sints, Piets and stoomboten have been banished upstairs and it's Advent rings and Christmas cards all round now at home. Getting ready for school in the mornings happens so much faster when Opening the Advent Calendar can only happen after everyone's got coat and shoes on!

Three cheers now for a short and anticipation-filled (and busy!) Christmas season, and here are some seasonal (or not) things to do or visit. I won't be going out much; you'll find me at home making mince pies etc., singing Christmas carols as much and as often as I can and ignoring conversations held by my children in what they fondly imagine is a whisper, about The Present We're Making For Mummy.
At this time of year there suddenly seems to be loads of musical activity around in Leiden . One fixture for us when we're in the country is the Leiden English Choir's concert of Christmas music, which this year is on Friday 17 th December in the Marekerk on the Lange Mare, starting at 8.15 (doors open 7.45). Tickets are on sale at Kabouter Dromen on the Nieuwe Rijn, as if you needed another excuse to visit that marvellous toyshop, and more information about the English choir is at www.lec.nl. The Hague-based Cecilia International Choir also has concerts, rather earlier (11 th and 14 th December in Wassenaar and the Hague respectively); see www.cecilia-choir.com for details.
There is loads more going on; if your Dutch is up to it then www.leidsuitburo.nl has the most comprehensive listings.
Definitely seasonal if not totally Christmassy! Find out what it is here or here it involves sort of squashing fibres together to make a cloth, instead of weaving; it's fun to do and makes great clothes and accessories. Margot van Leeuwen of www.Vivavilt.nl is starting a new series of courses in Oegstgeest in January. See below for a sample or read more [in Dutch] on her website.
FELT COURSE for beginners and advanced in Oegstgeest: five Thursday evenings, once every fortnight. Start January 13 th , end April 7 th
ONE-DAY FELT WORKSHOPS in Leiden (some felting experience required)
Nuno felting (hat): S aturday January 15 th
3-D felting (bag): S aturday February 12 th
Felt for your body I (skirt): S aturday March 19 th
Felt for your body II (shawl): S aturday April 16 th
She also offers tailor-made events and children's parties by arrangement.
See the website or call Margot van Leeuwen at 071-4085767.
No ice-rink on the Beestenmarkt this year, but if the weather gods deign to smile on the Dutch again then you might be lucky with the outdoor rinks around Leiden again. These wonderful, almost free and totally safe (can't come to much harm, skating on a flooded field) rinks are to be found in the Stevenshof, Voorschoten, Oegstgeest and Warmond. Costs are minimal, around a euro entry and annual membership (which gives free entry) even more of a bargain. Last year was the first time I (well, the children) really used our local rink - in the Stevenshof on the Rijndijk, membership - and it gave me a frisson of total Dutchness to see the girls whizzing (in a wobbly kind of way) around among what was a bit like a Saturday afternoon shopping crowd in the distribution of ages, except on the ice. All of human life was there.
Other local natuurijsbanen are in Warmond, Veerpolder 18) and Oegstgeest, Oegstgeesterweg 43) and Voorschoten, Anthoni van Leeuwenhoekkade 38.
If you (like me) still haven't got around to buying your own skates, however, you will need to head straight for the indoor ice rink on the Vondellaan. This by Dutch standards is a pathetic apology for a rink, as it doesn't have a 'proper' full-size 400m track around the edge, but it seems pretty darn big to me and if it's decent skating weather outside, you'll have the indoor to yourself. In the school holidays there are informal just-turn-up lessons for children at all levels from 9-10am, and the ticket at just € 3.50 gives them another hour's free skating, till 11am. See www.schaatshalleiden.nl for more information. Hot news is that they now have free wifi in the café upstairs to help you while away the time while your children whizz round in circles below you. I gather that the aptly named Grim Sport business who used to do the skate hire/sharpening/shop part have now been replaced, which is good news for anyone who prefers to hire skates from people who actually smile and are polite at times.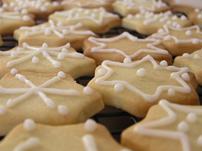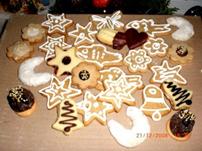 And now for some comfort food for when you come home and it's slippery-slidy-wet-cold outside. Shamelessly borrowed from the Goddess herself, and I judge Her only from her recipes, having left the UK before she started cropping up on TV all the time; these are great. Thank you Nigella.
Note: this recipe is one that really IS worth icing. The biscuits are nice but not that sweet on their own, and are in fact much improved by a thin layer of icing. A fiddly job best left to one's children, I find.
300g plain flour
pinch of salt
1 teaspoon baking powder *
1 teaspoon mixed spice **
1-2 teaspoons freshly ground pepper
100g unsalted butter
100g dark muscovado sugar ( donkere basterdsuiker )
2 large eggs beaten with 4 tablespoons runny honey
Christmas shapes to cut out with, and for the icing: about 300g icing sugar *** and about 3 tablespoons boiling water.
Combine the dry ingredients except for the sugar. Let your taste (and that of your children) dictate the amount of pepper; use just one teaspoon for a milder version, but remember that the pepperier they are, the longer they stay hanging on the tree . Add the butter and sugar; whizz them in a processor, or rub the butter in first with your fingertips, then add the sugar. Then add the eggs and honey, slowly; don't use all the liquid if the pastry's come together before it's used up. Divide into two and put one in clingfilm (or a freezer bag) in the fridge while you deal with the other. Turn the oven on to 170 ° C / gas mark 3 and roll / cut out the shapes, about 5mm thick. Before baking, make holes through which you can later thread ribbon for hanging. Bake for about 20mins; they won't discolour much, and are ready when the underside is no longer squidgy and doughy. Ice, and give your children a free hand with sparkly edible decorations.
* or bakpoeder
** This is an English ready-mixed blend; it contains (and I quote from the jar) cinnamon (40%), coriander seed, caraway, nutmeg, ginger and cloves.
*** British icing sugar is nearly but not quite the same as poedersuiker . Icing sugar works better for icing, and also comes in decent sized 500g packets instead of those fiddly little 125g things with holes in the top for sprinkling.
All these are available at Tuckerbox on the Oude Rijn, www.tuckerbox.nl.