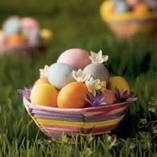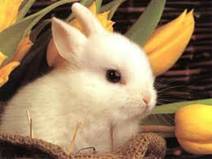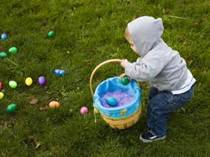 If we all cross our fingers, maybe this glorious weather will last! With the May holiday coming up and the sun shining, it's a good moment to appreciate just how lucky we are to be living in this beautiful place. Forgive my Polyanna moment, but let's face it: Leiden is a fabulous place to live!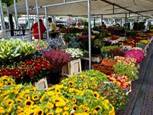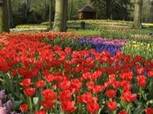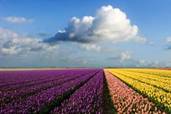 Even the grumpiest of us has to admit to the spirit-lifting qualities of the flowers all over the place. The Keukenhof (read this page all about it) is the ultimate flower fest, but taking any of the smaller roads through the flower fields around Lisse and Langeveldeslag is a feast for the eyes, or even just the train to Amsterdam via Haarlem. In fact, the Professorenwijk in bloom is pretty wonderful just on its own, stuffed with magnolias (quick, or you'll miss them) and cherry blossom.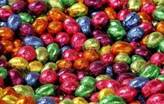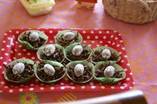 Although Easter is celebrated as a Christian festival, it's in fact a combination with a much earlier pagan celebration of the goddess Oestre: hence the multiple pagan elements. Hunting for chocolate eggs remains entirely secular, and can certainly be enjoyed by everyone! The yummiest chocolate eggs, I think, can be found at Le Bonbonnerie on Apothekersdijk (www.debonbonnerie.nl), but let's face it, they're everywhere. If you aren't mad about chocolate, why not try quails eggs (kwarteleiren, about € 3 from the poultry stall at the market), which are totally delicious. There are various chocolate-related activities going on as well: there's a chocolate workshop at Buurtcenturm de Pancrat, Middelstegracht 85 on 3 May, 13.00-15.00 for children aged 9-12 to make their own bonbons- for more information and to register email l.paixao@libertasleiden.nl or ring 071 5121145.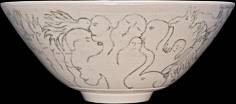 If you fancy learning or doing something new, there are so many opportunities in Leiden. B plus C has an enormous range of courses, but what about something different from a local independent person? How about a glass workshop - making glass beads or stained glass? Richard Pellikaan (with whom I share my atelier) does small group courses of all aspects of working with glass - they are tremendous fun and you come out of it with beautiful things! See his website www.deze-kant-boven.nl or pop in at van der Sterrepad 2 (at the foot of de Burcht). Or perhaps working with clay - Odette Frijters on Herengracht 110 is a lovely woman who offers all sorts of courses and special days - visit her website www.galerieodette.com. Or perhaps a cookery course - Bocconi, the lovely independent organic Italian Deli on Burgsteeg has started offering cookery courses. See their website www.bocconi.nl for more information or drop in.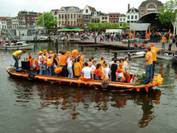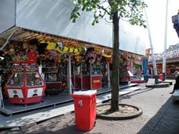 Hurrah, the fair is coming to town! Easter weekend sees a small-scale fair, great for children. There are children's activities at all the museums, including an Easter hunt at Volkenkunde www.volkenkunde.nl , hands-on activities involving whales at Naturalis www.naturalis.nl and mosaic activities at Oudheden www.rmo.nl . During the holidays the museums are open on Mondays as well, and there's always something fun for children. The Sieboldhuis has a wonderful exhibition of origami by the Japanese Grand Master of origami, Akira Yoshizawa, opening 30 April, and there will be special origami workshops on the weekend 6/7 May. I'm translating for the exhibition and it promises to be really great.
Koninginnedag is coming up too of course - for a good explanation of this bonkers day read Marianne's great page and for an overview of what's on in Leiden go to www.youropi.com/nl/leiden/evenementen/koninginnedag-10430 and www.centrumvanleiden.nl/default.asp?id=912&nieuwsid=188.
And if you feel like a spot of gardening, there's a plant (and crafts) market at the Hortus on the 6 th May, so stock up on some lovely plants for the garden!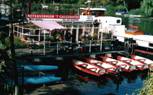 Did you know that Leiden is the second most canal-filled city in the Netherlands after Amsterdam? How about a spot of messing about on the canal? I don't just mean fishing, which my children are currently obsessed with (manky bit of bacon on the end of the hook doesn't seem to be attracting much in the way of fish, I may add), but how about hiring a boat? There are several companies that hire various sorts. For a bargain option, try rowing boats from www.galgewater.nl . They also have kayaks and motor boats, but I think for a glamorous option the motor boats from www.bootjesenbroodjes.nl (on the bridge at the station end of Haarlemmerstraat) are better as they are almost silent and really gorgeous. We've only hired one once when my boat-obsessed brother came to stay, but it was worth every minute. Just don't forget to pack a yummy picnic and a bottle or two!