Each year that I am here I absorb a little more of Sinterklaas. This year my children passed a watershed age and entered the making- surprises -agegroup (pronounce surprise with a Dutch accent), which initiated me into a whole new world of Dutchdom. More than just a small (nominally anonymous) present and a poem, surprises mean days of (mostly) cheerful cutting-and-sticking with large cardboard boxes and paint until your child's present (for example: two small erasers) is disguised as (for example) an entire korfball match complete with players and spectators. Now put that in a binbag and cycle to school on the first very windy day of the autumn with it on your handlebars... All great fun, and I learn more of the words to the innumerable Sint-liedjes every year.
Nonetheless, Christmas is where our heart lies, and now that the Sint has packed his bags it's time for us to pull out all the relevant stops. Cards-and-decorations-making, lots of food, mince pies and perhaps the English language does sometimes need a word meaning gezellig after all, because that's rather how I'm hoping our Christmas time will be.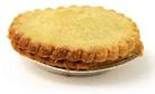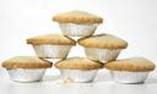 Although HomeinLeiden will endeavour to get an update out in the coming weeks, I'm not making any guarantees, which means that this homepage is a little like that post-lunch Christmas afternoon feeling: very full and rather over-extended... We wish you a very happy, safe and gezellig Christmas and a good start to 2012!
Every year we remind you of the concerts there are at this time of year, and this year is no different - Jessica is tirelessly keeping What's On updated with much more than I can mention here, and www.leidsuitburo.nl has more. Highlights include the Leiden English Choir with its evening of English carols in the Marekerk, this year on Saturday 17th December; see their flyer and www.lec.nl for tickets. They are also performing in Haarlem. The Cecilia Choir www.cecilia-choir.com has their usual Christmas outings on the 9th in Wassenaar and the 13th in the Hague.
The council's gardens/parks section has got together with the Kringloopwinkel (see the Shops section - linked on the right - for more on that) to organise a Christmas Market at Nachtegaallaan 41-43 (just by the Vogelwijk playground, opposite the Rijnlands Revalidatiecentrum) which is apparently open every day from 10am-5pm until the 23rd (tel. 071-5192460 if you want to check).
During the holidays (26/12/11 to 6/1/12) there will as usual be plenty going on at our local museums; www.museumgroep.nl is a very useful combination website for the big ones. The Ijshal on the Vondellaan (near Naturalis) will - we expect, it's not on their calendar yet - be running walk-in lessons on weekday mornings for school-age children; watch www.ijshalleiden.nl for details. The Vogelwijk playgroup will be taking the week between Christmas and New Year off, but for those of you in the country on Wednesday 4th, the group will be held as usual, so do come along.



For weeks now I've been keeping my eyes our for Interesting Things as presents, picking up this or that as I go my daily rounds, because there are few things I like less than concentrated Shopping with all that implies (crowds, mainly ...). Leiden is a lovely city for this gentle browsing-and-exploring kind of shopping, because what it lacks in the obvious (chains like Bijenkorf, Ikea and similar temples to conspicuous consumption) it more than makes up for in the small, unobtrusive and interesting. Harriet has already set out the basics in her 'Shops' section , and in this homepage I've drawn up a list of some of Leiden's minor emporia, in case you don't have time to do the exploring yourself. They are generally small, independent and local, and you may not be familiar with them. I hope you'll enjoy finding and visiting them, and happy Christmas shopping!
The satisfactoriness of my own personal Christmas depends both on the books I receive and also whether I manage to find just the right ones for all my nearest and dearest, and oh how I miss English bookshops to browse in at this time of year. Thank goodness for the Mayflower at Hoge Woerd 107 (www.themayflowerbookshop.nl) and the lovely Ans who runs it. This year they have a large number of books at just €5 in an offer running until the 31st (to celebrate their fifth anniversary), and it's well worth a look. And for books in Dutch and a surprising variety of other languages you can't do better than Silvester on the Rapenburg just near Noordeinde.
Well-chosen clothes or accessories are excellent (and useful!) presents - trouble is, they can break the bank a bit. Leiden has several good ways to avoid this; first is Appel en Ei on the Pieterskerkchoorsteeg, with a good selection of women's and children's clothing and shoes. I made the recent discovery that it has a big brother on the same street, Heer Pieter, which deals in men's and (some) boys' clothing. Excellent deals on winter coats there. And for the Oegstgeestenaars among you: Kees + Cato on Geversstraat 39 also has some lovely things. All of these deal in relatively top-end makes and accept only clothes in good condition, meaning some great bargains for shoppers.
At van der Sterrepad 2, just round the corner from the Burcht, a group of artists sell their creations from their workshop (it doesn't look like a shop but do go in!); handmade 40's inspired women's clothes, vintage bags and accessories, beautiful glass objects and all sorts of other wonderful things. And if you're in town on a Saturday, remember the lovely woolly slippers stall near the Bever outdoor shop on the Nieuwe Rijn.
Also just next to the Burcht on Nieuwstraat (on the way to the library), Engeltjes en Draken have an astonishing variety of toys and general paraphernalia for children. And if you're going there, do drop into the Wereldwinkel for a present which will do some good; they have all manner of gifts, cards and delicious treats, all Fair Trade, from all over the world. Not for children (or rather, not only for children) but in the same street there is Bocconi's Italian deli with delicious olive oil, vin santo and other delicacies.
On the other side of the Haarlemmerstraat, Jut en Juul at Lange Mare 108 (there's a webshop too) have a wide range of simply everything for babies and children (up to size 104). Anne who runs it aims for good quality and also makes sure that her imports are as far as possible Fair Trade; she carries a lot of organic cotton goods. Definitely worth a look for all manner of baby goods in lasting fabrics and (mostly) restful colours (no shrieking pinks here).
Among the treasure trove of shops on the Hoge Woerd (het Klaverblad and the Mayflower bookshop are others!) is van Manen aan Tafel at number 6, where you will see lots of fun cooking stuff and table linen, cutlery, fabulous thermoses, and other such things. Along similar lines, the shop at the Hortus has a good selection (British readers: think National Trust shop...) and you don't have to pay entry to get to it.
And if your budget is struggling with all this Christmas expenditure, try the Kringloop - recycling - shop in the Admiraal Barentzstraat for almost anything costing practically nothing. They're involved with the Christmas Market (see above) as well. For raw materials for making your own cards and presents the webshop of LTC Leiden ( www.ltcleiden.nl) is indisputably king; they supply schools and peuterspeelzalen and the like, and there's nothing you need for knutseling that they don't stock!
HomeinLeiden's very own Harriet Impey has had the most gorgeous wrapping paper printed of the endpapers of her children's picture book (A Bowlful of Happiness). The tiny thumbnails above don't do it justice; click to enlarge. It is beautiful and completely original; I know what my presents will be wrapped in . You can buy it at the Mayflower and Silvester bookshops, or direct by mailing Harriet harriet@homeinleiden.nl svp] .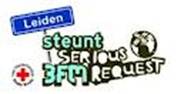 Have you been wondering what on earth is going on there? It took me a long time to work out all the details, as it's an event apparently so well-known that the basics were never really spelled out...
The radio station 3FM has organised an annual fundraising event for the Dutch Red Cross known as the 'Glazen Huis' - Glass House for the last six or seven years. It involves three hapless DJs living in the eponymous glass house (although actually it's Plexiglass ...) for the week before Christmas in a (very) public location, not eating for the duration, and constantly playing music while people listen, phone in and donate money. All sorts of schools and organisations are organising related events, and if you look you'll see nearly all the town's shops have little 'glass house' collection boxes on their counters. That's what those posters 'This one's for Mama' are all about as well. A very deserving cause and good luck to them. Those nice people at Wikipedia. have more information, as does the radio's own site www.3fm.nl/acties/serious-request (in Dutch).
Apart from making Leiden the vibrant, lively town it is, the students here are also working hard at their chosen subjects. One area where international families can help make a real difference is for the international research students in the Psychology department doing a Master's in Child and Adolescent Psychology. A key skill for the students is to learn to work with normally developing children, and for the Dutch students, with a network of friends and family to work with, gaining the experience is relatively straightforward. International students, however, working in English and with no local contacts, find things more difficult - and this is where HomeinLeiden readers can help!
This year there is a fresh bunch of students starting the course 'Psychological Assessment' from (among others) Greece, the UK and Spain. Corry Donner from the Behavioural and Educational Psychology unit is keen to contact parents of English-speaking children aged between 8 and 16 who would be willing to let them participate in her students' 'intake interviews' and mock 'intelligence tests'. It would mean two appointments with the student, both carried out at your home (or at the faculty - behind the LUMC - should you wish), as part of the course 'Psychological Assessment'. She says:
"Our students and instructors would very much appreciate your child's participation in this assignment. If you would like more information or would like to register your child, please get in touch with Corry Donner ( cdonner@fsw.leidenuniv.nl ; 06-15553043). And please feel free to contact the head of the Developmental and Educational Psychology unit: Professor Michiel Westenberg ( westenberg@fsw.leidenuniv.nl ; 071-5273628).". You can find more information in her letter here.
My two oldest are the right age, and I've already signed them up. In the past my son has had his brainwaves studied and my youngest sat on my lap aged eight months or so and had his attention span measured while watching animals on a screen. They've had enjoyable experiences and each time I've seen a bit more of what they actually do at the University. Do get in touch!