It is a long time since I was 'new' to Leiden, as so many of the people who email us describe themselves. And yet there is a newness to my daily life that I adore. It sounds odd, given that I have lived here for 11 years, in an old house, furnished with second-hand and found-on-the-street finds, and a wardrobe full of Leger des Heils' finest. What I love about Leiden, and perhaps particularly HomeinLeiden, is the constant contact with new people, new cultures, new ideas, new initiatives. It is so stimulating to meet someone who is just bursting with energy and initiative, and (hopefully) to be able to help them share that with others. It is such fun to meet people who have just arrived, and are embarking on a new stage of their lives, often building a whole new international world for their children to live in. Bravo to all of you, for creating a new life within this community, for your new ideas and initiatives. and welcome to Leiden!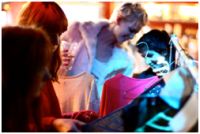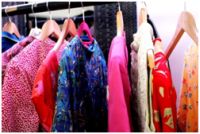 Paying for clothes is so last season! Many chic, savvy and conservation-minded women in Leiden and surrounding areas now update their wardrobes by taking part the Home in Leiden Clothes Swop . Such is the enthusiasm for clothes swopping that journalist, Marieke van Twillert, from the renowned Dutch magazine Intermediair attended one of our clothes swops and featured us in a three page article about the clothes swopping sensation hitting Europe. Check out the article here and see how many familiar faces you recognize! Click here for FAQs about the swop and how it works.
So if you fancy sprucing up your wardrobe, then show up with all of your gently used autumn/winter unwanted ladies clothing, accessories and shoes, and leave with a to-die-for new wardrobe! No one ever leaves a Home in Leiden Clothes swop empty handed. In addition to acquiring some fabulous clothes, nibbles and drinks will be served. Hope to see you and your friends there.
Venue: Buurtcentrum De Pancrat, Middelstegracht 85, 2312 TT, Leiden
Date: Thursday November 1st of November @ 20.15
Entry Cost: 1 euro p.p.
Marie's Mindful Decisions workshop was a delight - a wonderful, grounding and helpful evening that brought us all some peace and confidence in our daily decisions. Her website www.mindful-decisions.com is a wonderful resource, with case studies, downloadable relaxation exercises, and loads more. If you haven't already got your copy of her book, it's available directly through the website and on Amazon.
I'm delighted to report that my call to arms in the last homepage has had great results - we have no less than three new volunteers! If all goes well, Johanna will be perfecting the Services section and writing a new section on living with allergies, Mary will be bringing back the What's On section, and Monika will be helping with the social side of things. A big thank you to all of you, and if there any more of you out there, please do email me on harriet@homeinleiden.nl.
WORKSHOP CANCELLED! Due to personal reasons, Debbie van Hofstede will unfortunately not be able to give the talk on schools on the 8th November. If you are deciding a school, do take a look at our SCHOOLS section, and Debbie can also be consulted privately, just contact debbie@oudersenschool.com.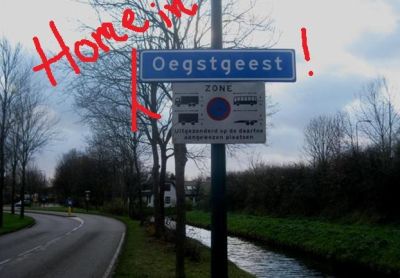 For all those Oegstgeesters who have been feeling left out - HomeinLeiden's Alice (with Oegstgeest's city council's Expat Rep, Suzanne Perl) has written a great new section about Oegstgeest, with general useful information, updates about events, such as International Coffee mornings, and even a section on how to pronounce the word itself!
Click here or on the link on the left-hand side to find out more, and if you have any questions about or suggestions for the section, please contact alice@homeinleiden.nl.

Want a chance to meet some new people during the day? Join us for our next morning meetup on the 31 st October 9.30 until 11.00 am at Vooraf en Toe, Botermarkt 9, (I know it's actually the last Wednesday in the month, by the way, but half term has sent the dates awry). If you are pregnant or have pre school-age children, of course you can just check out the Baby/Toddler group section. If a few drinks in the evening is more your thing, there's a Pub Night coming up as well as a ladies clothes Swish in November, and we'll be having a HomeinLeiden Christmas dinner in December! Just watch this space for details!
Last month we talked about some of the amazing opportunities available for both adults and children in Leiden to learn new skills. I just thought I'd highlight a couple of my personal new favourites.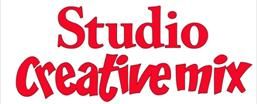 Santie de Klerk's sewing studio in the centre of Leiden is now open! It's a great space, and Santie is a brilliant teacher and full of ideas and support for enthusiasts of any level. She can cater for the absolute beginner, but also has facilities for the advanced sewer (she's shortly going to be helping me learn how to make a new cover for my sofa out of vintage fabric). She has workshops on Wednesday evenings, but can also arrange for other times or individual help. Just pop in between 10 and 5 or contact her to find out!
Santie de Klerk
Studio Creative Mix
Middelstegracht 89y, LEIDEN
Phone: 06 46 55 84 69
E-mail: santie.deklerk@yahoo.com.


Odette Frijters is a wonderful woman, a ceramic artist who gives classes for adults and children. My daughter (6) goes to her every week for 1 ½ hours of making gorgeous things out of clay - it makes her so happy, and she comes back with really lovely things. She made a pig and piglets for papa's birthday and was so excited I thought she was going to burst! After the class, the children often get the opportunity to walk Odette's dog with her, which is also very popular. Unusually, Odette now has space for a couple more children, either on a Wednesday or a Thursday afternoon, so if you are interested do have a look at her website www.atelierodette.com.

I've recently discovered that many of the artists in the Haagweg 4, where I used to have a studio, are teaching courses. I've just started a course brushing up my printing techniques (Sylvia ten Kley en Pol de Jong, Tuesday evenings 19.30-22.00) but there are lots and lots of other classes, including graphic and painting techniques for children on a Wednesday afternoon, glass, painting, drawing, photography and ceramics. Take a look at http://www.kunstcentrumhaagweg4.nl/Cursusaanbod_2012-2013.pdf for some inspiration and don't be put off by the language even if your Dutch isn't great - they are willing to try their English and it's a great way to meet new people.
If you have school age children, you will probably have registered one or more of them do the fabulous subsidized sports that are available to all children to try out (see the website van sportbedrijfleiden if you don't know what I mean). No-one mentions this, but it is also a sort of Duke of Edinburgh Award for parents. It will take you to obscure fields and sports centres in all corners of Leiden and its environs. and challenge your bus route and map reading skills to the max. We finally got to the first lesson on Monday (thanks to some intrepid exploration of Merenwijk by Noeelen the Navigator) only to discover that the carefully packed gym bag was still lying on the sofa at home. A few tears and a whole lot of Ball Skills later, the party was ready to return home. The sportsman and -woman themselves were buzzing, but we were frankly in need of a restorative G&T. to those of you embarking on the Kennismakingcursussen, all I can say is good luck!