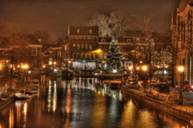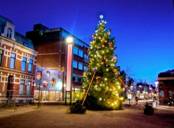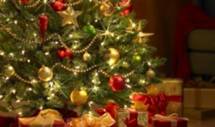 Now that the town is finally free of people with freaky black face paint, we can all start to feel Christmassy. I absolutely love Christmas, and preparing for it. Even though we are leaving the country for Christmas this year, like many of you (rather to my regret, as I do love a full-on lets-see-how-many-people-we-can-fit-into-a-small-house Christmas dinner at home), there's no reason to not feel super Christmassy in the time we have! It doesn't matter where you are from or what you believe, there are bits of this festive season that everyone can enjoy. It's a busy time for everyone, so this homepage will be short and sweet. but here are some of my own personal ways to start feeling festive..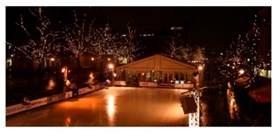 The ice rink on the Nieuwe Rijn is open!
Even if we don't get the long-term subzero needed for the usual skating on the canals (which would at least spare us the yearly fruitless speculation on the Elfstedentocht), until 6 Jan you can go skating on the Nieuwe Rijn. You can either take your own boots or hire boots there, and there are orange seal-shaped things to help little ones stand. You can also just watch and drink hot chocolate (or Gluwein) A definite winner with children and visitors of all ages. It's open 12-21 during the week and 10-21 at the weekends, and once the holidays start it's 10-21 every day.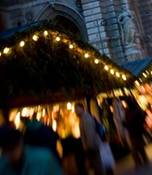 There's a Kerstmarkt coming on the Beestenmarkt, from the 19 th until the 23 rd Dec from 12- 21.00 While to be honest the selection of stalls is not wildly impressive, they make an effort with wooden chalets and gluwein and everything, so it's worth a visit. For a list of stalls and more information see http://portal.leiden.nl/nl/toerisme_vrije_tijd/ontdek/evenementen/kerstmarkt.

If you are prepared to travel a bit further, then take a look at the Hollandse Markten website http://www.hollandsemarkten.nl/braderie/index.php?nav_id=1.2.9&b=9&a=overzicht which has a list of all the Christmas markets in the Netherlands. For instance there's on in Den Haag on Wednesday 19 December along the LutLutherse Burgwal up to the Grote Markt, one in Alphen aan de Rijn on the 14 th , one in Voorschoten on the 21 st and 22nd.

And of course if you want the REAL Christmas market experience, you could consider popping to Germany! This website has lots of ideas and deals for doing so (also to NL destinations) http://www.kerstmarkten.nl/kerstmarkten.php?mode=index.
It's not quite a Christmas market, but Santie de Klerk will be holding a clothing sale in aid of charity on December 15 at Studio Creative Mix (near Hooigracht Albertheijn).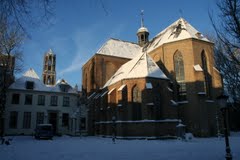 You don't necessarily have to be a believer to enjoy a Christmas church service. One child-friendly service in central Leiden (in Dutch) is at the Pieterskerk on 24 December at 18.30, which includes led singing by the children and a little gift for each child. See http://www.pieterskerk.com/nl/agenda/onze-agenda/kinderkerstfeest--1830-uur/. There are also services in English at the Church of St James (in Voorschoten) and the International Church Leiden on Christmas day, see www.stjames.nl and www.ichurchleiden.nl.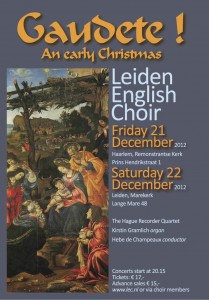 The Leiden English Choir will be giving a Christmas concert on Saturday 22 December in the Marekerk in Leiden at 20.15. Tickets can be purchased via the website www.lec.nl.
I am sure that there are more concerts, so look for posters in the city!
One great thing when the weather is really cold and horrible is that you don't feel guilty about staying inside, and so you can all hunker down after school to make presents. Some of my favourite things to make with children as Christmas presents are edible - if you wrap them in cellophane and tie with a ribbon (you can get both at Xenos very cheaply) they look lovely. Here are a few ideas:

Shortbread stars
There are loads of shortbread recipes on the internet, or you could use a gingerbread recipe.
If you make a hole with a straw in the top (while still hot) and thread a red ribbon through it, you can give it wrapped in cellophane as a sweet present. You could also decorate them with coloured icing (you can buy little tubes of coloured icing in Tuckerbox, for instance).

Chocolate dipped fruit
This is super easy and great for grannies and health-conscious relatives. Just buy dried fruit in the market (mango and strawberries work well), melt some chocolate in a bowl over a pan of simmering water, half dip them in and leave them to harden on greaseproof paper.

Tea light holders made of old jam jars decorated with paper and string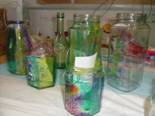 Decorate glasses or jam jars with glass paint (available in art shops)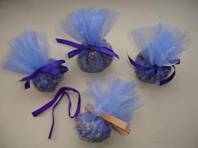 Make simple lavender bags using dried lavender (Dille and Kamille) and circles of material, either net or fine cotton cut with pinking shears. Tie a bow round them and they're done! Lavender works miracles at keeping away moths.
The internet is full of ideas for presents to make with kids - a couple of good sites I've found recently are http://www.parentmap.com/article/15-homemade-christmas-gifts-that-kids-can-make and http://www.activityvillage.co.uk/gifts_kids_can_make.htm.
Have a wonderful Christmas and festive season and we'll be back in the New Year!