I never thought this day would come, but it's true; temperatures are in double figures and set to stay that way. Three cheers even for this pale imitation of springtime (I shan't tempt Fate by expecting summer), and let's hope June will hold better!
This is my favourite time of year; everything's growing (albeit rather less quickly this year than most years - but look on the bright side, it gives you a head start on the weeds), it's not too hot yet (hollow laughter) and there's a clear couple of months of nice predictable routine before the next set of school holidays. It's a good time to Get Things Done, and perhaps make the odd Outing at a weekend, now that the weather's less cold. Here are some things we've heard about locally.
The first week in June brings a chance to see (and hear, and feel) what the creative spirits in Leiden are capable of. The fifth edition of LISFE comprises (I quote from www.lisfe.nl) not only a large variety of short films, but also a series of special events all dedicated to the blending of film with other forms of art and culture. This means cineconcerts, workshops, architectural evenings and much, much more.

It kicks off on Saturday 1st and continues all over town in a range of venues until Saturday 8th when the winners of the competitions - one judged by a jury, one by you, the audience - are announced. Why not make use of our Find a Babysitter page and treat yourself to a night out - either sheltering from the rain in a nice warm venue (more likely), or strolling about warm evening streets from cafe to cafe after a film?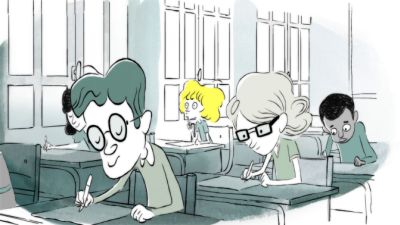 Flora Sideri, wonderful babysitter of many a Leiden child, is running a special kids event this coming Saturday (8th June), which is a viewing of a selection of short films for children.
Located very centrally, on the Oude Rijn at Mijn Fotowerkplaats (www.mijnfotowerkplaats.nl) it's from 10.30-13.00 , and it's free. The films will be a selection of short animations from different countries around the world. Most of them are with either no dialogue or in English, and are appropriate for children from 7 to 12 years old. It promises to be great fun and to really get the kids thinking! See: www.lisfe.nl/forkids!.php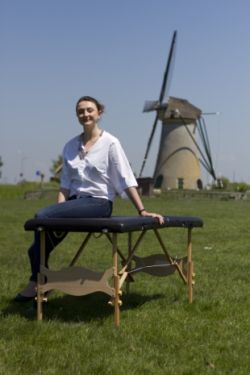 Another well-known face from the extended family of those-who've-looked-after-our-children, Aleksandra Chmiel, has just qualified as a masseuse, and is offering her mobile massage service in Leiden and surrounding area. For just €30, she will up with all her kit, including her professional folding massage table, and give an hour-long relaxing massage in the comfort of your own home. If you book two massages (why not invite a friend round?) you get a discount.
She says:
Since studying Contemporary Dance and Theatre Studies, I've travelled extensively, and on one of my trips I learnt about Ayurvedic massage therapy from an amazing local man. I started reading up on the subject, and decided to return and study massage with a shaman, while working on a horse farm on the top of a mountain tending to the garden, animals, riding, reading, cooking, eating and loving (but not praying...). On my return, I studied massage intensively, and have recently received my certificate.

I'd like to share what I've learnt with other people, while financing my last year of study. My one hour full body relaxation massage is given on a professional massage table at a client's place. Apart from the regular treatment of legs, arms and back, it consists of foot and face massage and variations for the ladies and the gents: thigh firming treatment with acupressure vacuum cups or chest muscle strengthening. I have a car and can travel within Leiden and the surrounding area up to around 15 km.

Go and check my website www.facebook.com/AlexMassageLeiden to make an appointment! By clicking the thumbs-up you can enter a weekly draw for unique gifts!

I adore the Bijenmarkt! It's a gorgeous little nature and craft market situated in the little park off the Zouterwoudesesingel, just opposite the white bridge in the middle of Plantsoen park. There's loads to do for children, including facepainting and scouting activities such as roasting marshmallows and waterfights, there's lots of food and drink for sale, and loads of great stalls with beautiful, original and mostly organic/homemade stuff. HomeinLeideners Marja van Halteren (www.nordicwool.nl) and Aanchal Malhotra will be there, and it always has a lovely friendly atmosphere with children running free, so fingers crossed it's a lovely day and I'll see you there! See www.deleidsebijenmarkt.nl for more details.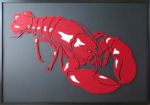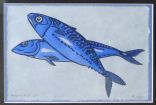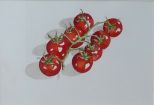 Just a reminder that even if you missed the opening of the exhibition by HomeinLeiden's own Harriet, in Dende (Nieuwe Rijn 5), her work is still hanging in the restaurant and can be enjoyably viewed over a cup of coffee or lunch/dinner in this lovely, child-friendly restaurant. The exhibition is changing constantly as she sells pictures, but is based on the theme of 'Edible' and includes watercolours, collages and block prints, which are all for sale and range from €50-€200 There are also greetings cards for sale. See www.dende.nl and www.thetulipandthebutterfly.com.
While we're finalising plans for the Oegstgeest Family Group, I've been mailed by several enthusiastic mums keen to help and to meet new people. Although I can't give you a time and a date for the playgroup / meeting point quite yet (it'll be soon, though), what I now have is an embryonic mailing list for Oegstgeest internationals. If you'd like to be added (and be the first to hear about the Oegstgeest Family Group's inaugural meeting) then just mail me at alice@homeinleiden.nl and I'll put your name down.
Just a reminder - it's first-Friday time again soon, so there's an Orange Integration coffee morning coming up at Marinde Kruis' house, Menno ter Braaklaan 8, starting at 9am. Why not go along and meet other internationals?
HomeinLeiden doesn't specialise in eatery reviews, but recently we experienced such a lovely new caf é in Leiden centre that we had to pass on the good news.


Logica opened in March and is on the Stille Rijn, the other side of the canal from V&D. It's in a gorgeous old ground-floor which has been opened up and tastefully adapted to make a roomy, restful space. They serve delicious coffee (and my friend assured me that lunch was excellent too), and are 100% organic while at the same time not at all expensive. What sold it to me, though, was the charming (and I mean really good) and child-friendly service - this with a really-not-very-quiet four-year-old in tow. Heartily recommended to anyone who likes good food, with or without children!