We've had hailstones the size of hazelnuts, most of the leaves have been blown off the trees, I've dug out the coats and gloves, and my trusty gumboots are back in action. it must be November! The children are longing for a deep snowdrift (oh please, not yet!) and I'm longing for a high sun, a wide beach and a long drink.
However, Leiden is buzzing with activity as usual.
Hurrah! It's time to clear out the cupboards and get rid of all those toys that the children have grown out of/never played with/driven you mad by pressing the buttons of. Bring them along to the toy swap and maybe you can pick up some new, fun toys in exchange! Mix in a glass of wine and some nibbles and some new faces to meet and you've got a classic HomeinLeiden evening!
When: 8pm, 21 November 19.30 - 21.30 (Please try to arrive on time if you can!)
Where: Vrouw Kind Centrum, Langegracht www.vkc-despiegeling.nl
Cost: 2 euro each to cover costs
All leftover toys will be donated to the VKC.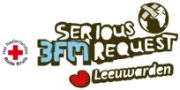 Do you remember all the fun and frolics with the huge radio charity initiative Serious Request, when the Glass House was in Leiden? This year Serious Request is focusing its attention on the huge numbers of children that die around the world from diarrhea with the project 'Let's Clean This Shit Up!' Take a look at the website for more information. The Glass House may be in Leeuwarden not Leiden this year, but that doesn't mean that Leidenites won't be raising money. Clara Bik, who makes the most fantastic bags out of upcycled tents, is doing a project called 'Totes of Tents with Art on the Edge', raising money by auctioning one-off art bags made using the work of eight different Leiden artists. This is the trailer (I love Doug's voiceover) http://www.youtube.com/watch?v=uUfyZuOGmSQ.
As you will see in the trailer, I (Harriet) am one of these artists. You can see the first bag, which is my one Sherbert and The Beetle , on her website: http://www.bikkies.nl/sherbert-and-the-beetle-harriet-impey/ . The other bags will be added slowly until the auction starts in December.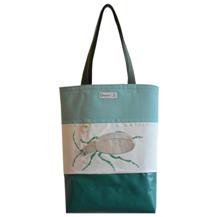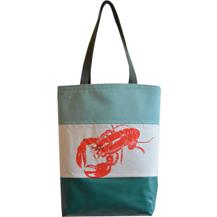 Clara also makes a gorgeous range of bags in all sizes, all super eco-friendly and practical! Take a look at her website www.bikkies.nl.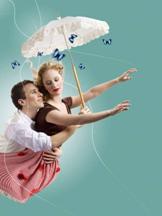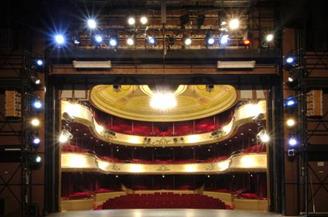 Last week was a bit of a first for me - I went on a night out with my children. You'll be glad to hear that we weren't bar hopping (they are only 7 and 9), but we attended a dance performance by Introdans at the Leiden Schouwburg. We had such a great time and I was really impressed by how efficient and child-friendly the whole things was - there were plenty of booster seats for everyone, the performance was exactly the right length and level for their concentration levels, and in the interval instead of having to fight to buy a drink they just put out trays of orange juice and chocolate milk for the children. We really enjoyed ourselves and although it started at 7, they actually didn't end up going to bed very late. I've been looking at the programme for children (see http://www.stadspodia.nl/programma/all/41/jeugd-en-familie ) and there's lots more to go to, for different ages, such as the Matangi Quartet (6+) on 24 November, Erik of het Klein Insectenboek (8+) on 8 December, or Swan Lake on 28 December.
Of course, there's loads on that's more suitable for the grown ups - check out all the new babysitters on our Find A Babysitter page (click through to the next page too, there are more) if you want a night out without the kids! And if your children were/are fans of the book We're Going on a Bear Hunt , and you are/were fans of going out, you have to see the extremely funny parody by Emlyn Rees and Josie Lloyd (see http://www.youtube.com/watch?v=0RdMu34BBQ8 )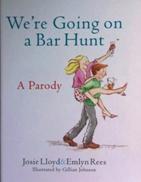 We're Going on a Bar Hunt, We're Going to Find a Cool One. WE'RE NOT OLD!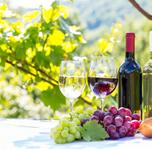 Delphine Stein, owner of the bringer-of-delicious-French-food-to-Leiden company La Table de Delphine (www.latablededelphine.com), together with Aromavin, is hosting a Tasting - a great chance not only for a lovely evening but to stock up early for Christmas and Christmas presents, from her amazing range of local artisanal products imported directly from France. She says:
Winter arrives and with it the end of year festivities. What else than a good wine and assorted delicatessen to celebrate or just enjoy a good time at home or with friends. Aromavin, in collaboration with La Table de Delphine invites you for a tasting event where you will have the opportunity to make a new gastronomic experience. The contribution fee is 10 euro per person. We will welcome you the 23rd of November from 18:30-20:30 at Chizone, the former Lourdes in Scheveningen. Please register by payment to bank account NL67 INGB 0004 3204 55 attn JASL.
The entrance of Chizone is at the back of the church situated in 2e Messstraat 108, 2586 XG in The Hague. Easy access by public transport lines 1, 9, 21, 22 and 23; parking is possible in the public parking next to the Circustheater.
The number of guests allowed is limited, please register as soon as possible if you want to join.
We are hoping to welcome you on Saturday the 23rd of November.
Struggling to find ways to keep the children busy without resorting to electronics? This time of year is perfect for craft and cooking projects, especially since you can use them as presents for the grandma/grandpa/doting aunt who misses them from afar! Here are a few ideas: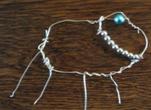 This is one that even older boys enjoy - I think it's the use of pliers that does it. A bit of looking up work by Alexander Calder is also inspirational. You can get wire, pliers and beads very cheaply in Flying Tiger on Breestraat, but also at LTC, V&D or Lucie's Pearls. Then just leave them to get on with it and see what comes out of it!
No-fire clay (4+)
You can get this in art shops but also now affordably in Hema. It's very satisfying to paint with acrylic paint once dry. Easy projects as presents include tealight holders, ladybirds, small bowls, and pencil holders for desks (eg in the shape of a hedgehog, just stick in pencils to get the right size holes on the back).
You can also make your own 'clay' using flour, water and cornstarch (maizena in Dutch). Just google 'no-bake modeling clay' for a million recipes.
We also really like Fimo (for 6+), which you can get in some art shops, especially for making food for the doll's house.
This isn't really craft but keeps small people happy for ages. Waterproof tablecloth and lots of wiping cloths needed. Give the child(ren) an old weighing scales, spoons, bowls of different sizes, jam jars and a sieve. Then give them jars of dried lentils, beans, rice etc (and if you are feeling brave, water). They will be busy for hours ladling, mixing, weighing and making a fairly easily-cleanable mess. If you are left with soggy beans afterwards, put some in a jar and watch them sprout!
To make really nice paintings-as-presents from very small children, a bit of preparation goes a long way. If you buy small square canvases, for instance, paint them with a background colour before you give them to the child, and give the child a very limited palette to prevent it turning into a brown sludge. A friend of ours still has three small square canvases that I painted pale blue, and then gave my 2 year old a brush with white paint and some silver stars. They ended up looking really lovely. Another tip is paint a larger canvas with darker blue and give the child a thick gold pen (make sure they don't eat it). Or get a tiny child to scribble as much as they like, but then cut out a neat shape and stick it onto a piece of card and frame it.
These also make great presents. You can stick sticky-back-plastic (that classic Blue Peter staple, available in art shops) over the drawing, and then cut it out and stick it onto cork coasters (Xenos). If you have a laminator, just get the child to draw a few picture within smallish circles, laminate them within one sheet and then cut round them, leaving a 1cm plastic edge. Xenos also has sets of glass coasters that take photographs (or pictures, of course). Look out for trays and placemats like this as well - just add your darling's favourite pictures and you'll make Grandma's day.
For younger children, potato printing on paper or sponge printing on fabric using fabric paints is really fun (do make sure you all wear an apron, or frankly a Darth Vader outfit to be on the safe side).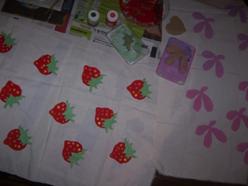 For older children, try making lino prints (all the materials are available at Terpentijn art shop). Just make sure they always cut away from themselves! There's a great kids printing course on Wednesday afternoons and Sunday parent and child workshops in Haagweg 4 by Sylvia ten Kley, see http://www.hand-en-werk.nl.
We all got shamelessly obsessed with the Great British Bake Off, and now unfortunately I can't cook anything without my daughter telling me it has 'a good crumb texture' or is 'a little bit underproved'. Sigh. However, it has made them even more obsessed with cooking than ever. My current favourite book is Mary Berry's Simple Cakes, because many of them are simple enough for a child to follow, without being patronizing. And they are yummy, and they all work.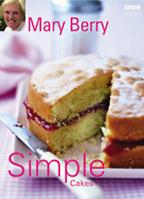 In terms of food as presents (although it's bit early, I know), we've made flapjacks and brownies, and tied them up in circles of cellophane (Xenos) tied with ribbon (Xenos), or made marzipan fruits (buy almonds or ground almonds in the market, way cheaper) and put them in little cardboard boxes from (you've guessed it) Xenos, which have a space for a picture on the lid. Other good options are peppermint creams and truffles in decorated boxes - there are a million recipes for these on the internet! The biggest advantage we have here is that when it comes to rolling the truffles we have. hagelslag! You can roll your truffles in any colour, shape or flavor sprinkles. Finally, a use for hagelslag that doesn't involve me being in a mood about my children eating chocolate for breakfast.
Have a good month!