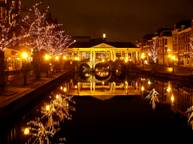 Now Sinterklaas has gone back to Spain, we are allowed to start feeling Christmassy. hurrah! I adore Christmas, and am much looking forward to our everyone-squishes-in Christmas dinner (at the moment I think we are on 20 adults and 7 children in a house the size of a shoebox). Meanwhile, here are some Christmassy things to do.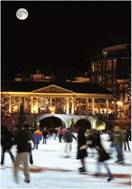 Never mind if it's not a white Christmas: there is an artificial ice rink on the Nieuwe Rijn until the
3 rd January! It's open Mondays to Saturdays 10.00-21.00, although until the 18 th it's reserved for schools on weekday mornings until 13.00, and 12.00-18.00 on Sundays and Bank Holidays. It's € 5 for an unlimited time slot ( € 25 for 6 goes) and € 1 to hire skates (you can also often pick them up cheaply in Kringloopwinkels). For safety reasons, only normal skates are allowed and you must wear gloves. If you don't fancy falling over repeatedly, like me, you can just sit and drink chocolate in a nearby café. All we need now is for it to stop raining.
The Leiden English Choir carol concert is on Friday 18 th December at the Marekerk, Leiden at 20.15. You can buy tickets in advance from Kabouterdromen on the Nieuwe Rijn (see www.lec.nl for more details: they also have another concert in Voorburg on the 19 th ). The Cecilia International Choir has Christmas concerts in the Hague on the 10 th and the 16 th and in Wassenaar on the 13 th : see website for more details. There are also lots of other Christmassy concerts on in Leiden: have a look out for posters!
There'll be a Christmas market around the ice rink on Sunday 13 th December between 11.00 and 17.00 (the one on the 23 rd has been cancelled, alas). There will be an extra 'moonlight' shopping evening on Wednesday 20 th . Buses in the Zuid-Holland area will be free on Saturday 12 th and 22 nd to help your shopping trips (see the website www.zuid-holland.nl/gratisov) for details of routes etc.
Present-wise, I'd firstly recommend anything in the lovely Wereld Winkel on Burgsteeg 12 (www.wereldwinkel-leiden.nl) - for peace of mind in knowing that the presents you give your children are not made by child labour but are actually helping local communities. They have gorgeous jewellery, boxes, bowls etc and I LOVE this book: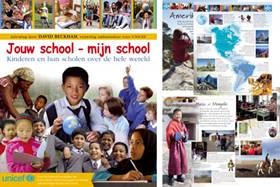 which has a page for a child in every country, telling us about their school day. It's utterly compelling and really appealing to children. Great for your Dutch too (it does of course also exist in English: you can get Ans at the Mayflower bookshop to order it for you).
Also in Burgsteeg (three or so doors down) is the newly-opened revamped version of the vintage jewellery shop: it's really lovely, and has a range of cool vintage clothes, jewellery (including cufflinks) and shoes. Round the corner Engeltjes en Draken (www.engeltjesendraken.nl) still remains my favourite children's rooms and stuff shop: stuffed with gorgeous things! Allerliefst on Hooigracht (www.allerliefst.nl) has lovely girly stuff, while the camping shops on Nieuwe Rijn are great for 'stoer' presents like portable hammocks, survival stuff (nephews' presents a-plenty).
Decoration wise, I adore the ones in Dille and Kamille (especially the mushrooms, of course). I also love the tiny pegs you can buy to hang your Christmas cards up on on strings. Re Christmas cards, do be aware you can buy Decemberzegels , rather than ordinary stamps, for use in the Netherlands, which are 34 cents rather than 44 cents each and thus very much worth it! If you want to make your own Christmas cards then Action has packs of 8 cards and envelopes for around 80 cents.
If you are making edible presents, Dille and Kamille have gorgeous jars and labels and all sorts, although Etos also have much cheaper versions of many of the jars etc. For craft-type projects Action (awful though it is) is unbeatable on art materials, although V&D now has a good affordable range of canvases, paints etc. Here are a couple of ideas of things to make, either for yourselves or as presents: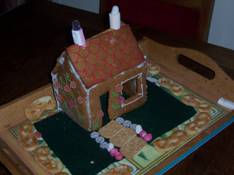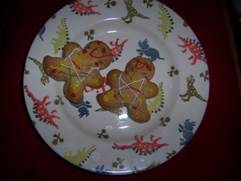 These are great fun to make: if you don't feel up to making the house, just make little people or stars or whatever, and if you make holes in the top you can hang them on the tree, or they make great presents. The children (or you, if you are a perfectionist and would prefer them to look pretty) can decorate them: writing icing is the best for this, although quite hard for little hands - you can get it in Tucker Box and now in most supermarkets too. Silver balls are good too although not for very young children. The mixture is utterly yummy and I have to work hard to prevent the children eating the lot before it's even in the oven.
Make twice this quantity if you want to make a house.
225g oplain flour
½ teaspoon bicarbonate of soda (Tucker Box)
1tsp ginger (or cinnamon, which is what my children prefer)
50g butter
1 egg
2 tbsp golden syrup (Tucker Box or Albertheijn)
85g light brown sugar (lichte basterd suiker)
Mix flour, bicarbonate of soda and ginger/cinnamon, then rub in butter until mixture resembles breadcrumbs. Stir in the sugar.
Beat the egg with the syrup, and then pour into the flour mixture. If it's too gluey, add some more flour.
Knead it lightly together and turn out onto a floured surface, and roll out to about 1 ½ cm thick.
Cut out desired shapes and bake for 10 to 15 mins at 190 ° c - do check as it should be light brown and not overcooked, or it goes too hard.
You will need to cut out six shapes: the two gable ends, two roof slopes and the front and the back. Don't forget to cut out a door and window (or whatever) from front. Do measure the pieces so that they actually fit together: they will warp a bit in the oven but that doesn't matter.
Use icing to stick them together (just mix icing sugar poedersuiker with a few drops of water or lemon juice) once they are cooled, and wait for it to set before attaching new bits. Takes some patience, especially from the children!
Decorate however you like - lots of sweets makes it extra fun (although they tend to disappear when you are not looking.) If you cut sweets in half then their own stickiness attaches them.
Dille and Kamille has a brilliant range of cutters, as does the smart cooking shop a couple of doors down. We make stars and little men, and then make a hole in the top with a straw and thread a piece of ribbon through (you can buy thin ribbon at the haberdashery stall in the market or at Mol en de Groot (Lange Mare 116), or, if you are making lots, my new tip is a ball of metallic flat yarn at one of the knitting shops (e.g. Een Steekje Los on Nieuwe Rijn)which works out way cheaper. Do re-pierce the hole after baking while the biscuit is still hot.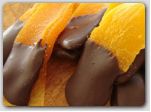 This makes great presents: just buy the delicious dried mango, melon, strawberries, kiwi etc at the market stall on the bridge (Hoogvliet end), melt chocolate in a bain marie (bowl over simmering water) and then dip the fruit in and leave to dry on baking paper. I then buy rolls of clear plastic wrapping paper from Etos, cut circles, and tie them with a ribbon. Yum! It's also handy for encouraging children to eat fruit.
Work in progress: we are busy making a nativity scene with DAS, that great clay-that-doesn't-need-firing stuff (bought in HEMA) - at the moment it looks slightly post-apocalyptic, but I have high hopes for it. if it's a success I'll post a picture!