I noticed it this evening; it was definitely getting chilly, and I am even wondering whether I mightn't turn the heating on one day. With these darkening evenings I always find baking is best for making the house feel really cheery, so scroll down for a nice warming recipe if you're interested.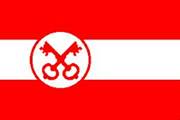 But first - a few things going on. The Drie October festivities are coming up to liven our autumnal lives! What is happening on and around the 3rd (and why) has been exhaustively documented on this site elsewhere, particularly here, and in the 'Dutch Festivals and Traditions' section on the right, so I shan't go into too much detail this time. Suffice it to say that the town goes fairly mad, and all local schools, primary and secondary (including Oegstgeest and I think also Leiderdorp and Voorschoten) have the day off so you will have plenty of company if you choose the funfair .
Starting with the Taptoe (parade) on the evening of Wednesday 2nd, Leiden is alive with things to do, see, join in (and drink) on the 2nd and 3rd, and you can find the whole programme on http://3october.nl/programma. If that doesn't appeal, remember that it's a perfect day for visiting some major sight elsewhere with smaller-than-usual crowds, since only the Leiden area is on holiday ...
Getting into the spirit of things, Ruud and Marinde Kruis are expanding their coffee morning on the 4th to run from 10am to 2pm and to include a genuine hutspot lunch (traditional 3rd October recipe). It will apparently be cooked by locals so why not join in and see what it's really like? Mail Marinde on orangeintegration@hotmail.com if you'd like to go, as places are limited.
Following the success of the last Book Swap, the OFG is happy to announce another Book Swap coming up, on 4th October at the normal time, 9.30-11.30. Time to clear out your shelves; we'll take anything (adult or child books) in any language, and remainders will be donated to the Boekenzolder at the end of the session. You are also welcome to bring magazines if you wish, and the unwanted will be recycled. Come and browse while you have a cup of coffee and a chat!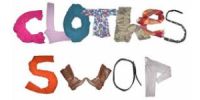 New to Swishing? It means a Clothes Exchange - the chance to refresh your wardrobe AND have a great social time - what's not to like? This is what the HomeinLeiden Social Committee (Harriet, Jill, Celeste and Jenny) have to say about it:
Autumn leaves are beginning to blanket the streets of Leiden, the aromas of rooibos tea and appeltaart meander through the air and the october rain ... mmm... well, the dreaded, constant rain drenches us daily and forces us to wear the most unsightly tent-like garments while out and about. But that doesn't mean that once we take off those shapeless waterproofs, we can't turn heads! And this is where our H.I.L. Clothes Swap / Swish comes in!

Most of you are devout swishers and know the drill, but for anyone considering taking part in the swish for the first time, here are a few guidelines for our combined Ladies' & Childrens' Swish, to be held at the Vrouw Kind Centrum on the Langegracht on Wednesday 9th October from 7.30pm.
Cost: 2 euros p.p. to participate, but money is not exchanged for items swished.
Registration is NOT required - just turn up on the night! Arrive on time, however, to avoid disappointment and to help display the items.
Clean, fashionable ladies´ winter clothing, shoes, accessories, bags etc desired.
Childrens' Winter Clothes (0 - 12 years)
Any items remaining at the end of the night shall be donated to the V.K.C. for families in need.
As always at Home in Leiden events drinks & nibbles will be served, but feel free to bring along a bottle to help us out! If you need any additional info, please email Jill at fraubowe@hotmail.com.

We look forward to seeing many of you at the V.K.C.
Starting on the 7th there is a national initiative, Week van de Opvoeding - Parenting Week. All over the country professionals in all imaginable area of child/youth (health)care are joining forces to organise (free) activities to inform, help and support parents. On the official site you can read about what's going on in the whole Leiden area, with Oegstgeest, Voorschoten and Leiderdorp also having an extensive programme. The CJG (family health clinic) in Oegstgeest has also published a flyer with the same information. There's a huge variety, from music classes through cooperative play to advice on internet bullying for teenagers . you name it, it's there on offer. Really worth a look.
The Oegstgeest CJG has also organised a special (and free!) parenting workshop in English (details also on their flyer ) on Friday 11th October during the Oegstgeest Family Group coffee morning. The theme is 'Creative Parenting Solutions' and it's all about that Holy Grail of us parents - how to get what we want without endless nagging. Is it possible really to communicate effectively our children and to enjoy dealing with them? It promises to be a fun session and what is more, personnel from Kindergarden creche are coming along to offer free childcare on the premises during the workshop, so you can concentrate knowing that your child is in good hands. If you come along at 9.30 you can give your child time to settle in before the workshop starts at 10am (note: earlier start time than I announced earlier). Don't worry about dipping in and out of the workshop if you're concerned about your child - we're all very flexible!
We recently heard about www.zorgverzekering.org/eng, which is a really useful site for finding out how the health service here works. It's maintained by a number of people who work or have worked in the area and is refreshingly independent; no adverts and as far as I could work out, no hidden agenda. It is exceedingly comprehensive in Dutch - explaining things, listing insurers etc. - and only slightly less so in the English section. Well worth a look if you're new here or if your circumstances have changed and you're thinking of shifting insurer.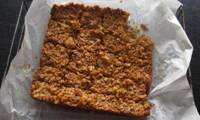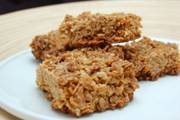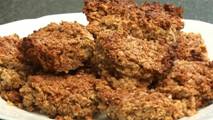 These are that happy combination of delicious and exceedingly quick and easy to make. I have here two versions, one being chewier than the other. Take your pick, and remember: if you want them crispier, you need a hotter oven and a few minutes longer in there.
Less chewy
250g butter
250g demerara sugar (ruwe rietsuiker)
450g porridge oats (havermout)
More chewy
250g butter
125g demerara sugar
4 tablespoons golden syrup (from the UK .)
500g oats.
The method is identical for both. Melt the butter and sugar (and syrup) together over a low heat (careful, keep stirring and don't get it too hot, you're not aiming for toffee). Mix the oats in thoroughly. Spread out evenly in a tin - 20x30cm is about right - and bake for about 25mins at 175C. Mark into squares while hot, and remove from tin when cool. No real need to line the tin.