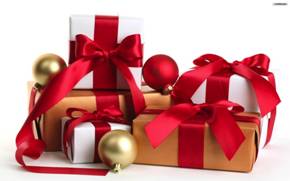 Thank goodness, after Sinterklaas comes Christmas, and there are lots of fun things to do in Leiden in the run up to Christmas! A good place to look stuff up, by the way, is www.dreum.es - it's in Dutch but has a great round up of what's on in the area, or a good site in English.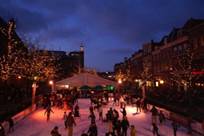 The lovely ice rink on the Nieuwe Rijn will be open again from 19.30 the 6 th December (there is an opening show at 18.45, following the lighting of the huge Christmas tree at 18.00 at Annie's). You can rent skates there (although I personally find them madly uncomfortable, and if you love skating I recommend a trip to a kringloop or a look on Marktplaats to find a pair of second-hand ones), as well as drink mulled wine or hot chocolate in between. Look out for 2 for 1 vouchers at various places around town, as at €5 a pop (€6 including skate hire) it's not cheap.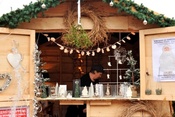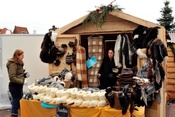 If you want to get in the mood, there's nothing better than a Christmas market. There is one on the Nieuwe Rijn in Leiden from Sat 14 th to Sunday 22 nd December, 12.00 to 21.00, with little wooden chalets and mulled wine galore. The stalls aren't super exciting but it's quite sweet and certainly very festive.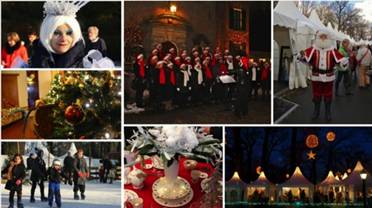 For a really good Christmas market, Kasteel Keukenhof is the place to be.
It's from the 11-15 December, open 11.00-19.00 (fri 13 th and Sat 14 th until 22.00) and has huge amounts of stalls, a children's village, an ice rink and all sorts of other things, including Father Christmas. Children are free, adults €8. It's about 20 mins by car or take bus 57 or 250 from Leiden station to the bus stop Keukenhofdreef (although it's a 10 min walk to the entrance from there). The castle itself is rather magical. Take a look at www.kerstopkeukenhof.nl for more details.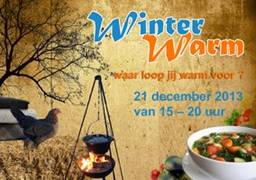 There will also be a Duurzaam (Sustainable) Leiden market on the 21 st December from 15.00-20.00 in the Merenwijk, Parkzicht 100, 2317 RH Leiden. There will be lots of 'green' themed stalls, including a mini Repair Café (see http://repaircafe.nl/leiden/over-repair-cafe-leiden/).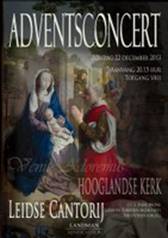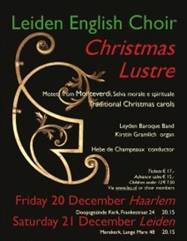 I am always on the look out for the perfect Christmas concert (ok, so maybe I'm missing the UK a little bit...) - the best two options are probably: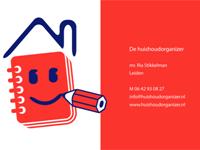 I love this time of year, with all the opportunities it offers for cooking and eating (especially the latter), but it can - even though we're spared some family complexities by being in the wrong country for casual visits - all get a Bit Much at this time of year, what with presents, decorations and remembering all the various activities and Things Which Must Be Done On Time. HomeinLeiden recently came across Ria Stikkelman, who could help smooth your own personal path to Christmas or other festivities - or at any time, come to that.
Ria is a professional organiser who offers sympathetic and effective coaching in, well, getting your life and household back into manageable shape if it looks as though it might spiral out of control. Ria originally started out as a lawyer, but she soon shifted to personal coaching via work for volunteer organisations like the Leidse Rechtswinkel (pro bono legal advice). While her clientele is at the moment mainly Dutch, Ria is keen to help any internationals who are feeling snowed under with the whole moving-to-Holland business, or who need someone to help them find their way at any stage. You can read more (in Dutch) on www.huishoudorganizer.nl ('householdorganiser') or email her at ria.stikkelman@gmail.com for information in English.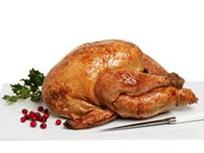 I know, Tuckerbox has closed (remember www.tuckerbox.nl , though) so I still rely on a few specialist imports at this time of year (suet, anyone?), but there's one thing you don't have to order abroad for here - the Christmas dinner. I apologise for speaking mainly to the British-American public here, but did you know you can order a turkey at most butchers? My own personal favourite is Filippo on the Janvossensteeg (just round the corner from the Hema on the Harlemmerstraat, tel. 071-512 2584), which is a fully 'free range butcher' (no factory pork from him!) and has a delicious range of well-priced free-range and organic meat available to order at Christmas. Thanks to him we have found that a 14kg turkey really, really is the limit that our oven will take .
And while we're on the topic, Kievit - the wonderful Katwijk-based firm who does organic deliveries in the area which save my sanity and my bike bags (a growing family eats a LOT of potatoes...) - has a fantastic Christmas selection every year. Including wine and all sorts of goodies, delivered to your door. All responsibly sourced, local where possible, organic and well under the AH organic price (quite apart from having a better range). Well worth a look at www.kievitamines.nl.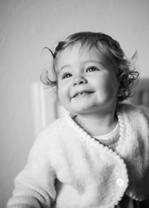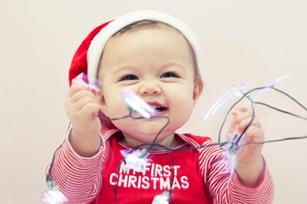 If you can't make it home for Christmas and want something to remind them of you that is easy to post - why not get a family photo done ? Or just get some lovely pictures of your little ones? I recently met a lovely woman called Femke, a repat who has set up her own photography business in Leiden.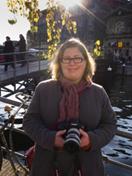 She says: " Hello, my name is Femke de Vos Burchart and I am a photographer. I specialise in children's and family photography in a relaxed environment.
I am Dutch and moved to London in 2006. There I met my now husband, who is Scottish, and we decided to move back to The Netherlands. So, in July 2013 we moved to Leiden, when my husband was offered a transfer with his work. This move meant a lot to us and provided me with the opportunity to go professional with my photography. I have always been taking photos and had been thinking about 'going pro' for a few years, but I was never in a position to do so.
I love taking photos of people, capturing those moments in time. Especially with children and families, as they change so quickly. I prefer photo shoots in a more natural environment to studio shoots. I believe the spontaneity of play and interaction is something that makes photographs so special and that's why I feel a photographer should be capturing those real moments. I think this is especially important for those who don't have their family near them and rely on photos, videos, etc to send to the family abroad.
If you're interested in doing a photo shoot with me, please get in touch. I am happy to discuss what we can do together and I would love to help you capture those memories. If you book before 1 February 2014, I am offering a 50% discount on my photo shoots. I also offer gift certificates, in case you're after a present with a difference. You can find examples of my work and my contact details on my website www.femkedevosfotografie.nl ."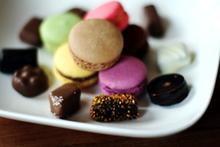 For gorgeous edibles, try de patissier in Oegstgeest - completely amazing patisserie that is art in itself, as well as being super delicious, from the wonderful Marco Kruit. He is constantly adding new ideas, lots of which make brilliant presents - such as a stunningly beautiful shoe made of chocolate, perfect for any shoeaholic, boxes of macarons, special teas, cheeseboards, marzipan minions from Despicable Me (yes, really) and all sorts. It's really worth a trip to Oegstgeest just for that. See www.depatissier.nl.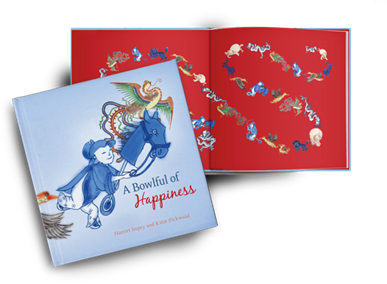 If you are looking for books for children , Silvester bookshop is the one to go to as not only are they lovely (and have a very attractive play corner for little ones) but their range of children's books is great, and they stock many languages. After lauding lots of other people's enterprises, I'm going to go in for a shameless plug for myself, so here goes. If you are looking for an unusual children's book, look out for my (Harriet) book A Bowlful of Happiness , a richly decorated story that introduces children to Chinese art. See www.abowlfulofhappiness.com for more details. In Leiden it's currently available directly from me or from Silvester and Mayflower bookshops (email harriet@homeinleiden.nl if you are interested). My next book, The Temple Guardians, will be out early next year - watch this space! And while I'm at it, I'm going to go in for another plug - if you would like an original picture as a present for a friend or relative, and/or missed my exhibition in the summer, I make a wide range of prints, collages and paintings to suit most budgets, which make excellent presents. I've recently been having rather a lot of fun making collages of cakes, which would brighten up any kitchen! See my website www.thetulipandthebutterfly.com or visit me at my studio (Groenesteeg 33).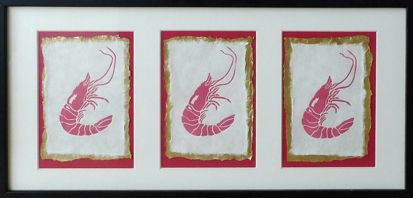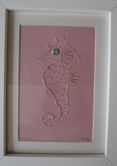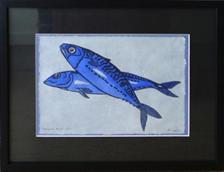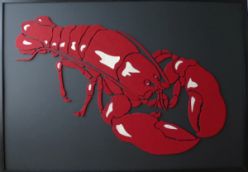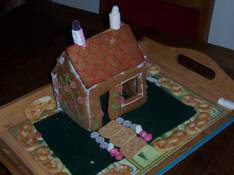 We've always got ideas here at homeinleiden - take a look at the previous homepage, as well as
the homepage at 7-12-2009. I particularly recommend making the gingerbread house. I also love www.whipup.net for craft ideas, see http://whipup.net/2010/12/23/whipup-newsletter-no-50-2010/ for some Christmassy things to do.
Whatever your plans. HAVE A WONDERFUL FESTIVE SEASON!