____________________________________________________________________
(Please contact
jessica@homeinleiden.nl
if you'd like to contribute to this section).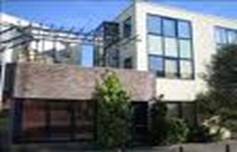 One international parent says: We're an English/Dutch bilingual family living in the Stevenshof; we've been here for nine years and are likely to be here for at least the next five to ten. We chose to put the children through the Dutch system for primary education partly because we are more or less Netherlands-based, and, let's face it, also because the location and cost of the international or British alternatives were prohibitive.
There are four Dutch primary schools in the Stevenshof, and like the estate, they've all been around since the mid-eighties. Three schools share a gymnasium on one location, de Zwaluw (Protestant), 't Klankbord (Catholic) and the Stevenshofschool (secular, ie. 'openbare'). At another location there is a second openbare school, the Anne Frankschool. This school is about to open (1 st February 2010) a 'Leonardo' school for gifted children at its Stevenshof location; more information on www.annefrankleiden.nl/leonardo . In the Stevenshof the schools are all gradually reducing in size as the estate's inhabitants age, so none of the schools has a waiting list.
We visited all three at the first location, which is very near to our house. It is very hard to judge a school on the basis of its prospectus and an hour's visit, the more so since ordinary Dutch primaries do not necessarily have beautiful glossy brochures trumpeting their virtues - and as all fully public ('openbare') primaries are funded on a similar basis, their facilities don't differ enormously. The Stevenshof is a terribly ordinary Dutch nieuwbouwwijk (new housing development); all its schools serve purely children from the immediate neighbourhood, and their academic results reflect exactly that. A small minority go through to VWO or gymnasium, the bulk to havo and a minority to the bottom end of vocational or special secondary education.
This means that there is not that much to choose between the schools - they are all basically OK, they all have similar facilities and a similar social makeup - so we had to go by gut feeling, minor differences and hearsay, which in our case (not knowing many parents-of-school-age-children at that point!) meant asking everyone we knew what they thought.
After-school care in the Stevenshof is a problem ('t Klankbord does its own before-school care on the school premises). Waiting lists at the two B4Kids locations in the Stevenshof, Vlindertuin (ages 4-6) and Pandora (ages 7 and up) are very long, and it took us eighteen months to get places for Monday/Tuesday/Thursday. Wonderland BSO started up in the Stevenshof some time after we were first looking and I don't know how long its waiting lists are. In the meantime we have found good local after-school childminding, but that has not always been easy.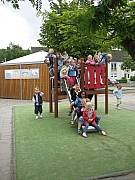 One international parent says: We eventually chose 't Klankbord for its atmosphere - when we visited it had a happy hum of activity to it, and children were pleasant to us in passing - and for its class sizes. Dutch schools get subsidy depending on pupil numbers, which the school can then spend as it wishes - which means that it can choose to have either a specialist music teacher or small classes, for example, but not both. 't Klankbord chose small classes, and having seen a kindergarten (kleuterklas, under-sixes) class of 3 at another school, we knew that that was a priority for us. There was also an element of people-we-know-send-their-children-there . Religion wasn't a factor in our decision (they didn't even mention it during our visit!) and while the school follows the yearly cycle of the Christian calendar and the children go to Easter and Christmas services at the local Catholic church, the tone of the school is about as secular as you can get, really.
Nearly four years down the line we're happy with our choice. The teachers are helpful and approachable, the parents' associations active and involved and the school is flexible enough to have taken action following a couple of our suggestions. The school takes great care of emotional, social and physical development along with the intellectual side - perhaps a little more than this pair of parents is used to, but on the whole I think it's a good thing. It is very much a neighbourhood school; classes use the local library regularly and from group 5 the pupils take care of school (vegetable) gardens as well.
Following a ballot of parents, next year 't Klankbord will shift to a continurooster , ie. a schedule in which all pupils stay for lunch. At present the lunchtime care for the roughly 40-50% of pupils who eat at school is carried out by B4Kids workers, not by parental volunteers (which is a blessing for working mothers!). There are frequent requests for class helpers with trips to museums and the like; I oblige on the rare occasions that I'm free. I feel pretty much part of the school community now, despite being foreign, no doubt partly because I speak the language well.
One obvious downside to a local school is the lack of experience with bilinguals (I think 't Klankbord has about twenty bilinguals, out of its 300 or so pupils, reflecting the population in the Stevenshof), but so far language has not been an issue with either child. I do not know how the school would handle a non-Dutch speaking child, but certainly I think if neither parent spoke Dutch then dealing with the school - not to mention other parents - would be quite a lot harder. Every day we thank our stars that we live so very close to the school; it's less than five minutes' walk, so our daughters of six and seven can safely go alone, and friends are all very local. Our working lives would be a great deal more difficult (not to say impossible) if the school were not so close!

There are three schools in the Prof/Burgermeesterswijk area: the "openbare" Lorentzschool, the Protestant Roomburgschool and the Catholic St. Joseph school. All the schools are growing, reflecting the popularity of the neighborhood for families with young children, the relative dearth of schools in the center of town, and the construction of the new neighborhood "Roomburg" close by which, until recently, was not served by a school (see "Arcade school" below). In fact, the Lorentzschool just completed an entirely new school building, the St. Joseph school is currently building a new school (scheduled to be completed in 2011), while Roomburg is planning an extension of their current school facilities.

An international parent says: "I registerd ed my daughter h at the Lorentzschool when she was 3. There was no waiting list. I chose it because it's a public, non-religious school, and close to where we live, and I had a good feeling when I went to visit the school and meet the people in charge. I like the building very much. It's brand-new, and was only finished at the beginning of 2009. It's spacious, full of light thanks to big windows, every classroom has a corner with several computers and also a kind of small house to play in.
It's a big school but it's well organised: there is one entrance for 3 classrooms, so not all the parents have to use the same entrance. All the little children (kleuters) are on the first floor, and the bigger kids are upstairs. It's quiet.
The principal/headmistress of the school really impressed me and is very invested in the cohesion of her teaching crew. She is willing to give every child chances to use and improve all his/her abilities. The focus is put on math, reading and writing, and the results of the tests at the end of the Groep 8 are good.
There isn't any special program for foreign children, but according to the principal/headmistress it's common to have international children here and for a child to arrive at school without speaking any Dutch. The usual situation is that s/he remains silent during the first year, and then starts speaking easily from the second year on. Before starting school, my daughter went to the Peuterspeelzaal for 2 years and I think she integrated quite well in her group. I think that she is considered the same as the other children.
Usually, there are two teachers per group (lots of them working part-time). There is only one teacher per group at the same time. It's mostly women.
At the beginning, I was helped by a friend to find out what I was supposed to buy exactly for my daughter. If I hadn't had my friend, I would have had to ask the teacher, otherwise they would have left me handle it myself (for instance, I had no idea where to buy those coat-bags against lice.) Your child has to be quite autonomous too ; for instance s/he has to put his/her own hat and scarf on before going out for the break, or else he will go out without them.
The school day is from 8.30 to 15.00, except for the Wednesday when it's from 8.30 to 12.30. The children eat their lunch in the classroom -- a cold meal that you have to prepare yourself. They are watched by an employee. I was surprised to see how well my daughter is eating!
To conclude, I would say that I'm happy with this school and recommend it.
Van Vollenhovenkade 15
2313 GG Leiden
Website: www.roomburg.pcsl.nl
Phone: 071 5130958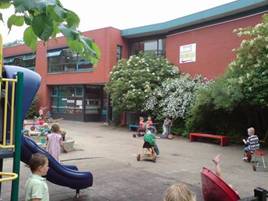 One international parents says: Roomburg is a small, Protestant Christian school in the Burgemeesterwijk, opposite the large playing fields and playground of Roomburg Sportpark, and in between Lorenzschool and St Josef school. It's a nice, small, friendly school with a definite (but not overt) Christian slant, and a real social mix of backgrounds. From the two years' experience we have had, it is an excellent school.
Atmosphere and structure
The school's small size (approx 260 pupils in total) and friendly atmosphere mean that it is a school in which even a rather timid child can feel safe. The kleuter klas (Group 1) is, unusually, made up only of the children that enter the school that year: hence if your child joins in September (as our son did) they start in a tiny class (8 children, in his case). This was perfect for him, and really helped him to find his feet: especially in combination with the wonderful Juff Jeannette, on whose lap quite frankly I would quite liked to have sat. When our daughter joins (February) I think the class will be 18, but I particularly like the fact that new children are not confronted with confident children much older than them in their first year. The second year of school is spent in a more mixed age-group class , which allows for flexibility of age and ability. The school makes an effort to bring parents into contact with each other through events, and to make sure that all the staff are known to the parents.
The school day
The school day is from 8.35 until 3pm except for Wednesday when they finish at 12. The children all eat packed lunches at school: these can be whatever you like, although they ask you not to give sweets or cake, and Wednesday the snack has to be fruit or veg. They have two breaks (mostly outside) and do gym once a week.
Internationals
We particularly chose a school in which our children would be only speaking Dutch, rather than
surrounded by multi-lingual children as at home. Ironically, Roomburg has just introduced a system of teaching English from the age of 4, and so parts of the day's classes are carried out in English. This is an excellent idea, but seemed a bit of a waste for an already bilingual child. In fact, this has given our son a confidence boost, as he can help the teacher with pronunciation etc. They follow a structured learning system, and he enjoys it, but I'm not sure what we will do when he gets older. I feel definitely 'different' for not being Dutch, and perhaps not entirely part of the community, but everyone is perfectly friendly.
Staff
Most classes have two teachers on a job share, and while children tend to have a favourite, the teachers all seem to be lovely and very experienced and unflappable. There are several male teachers, including an older male teacher whom my son thinks is hilariously funny. I have always had the impression that the teachers know my son very well, and are sensitive to his individual needs. They are always happy to talk about things at the end of the day if you are bothered or think they should know something.
Buildings and space
The building is modern and well-designed, and currently being extended. There is a decent-sized assembly hall in which they do gym and dance. The outside space is a bit concrete-y and not very exciting, but there is a large sandpit and they bring out lots of ingenious vehicles requiring cooperative play etc every play time. The children almost always play outside, only staying inside if the weather is really dreadful. There is enough room to move around and pick children up at the end of the day without feeling claustrophobic.
Facilities
There is a new, small, in-school voor- and na-schoolse opvang called Ondersteboven, run by Boter Kaas en verblijf, within the school. See www.boterkaasenoverblijf.nl.
School milk is available, and is an efficient system that works well.
The school's website is excellent, and offers up-to-date information about everything that's going on. www.roomburg.pcsl.nl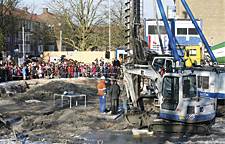 One international parent says: We chose the St. Joseph school for a few reasons. We live close by and felt committed to choosing a neighborhood school, if at all possible. The Roomburg school was a bit too religious for our personal taste, so we visited both the Lorentz and St. Joseph schools. We honestly found them both to be good schools and felt either would have been a good choice for our son. However, three things swayed us in favor of the St. Joseph School: 1) We knew more people who were sending their kids there, so our son would already have a few friendly faces there; 2) The school was smaller than the Lorentzschool (though it's recently grown enormously); 3) We got a very positive and friendly feel from the school when we visited it.
Three years on and we don't regret our decision for a moment. It was a pleasant surprise for us that our son was one of nine bilingual kids in his kleuterklas. There were children with parents from Ireland, England, Australia, France, Spain, and America. We also know Italian, Slovakian, Macedonian, and Turkish parents at the school. However, coincidentally, our son is the only bilingual child in his Group 3 class, so a lot can depend on class distribution. For a school with so many international parents, it remains very much a normal Dutch school. The curriculum is the standard Dutch-mandated curriculum and not much has been done to draw on the strong international presence.
That's probably due to the fact that the school administration is busy coping with the huge growth in the school over the last four years. This growth is a result of the popularity of the neighborhood for families with young children, as well as the knock on effect of the massive growth of the Lorentzschool. Many parents, like us, decided the Lorentzschool was too big and chose the St. Joseph School as an alternative. For instance, there is now a waiting list of a year to two years, so it's important to register your child sooner rather than later if you're interested in sending him/her to the school.
Because of this growth, a new school is being built. It should be finished in another year or so and will be lovely and state-of-the-art. In the meantime, the school is divided into two locations - one in temporary quarters (for kids in groups 1-5) and one in the old school building (groups 6-8).
There are tons of opportunities to be involved in the school. Along with the standard "class parent" role, there is always a need for parents to chaperone class trips, help with reading in the school, volunteer for parties and various events, and, my personal favorite, check the children periodically for lice (yes, really. A friend of mine has gone above and beyond the call of parental commitment to do this.) I've been class "book parent," taken kids in my car on various class trips, helped out with the school sport day, wrapped gifts for sinterklaas' visit to the school, helped with the special arts and crafts projects, supervised games at the annual summer party, and now help out with reading twice a week. All this to say, there's a lot that parents can do at the school, and there is a nice sense of community.
We've always found the teachers to be deeply committed to their students and very aware of what's going on with the kids. Although the periodic 10 minute parent-teacher conferences have been too short, in my opinion, the teachers have always been very open to emailing with me about any concerns I might have, and have always emphasized that I'm free to make a separate appointment with them if I felt the need.
We know a few children with various special needs at the school and the school has gone above and beyond in finding help for them. Although there is no gifted and talented program per se , we know one child who was moved up a grade because his skills were advanced, and our son receives extra work in math because he's ahead of the other kids in this subject.
One parent says, " ELS is across the road from me. They have a continuous roster where all children stay over for lunch. This may suit some parents. It is very academically- focused and will suit a smart child. Parents from all over Leiden and beyond send their kids here. They work with Wonderland NSO for after school care." This is one of the "bijzonder" schools that is not affiliated with a religion. Check out their website for a their philosophy (Dutch only).
Website: www.eersteleidseschool.nl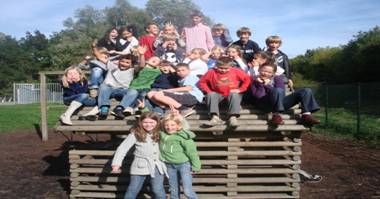 This is a small school on the Rapenburg near the centre, and has in the past been known for its extremely long waiting lists. They recently changed the system, however, so that you can only register your child on or after its second birthday - and we gather that for a good chance of sending your child here, you really need to register it on its second birthday.
It is a "bijzonder" school, not affiliated with a particular religion. One satisfied parent has written the following for us. The website is www.haanstraschool.nl, where you will find lots of information and the schoolgids (in Dutch).
[July 2013] Our son has now been at the Haanstra School for a year and a half, in the "kleuterklas" for kids between 4 and 6, and we are very pleased with the school. Haanstra is very small, there are just around 240 kids in total, which is why they take so few children every year and why there is a waiting list. They changed the system, however. Until a few years ago you had practically to register your children soon after birth. Now you can (and should!) register them just after their second birthday.
Haanstra is not an official Jenaplan school, but the principle is similar: The classes are always mixed in two year groups, so that one year they are the younger and the next year they are the older. They learn - similar to Montessori - step by step to do a lot of school work independently or in little study groups. They are very creative, they do a lot of school projects, cool crafts, theatre and music; they have a choir and a little orchestra, and they do a lot of festivities. For example, every Friday afternoon there is a week closure, in which one class prepares something for the whole school. I was first a bit doubtful about it. do they study enough? I can't really say, our son is just 5. But their CITO results are just as high as those from the other schools around, so if they achieve that while having more fun, it's fine with me. What I really like about Haanstra is the atmosphere. All the kids know each other. On different occasions the older ones are organizing activities for the little ones, and the whole school (from group 3 on) goes away together for three days to school camp. Often my five-year-old is happily greeted by huge 11-year-olds in town that even know his name. I have never seen that the younger ones were intimidated by the bigger kids. Also the teachers in the kleuterklas pay a lot of attention to make new children feel at home in the class and afterwards observe very thoroughly how they are developing - with their skills, but also emotionally.
Haanstra parents become automatically members of the association that owns and governs the school. There are several meetings a year where you can participate and decide for example on what the school's money is spent. You are asked to pay tuition fees each year; this is a sum well above the usual level for the
ouderbijdrage
at a Dutch school, but still well below what the British or Americans would expect as fees. Depending on your income this is at the moment between 155 to 440 Euro per year. They use the money, among other things, to pay for an extra music and gym teacher and to pay for the "overblijf" during lunch time, when the teacher takes a break and a childminder from B4kids watches the kids while they are lunching.
There are two locations. This is an openbare school.
Website: www.lucasvanleydenschool.nl.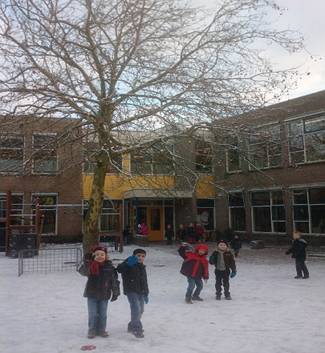 One international parent says:
The Lucas van Leyden school has 2 buildings, one in Ursulasteeg the other in Vliet.
When we first visited the school not only did we like the location (Ursulasteeg is very central), we liked the fact that there are children from many nationalities.
The school also gives extra attention to those kids whose mother tongue is not Dutch by giving them extra lessons in a separate class. It is amazing to see the improvements of these children.
Amongst the usual seasonal events there are also plenty of acitivities: theater visits, kinderboerderij (petting zoo/childrens farm), school shows, and the library.
They can also make use of computers with educational software. We've found it to be quite effective.
Going to a local Dutch school has helped our children to integrate themselves into the culture and being able to have friends in the area.
No website
Phone: 071 523 0508
Some of these schools are listed in the Burgermeesterwijk/Professorenwijk section
Leiden's only Islamic primary/elementary school
Website: www.erriseleh.nl
Website: www.montessorischoolapollo.nl
Website: www.basisschool-de-arcade
Website: www.teldersschool.nl
Website: www.sleutelbloem.pcsl.nl
Website: www.dukdalf-leiden.nl
The Dukdalf is a Jenaplan school. (see below for information on the Jena plan philosophy)
Website: www.meerpaal.net
Website: www.obsviersprong.nl
Website: www.obs-merenwijk.nl
Website: www.woutertjepieterse.nl
Website: www.leidsehout.pcsl.nl
Website: www.springplank.pcsl.nl
Website: www.zijlwijk.pcsl.nl
Website: www.hetkompas.pcsl.nl
Website: www.singelleiden.nl
Website: www.detweemasterleiden.nl
Website: www.vsmareland.nl
Watch this space for a review soon!
(Some schools are listed under the Stevenshof section).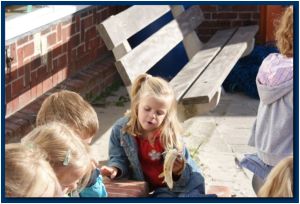 One international parent says: The Morskring is a public ('openbare') primary school. The atmosphere is that of an excellent school with an enthusiastic teaching staff and an active parents' council. The school holds a project week once a year where the entire school works on a theme such as a "step though time" or the Olympic games. Children are actively encouraged to think independently from a young age. There is a focus on EQ as well as IQ. Younger children have an enriched separate play area from the older children. The school has well developed safety policies and anti-bullying policies in place. They are well able to handle bilingual children. The parents' council take ethnicity into account when organizing events; for example, special hutspot without pork in it is provided for Islamic children on 3 October. The school works with Wonderland NSO to provide pre and after school care. There is a supervised lunch canteen where children can stay over for lunch for a nominal amount.
Website: www.morskring.nl
Website: www.pacellischool.nl

One international parent says: We found out about this school by accident when we were looking at moving to Holland in 2007 and we are so glad we did! Initially coming for just a two year contract, we wanted International Education, but on a small scale in a local community and wished to avoid the big International Schools in The Hague.
The Elckerlyc comprises two departments: a Dutch Montessori School (education in Dutch) and an International School (education in English) but there is a significant amount of "mingling" that goes on (especially in the playground!). As a parent of two very happy children in the International School, my personal opinion would be as follows: it's a bright, cheerful, small, friendly, dynamic and multi-cultural place. The kids are happy, the teachers look happy and the parents seem happy! The standard of education is high and a lot of time and effort appears to be put into achieving this with a harmonious balance of traditional methods and confidence installing, experience generating techniques. Our kids run out the door in the morning and us parents wish we could go back to school!
A few facts: The International side of the school has 152 pupils, divided into 8 groups. As well as group teachers there are several educational support and/or specialist staff members, e.g. Special Needs, English as an Additional Language, Dutch as an Additional Language, Learning support assistants and Administrators. The Dutch side of the school consists of 150 pupils, divided over 6 groups. Besides the classroom staff, there are several staff members available for additional educational support. Parents are heavily involved in both parts of the school, in a variety of areas (assistance during lunchtime, running the library, organizing events - for the kids and parents, participation on school outings and even additional support in the classroom when class creative projects require a few extra hands!), further enriching the whole educational experience for our children. In the International School children may start at age 3 into Group Zero, which is truly a fantastic start to a child's school life, and progress from group to group or they can enter at any age into a higher group, regardless of what language the child speaks. Even children who do not speak English on arrival seems to become miraculously fluent in a matter of months.......
I could waffle on for hours - but I will restrain myself as the school has a website www.elckerlyc.net where you can find all the detailed information you need about the International School (in English) and the Montessori School (in Dutch) and see lots of photos of fun moments! For International families/Dutch families considering International Education, there is also a Guide written by the school's ¨new¨ Welcoming Committee. (which was set up by a group of parents last year in order to answer all those questions that are not ¨school specific¨ and are thus not in the school guide - and if you have questions that are not in either guide, there are even families on a Family Helpline List happy to take your calls/answer your E Mails).
School Guide - www.elckerlyc.net/international/schoolguide.html
Welcoming Committee Guide - www.elckerlyc.net/international/welcoming_committee.html
For us the Elckerlyc is one of those schools where you just don't want your kids to grow up so you can do each Group several times! ( - considered a third child to get another shot at Group Zero, and if we are now in the process of embarking on year 4 in Holland, this is largely due to our inability to wean ourselves off the Elckerlyc!) - what more can I say?! Oh yes - one problem though: word has got out, waiting lists for the younger groups are often quite long, if you are interested, ring the school now, arrange a visit and pay the registration fee!
Website: www.noordwijkseschool.nl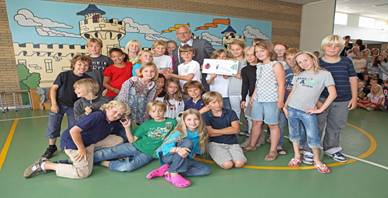 One parent says: "For our youngest son we choose the Noordwijkseschool because of its new character. It's a totally different set-up then a regular Dutch school. They have lunch at school (so no going home for lunch), "normal" work in the mornings and have "ateliers" in the afternoon with history, geography, cooking, etc. They also teach English, which is taught at every child's own level. The spoken language is Dutch.
The main "special" schools in the Netherlands are: Montessori, Dalton, Jena Plan, Vrije Steiner/Waldorf).
How much each individual school follows the philosophy can vary widely. If you're passionately in favor of a certain kind of educational philosophy, do visit to make sure that the school is following it before you sign your child up. Also, do be aware that, in the Netherlands, schools, no matter what their "outlook" have to follow a basic, nationally-mandated curriculum. This can influence greatly how schools follow the individual education philosophy.
If you would like to help us expand this section and write about your own experience with these educational philosophies, please email: jessica@homeinleiden.nl.