____________________________________________________________________
To an outsider, the philosophy behind the Dutch secondary educational system can seem pretty brutal. "Tracking" children at the age of 11 or 12 into either vocational (MAVO/VMBO), polytechnic (HAVO), or university (VWO) education seems unnecessarily harsh, especially because so much seems to rest on the CITO test, which is described more fully below. In the past, the system was somewhat harsh and hierarchal. Once you were tracked, there was little chance to move up and out of one level and into another. Though there is greater flexibility in the system these days, there have recently been problems with students wanting to move from the HAVO level into the VWO because the VWO programs didn't want to risk jeopardizing their rates of successful graduations. Furthermore, it remains that case that children of allochtone (non-native Dutch) parents, as well as children from working class families, are often given lower secondary school advice than children of autochtone ("native" Dutch) and more highly-educated families, despite having similar test scores. Lastly, many people feel that "grouping" kids in this way leads to unnatural divisions in society.
That being said, proponents of the system say that it is reasonable and realistic. They claim that it is only realistic that some children are better academically than others, and that to force everyone into the same classes isn't good for anyone. They also believe in the utility of starting vocational education earlier rather than later. Moreover, there *is* more flexibility in the system than there used to be (see graph below) and just because someone is tracked in one educational level doesn't mean s/he can't move to another. However you, as a parent, feel, the fact remains that this *is* the system here and if you're going to send your child(ren) to a Dutch secondary school, this is what you'll have to work with.
And, do rest assured, lest you're starting to feel panicky, as described here the decision of what level of secondary education to follow is not *only* based on standardized tests. Most schools will look at the entirety of a child's education, including the CITO test, of course, but also teacher recommendations and what the student and his/her parents want before making a recommendation as to what "track" of education a child should go to. Furthermore, even if your child is placed on a vocational track, this doesn't mean s/he is destined for a life of low-wages and/or unskilled labor! (And, truly, what family wouldn't welcome a plumber or an electrician in their midst? These are the professions you can train for at the VMBO level, so don't be too dismissive of this level of education!). Your child will be placed in a "bridge class" (see below) once s/he starts secondary school. Depending on how s/he does in this transition year, s/he may be urged to try a different level of education than the one advised by the primary school. Lastly, your son or daughter can, after finishing one level, move further on into the next level of secondary school education. For example, s/he can move from VMBO to HAVO, or from HAVO to VWO and then to university. So, harsh and hierarchal as the Dutch secondary school system may appear (and it can be!), your child's destiny is not decided at the age of 11 or 12.
Lower secondary professional education (Voorbereidend Middelbaar Beroepsonderwijs - VMBO). A preparation for a practical internship followed by work or a preparation for a vocational education. This generally takes 4 years.
Senior general secondary education (Hoger Algemeen Voortgezet Onderwijs - HAVO) Takes 5 years and prepares for Universities of Applied Sciences or colleges (polytechnics). If a student wants to go on to a Research university (as opposed to a polytechnic - a so-called HBO), s/he can do two years of VWO after completing the HAVO degree and then go directly to the university.
Pre-university education (Voorbereidend Wetenschappelijk Onderwijs - VWO) Takes 6 years and is the admission level for Research Universities. The most prestigious manifestation of these schools is the " gymnasium um " schools, which provide a classical education, including Greek and Latin. In cities like Amsterdam, the competition is fierce to get into the gymnasia, and most hold lotteries for student admissions. However, anyone with a VWO degree can be admitted to a Research University, so, in a sense, it doesn't matter if a kid's diploma is from a normal VWO or a gymnasium. But there is a great deal of social status derived from going to a gymnasium, and the education is generally viewed as being better.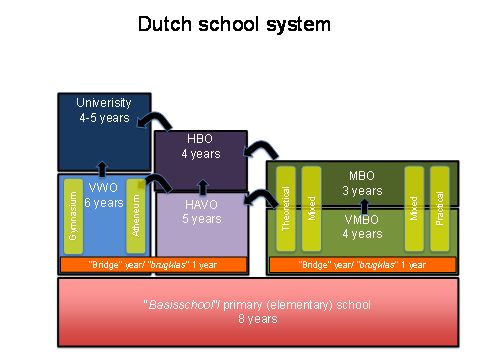 So . .. what is this nearly mythical test that holds your child's future in its outcomes? Basically, it's just a standardized test given to most kids from the time they're in Group 3. The final CITO test is to see what the child's level is and how much knowledge s/he has acquired over the last eight years of primary school. The outcome is scored between 501 and 550. If your son/daughter has a score of, for example, 510, s/he will generally be advised, based on the scores alone, to go to the VMBO, while if s/he has a score of 540 s/he will be advised to go to HAVO. However, let me continue to emphasize that you, as a parent, do have a say in this. And the totality of your child's time in primary school can also weigh heavily in his/her favor. If your child has always done quite well but bombs the CITO test, it doesn't mean that s/he will automatically have to go to the VMBO/MAVO. Likewise, if your child aces the test but has never seemed particularly academically-inclined, the school still might hesitate to advise going to the VWO based on past performance.
That being said, the test *is* important, and here are some of the basic ranges of numbers used as a guideline for advising children to go to one track or another.
501-536 all the different types of VMBO
538-541 HAVO
538-545 HAVO-VWO
545-550 VWO/VWO-tto/Gymnasium
If you are still worried about the tyranny of the CITO test, there is hope. More and more primary schools are using a different kind of test - the so-called NIO-test. For instance, many "Vrije Scholen" [Waldorf/Steiner schools] base their advice on this test rather than the CITO test. This is an intelligence test and the questions are easier to read and, therefore, generally easier to understand for children with a bilingual background and/or children with dyslexia or other reading problems. Children whose second language is Dutch or children who have been living abroad for a long time are more likely to achieve better results with this test
If you choose to, you can have your child do the NIO test privately if you either doubt the results of the school's tests or if you want to bolster your case that your child is ready for a different track than the one on which s/he has been advised by the school.
Once you know the school's advice, you can start looking for a secondary school for your child, usually in the Spring of his/her final year in primary school (Group 8). All area schools with have a series of Open Houses (called Open dagen in Dutch) for prospective students and their parents. Typical of the Dutch system is that you can choose what secondary school your child goes to, within the boundaries of what the advice of the primary school is and what the admitting school is willing to accommodate. For instance, if your child got VMBO advice from his/her primary school, it is doubtful that the Gymnasium will admit him/her. Be on the lookout in the local newspapers, the schools' website, fliers, or ask other parents for when the Open Houses are. Definitely go to a few schools with your child and see what you think.
Some options of particular interest to international families are:
TTO (Bilingual) secondary education
More and more secondary schools are offering bilingual education. This means that the child will be prepared for the Dutch final exams for the VWO or the HAVO diplomas, but will also be taught at least part of the time in English. It generally works something like this: one term the students work on certain subjects in English, the other term in Dutch. They'll do the exams in Dutch and the English exam on the IB level (see below).

In the Leiden area there are two options for a bilingual education. There is the Rijnlands Lyceum in Oegstgeest. Do be aware that they only offer the TTO at the VWO level, and it is meant as an extra challenge for very bright children. Therefore, a student would need a high CITO score to be admitted. http://www.rlo.nl/pro1/general/NL/home.asp?i=0&j=0&k=0&p=0&x=1

Visser 't Hooft Lyceum offers TTO on VWO and HAVO level . http://www.vhlweb.nl/site/main.php

International IB (international baccalaureate) school
The International baccalaureate is an internationally-recognized degree that would allow a child to be admitted to most universities world-wide. Of course, having such a diploma doesn't guarantee admittance to Harvard! But it does mean that your child wouldn't have to go through all the red tape of having his/her diploma recognized by a non-Dutch university.

For more information see: www.ibo.org

The IB schools in our area:

Het Rijnlands Lyceum Oegstgeest
Partly state funded
www.rlo.nl

American School of the Hague
Private
www.ash.nl

British School
Private
www.britischschool.nl
Once you know which school your son/daughter will go too, s/he will be placed in the " brugklas " ("bridge" class). This is a combination of an orientation year and a trial period to see if the track on which your child is placed seems to be correct. The class allows children to acclimatize socially and academically to the new environment. Depending on the school, they may decide that the level advised by the primary school was appropriate - or not. For example, our neighbors' daughter received MAVO/HAVO advice from her primary school. The secondary school (which offers all levels of secondary education in the same building . .. . not all do this) met her and her parents and looked at her primary school records and put her in a VWO/HAVO bridge class. She was eventually told she could try VWO if she wanted, though they did advise that she start with HAVO.
Do be aware that it is very very normal for a child to repeat a grade. While this is not something to particularly rejoice in, it's not the source of shame it would be in other countries and doesn't preclude your child going on to higher education.
Other bits of information to be aware of is that it is not at all uncommon for a teacher to be sick and for the school to be unable to find a substitute for that class. The children still have to be in school but they can do their homework or work on projects at the school.
Kids do sometimes have a study hall. They will use this time (supposedly . .. but we all remember our own high school days!) to do school work.
There is a cafeteria at school but, in true Dutch fashion, no hot meals will be served. Some cafeterias will offer sandwiches (of course!) for sale, but most kids will take their sandwiches from home with them.
More general information in English can be found on www.access-nl.com , www.expatica.com.
If you need any more help or you have any more questions please feel to contact either:
Nicolette@homeinleiden.nl or Nicolezwarts@yahoo.com
If you'd like to help us with this section, we'd love more information and input. Please send any suggestions to Jessica@homeinleiden.nl
Theoretical